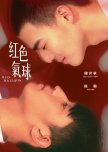 STORY: 10/10; it's intense, there are feels, and there is a happy ending. The visuals for this drama, short as it is, were beautiful and the metaphor (as it is explained in the series) with the red balloons was a nice touch. Plus, a major rarity: an open, happy ending for EVERYONE!
ACTING/CAST: 10/10 The cast they got are talented. They played their rolls well, and were believable. There seemed to be an honest connection between both younger and older actors. Whether it is romantic off screen or not doesn't particularly matter to me; nothing kills a show faster than two actors who just cannot stand each other.
MUSIC: 10/10; another reviewer had it dead on: if I could give it an 11, or higher, I totally would. The opening song is gorgeous, the theme song is sweet, and it just helps everything flow together. I would almost go so far as to say that the quality is almost movie-like, for all that it is a short web series.
REWATCH VALUE: 9.5/10; This is the only one where it's a little shorted. I feel like the story is definitely open and waiting to be expanded, but I'm not sure how many times I'm going to be able to sit through that open ending without going nuts. I will definitely, TOTALLY, rewatch it again at some point, though. This seems like a good go-to series if I want something intense but short.
OVERALL: 10/10; loved this series. I hope more people enjoy it, too!
Was this review helpful to you?