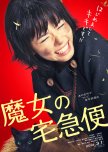 I'm by no means a kid anymore, but I liked this movie. I've read a lot of the comments on the Youtube trailer (the one with something like 1.5k likes AND1.5k dislikes) in Japanese using Google Translate. Most of the complaints centered around the film being set in a Japanese-looking town as witches are a Western concept. I say psshhh. I've been to many paradise Western places in person such as the Caribbean (I'm not talking about popular tourist destinations in the Caribbean, such as Saint Marteen, but the islands most ppl never been to, such as Saba --- the Unspoiled Queen), and I still say the place where this movie was filmed was just perfect!
Anyways, onto the main review. I've watched the Ghibli version many many years ago. What comes first isn't always better. This is just my opinion, but this live action adaptation is in no way inferior to the anime. They're both different in a good way. So, I'll break down the review into the following categories:
1. CHARACTERIZATION: I thought the Kiki in this movie was much more believable than the anime. In the anime, Kiki has always been a good girl who loses her power b/c she saw how spoiled humanity can be sometimes. In this movie, Kiki is a real human girl/witch with something called an ego --- she has that youthful pride that we've all experienced all too often when we were younger. As a result, she gets humbled and temporarily loses her powers. There is your realism. The anime portrayed Kiki as a 100% good girl, which isn't realistic. Everyone has imperfections, and this movie clearly showed the main protagonists' to us.
Also, they portrayed Osono as a very human character in this movie, who comes off as a really compassionate person towards Kiki in the way she encourages Kiki to never give up by urging her to take on the next job . In the anime, Osono comes off not as a person but a flat two-dimensional plot device whose purposes were to give Kiki shelter and give her the idea to set up a delivery service. This movie characterizes Osono so much more. She's like a surrogate mother to Kiki rather than just a Landlord/lady.
And let's not forget Tombo. He's more than just some pretty (nerdy) boy that needs saving by dangling from a broken blimp. I won't spoil it for anyone, so let's just say that Tombo is a lot more manly in this movie. Actually, he (and the baby hippo and the singer lady telepathically and Osono's encouragement) were the ones who saved Kiki's conscience. Kiki only saved Tombo with her mother's wound-healing medicine, which any passerby could have done. Nothing like in the anime where Kiki was the only one who could have flown to Tombo just in the nick of time.
2. THE CGI. For a low budget production, I thought the SFX was incredible. If you want to see really bad CGI, look no further than the upcoming Batman v Superman movie trailer. The parts where CG Batman tries to evade CG Superman's wrath looks to me like utter shite compared to the worst CG in this movie. I really thought CG Jiji could exist in real life, b/c a witch's cat is no ordinary cat! Forget that movie poster at the top corner of this page. Jiji looks nothing like that in the movie, he's got more fur textures and better lighting. Also, the flying sequences are really well done. The only part where I could visibly tell it was green screen was at the title where she's flying infront of the gigantic moon, and the light from the moon made it so.
3. THE STORY. I thought it was a refreshing change from the anime with fleshed out ideas. Parts where teenagers played pranks on each other to get even had me chuckling. Heck, I even think some of the story changes were even genius, such as ferries only come around on a set schedule, which is why they need a witch to delivery stuff between islands. In regards to delivering a baby hippo towards the climax, what can I say, the hippo was one of the four (the others are Tombo, singer lady, and Osono) who redeemed Kiki, so it's all good! It didn't feel like a plot device but rather something which advanced the story and Kiki's character! It showed her determination to complete her apprenticeship b/c she decided to become a witch ever since she could remember and flying was the only magical ability she'd cared to cultivate.
4. REWATCH VALUE. I rewatched the anime maybe once or twice so far. That's how much rewatch value that anime had! I've already skimmed over certain key scenes a few days after watching this movie. If I were to hold an annual movie-a-thon, this would be one of my top choices to add on the list for indefinite screening unto the n-th anniversary of such movie-a-thon!
5. HUMANITY. This is a made-up category, but important nonetheless! This is perhaps the reason why I gave this movie a 9.5 and not say a 7! I believe that a movie or work of fiction is special when it touches your heart. For me, it was the bicycle riding scene. Do you remember the first time you mastered riding the bike? For a kid watching this movie, it would be something trivial as they've probably only learned to ride a bike recently. But for someone a bit older it certainly brings back memories of us being bipeds (literal) on wheels for the first time ever in our lives using manpower! This movie brought back a certain fond memory of mine --- I was literally a kid again while watching this movie, which certainly isn't a bad thing!
In summary, movies are meant to entertain. No matter how critically acclaimed something is, if it doesn't entertain, then it's got no purpose existing. This movie definitely entertained and so it does exist!
Was this review helpful to you?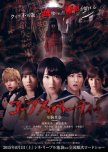 THE RING/GRUDGE MEETS JEALOUS INTER-DIMENSIONAL HIGHSCHOOL TRAVELERS
This movie is basically what you get when you mix The Ring/Grudge and romantically jealous highschoolers on an inter-dimensional trip where ghosts exist. Hence, I would classify this movie as a romantic-horror film, a mixture very unusual for this genre and exceptionally well executed.
As such, though it's supposed to be a horror movie, it's not really scary at all d/t the fact that most of it is filmed thru a perspective akin to a home video and the SFX/props look really cheesy on occasions. Nevertheless, I found the ending satisfying for the theme of jealousy present throughout the movie.
Acting was a little mixed. But that's b/c some characters were just plot devices while the ones with a dark side to their personality were given more attention and were well portrayed.
In terms of rewatch value, well what can I say, some of the death scenes make my stomach churn (as in grotesque) so watching it once was enough for me...
Was this review helpful to you?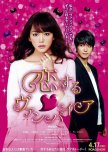 GIRL IS CUTE STORY IS A LITTLE MELODRAMATIC
This girl vampire is cute. If there were no story/plot, it's just worth it watching it for the girl alone. (Of course, for our female readers, the guy she fell in love with is also a hunk).
Story is a bit melodramatic, with main melodramatic element borrowed from Superman II. Remember that scene when Supes/Clark kisses Lois and erases her memory? Well, you find a similar plot device here at the climax. And it elicited no sympathy from me. I could smell the melodrama in it from a mile away.
Other than that, the plot is very light-hearted with the occasional slapstick humor mixed in. If you're looking for a movie where vampires duke it out with other vampires/vampire hunters, this isn't it. Whatever action scenes are featured in this movie are almost nil.
In terms of re-watch value, well I wouldn't mind. It has a lot of "kawaii / kakkoii" moments/situations that are worth revisiting...
Was this review helpful to you?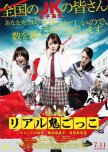 MILDLY ENTERTAINING WITH NO REWATCH VALUE
I started watching the movie b/c the girl to the right (on the cover with her hair tied up) looked like an actress I'd seen in another drama before. Little did I know that I would be treated to one of the most gruelsome gore fests in cinema.
Now don't get the wrong idea, I simply detest gore, but the ones you find here are so gory, they're almost comically so.
In terms of acting, they definitely cast the right actress into each role. May not seem so at first, but by the finale, you really appreciate their casting choices.
Now the story, I don't want to spoil it too much, but it's basically what you get when you put The Truman Show and The Village (both Hollywood/Western movies) together mixed with tearing/cutting people in half Darth-Maul style. This is easily the weakest part of the movie. There isn't a single original idea here. And b/c of this, you find many plot holes here that were easily explained away in The Truman Show, like the camera angles.
Anyways, I thought it was a pretty entertaining movie. But I wouldn't want to watch it again b/c of the gore. Just once is enough...
Was this review helpful to you?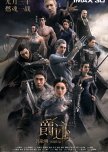 L.O.R.D
2 people found this review helpful
This is the updated review after I've given L.O.R.D. some thoughts:
Likes:
~ It takes Hollywood at least 3 movies to fully develop 7 characters. Asians only need 1 movie to do it. By the end of L.O.R.D., you knew something about every single character in the characters roster poster above.
~ Top notch CGI environments. The fireworks and flying scenes were really well done.
~ The funny parts were actually funny and neither slapstick nor corny.
~ I'm a sucker for any J.R.R. Tolkien LotR-inspired Asian fantasy work, and this movie is one of them.
~ The story is actually pretty good bordering on ingenious. But it was executed rather poorly b/c the screenplay/script felt like something between a first draft and polished version, probably b/c the writer and director (both the same person) had to meet deadlines.
Dislikes:
~ Weirdest parts were the eyes and facial expressions. Look in the motion capture clips, they hired a bunch of White guys to create this part of the movie. China should learn to develop their own facial and eyes motion capture tech. Put 'em Whities to shame... Like how they did with their own 5th gen stealth fighter, which is in many ways superior to the American one.
~ Music was unmemorable. I didn't remember a single tune from the movie. Oh well, music score was done by a Japanese guy actually so that might explain why it sounded so generic and uninspiring like every other fantasy anime themes out there. They should have recruited a Chinese composer instead. Just look at DragonNest: Warrior's Dawn, all composed by/with Chinese talent and probably the best LotR-inspired Fantasy movie soundtrack I had heard in years.
~ Male nudity (CGI William Chan, I'm looking at you), and attempted female nude in-bed scene at the end. Please can we just have a good fantasy movie to enjoy w/o too much CGI sexy?
--------
This is the review I wrote earlier:
I didn't like the male nudity and attempted sex scene. But other than that it's pretty alright. (There's a better Chinese produced CGI movie out there called Dragon Nest: Warrior's Dawn.)
STORY: The script felt rushed like something between a first draft and polished version. As a result the plot seemed very confusing until almost fully explained towards the end. Thus this movie warrants another rewatch to fully get the story.
ACTING: Motion captured acting was pretty alright. But there were moments that felt flat or boring, probably b/c the director was concentrating on the 3D environments or effects rather than the motion acting. But this only probably b/c I watched the 2D version.
MUSIC: Pretty standard fantasy chorus music. I didn't remember any particular piece b/c none of it was memorable.
REWATCH: Of course b/c of all the wuxia action sequences. BTW, I think this movie probably looks better in 3D. Gonna find the 3D version to rewatch later...
Was this review helpful to you?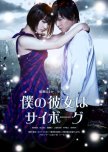 EXCELLENT TERMINATOR IMITATION
We know it you know it this is just a James Cameron Terminator imitation. Cyborg from the future travels back in time to protect boy with the added twist that she was created in the likes of a real human girl from the future. But, I found it a lot more entertaining than the Terminator movies b/c of its lightheartedness.
I am simply awed by the kind of SFX they managed to pull off on a supposedly low budget. This is one of those movies that put big Hollywood productions like The Hobbit to shame in terms of quality of visual effects.
I won't even dive deep into the top notch acting b/c IMO this movie and Ichi made Haruka Ayase a household name. The boy also did a fantastic job, so did the supporting characters.
Now, the story is the weakest part of the movie. It felt a little too tied up in the end. However, I'd take a movie that is too tied up in the end over one with an ambiguous ending any day. The former says we're making one movie and we're making the best movie that we can, while the latter just screams cheesy low-quality sequels if it does well at the box office.
In terms of re-watch value, I've already watched it twice this year and plan on seeing again in the future.
Was this review helpful to you?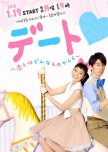 VERY INTERESTING PREMISE BUT LACKS MOMENTUM TOWARDS THE END
This drama has a very interesting premise in that the underdog gets what's he after in the end (marriage to a girl who can support his hikikomori habbits). But it lacks the momentum to carry it towards the end. You could have skipped episodes 4 to the second last one and you wouldn't' have missed a thing.
It does have its funny moments (main character performing a dance in public and embarasses himself infront of the girl, and main character dressed up like Bruce Lee).
It does have top notched acting. Everything single character in this show was gunning for an oscar award, if there is such a thing in Japan. All did fantastic jobs, even side characters.
The cast is made up mostly of beautiful ppl. The hikikomori is handsome, his competitor is handsome, the girl who has a crush on him and is his friend's sister is friggin gorgeous. Anne could have looked better though. I've seen her look more stunning in XXXHolic.
However, as mentioned above, the weakest part of the show was the story. I nearly gave up when they used the cliche love triangle romantic competitor device. But the last episode completely made up for it. It showed he (the romantic competitor) had a purpose in propelling the show towards the conclusion shown.
Hence all the above is why I rated it a 7/10!
Was this review helpful to you?
To those wondering if there is any value to this new production, seeing how there is already a live-action production before this one, the quick answer is "YES" if you like Death Note.
As someone who's watched the prior adaptation, I can tell you if you really like Death Note, this new one will provide a new angle you've never seen before. You won't be disappointed.
First of all, there is Yagami Light who is a Luke Skywalker look-alike in his role. In the first act, he trains to use the death notebook just like Luke Skywalker trains to use The Force.
Second, the death notebooks are treated like precious-s-s-s-s commodities in this adaptation (reference to Lord of the Rings). As such, we actually get a scene where Light transforms into Gollum when he reunites with his lost notebook.
Third, the central idea of Death Note is that power corrupts, and absolute power corrupts absolutely. This theme is given front row center treatment throughout the drama.
I won't even go into the superb acting, since that's already covered in the other reviews before me. And also the CGI and music are superbly done to the point of being of cinema-quality.
So, having gotten the good points out of the way, here's the reason why I gave this drama a 4.5. The ending sucked. Sometimes, the good guys don't wear white (Darth Vader was the hero of the Star Wars universe b/c he be the one who overthrew the evil scumbag Emperor. Was Vader dressed in white like a certain cocky spoiled brat with too much time money and manservant on their hand?). L/Near aren't the good guys. They're the reason why countless of innocent FBI agents died trying to capture Kira. They're the real murderers. Light just offs ppl that are bad. L/Near are also responsible for making Light's younger sister the only Yagami family member left alive at the end.
B/c of this, this show was like a 9.5 right until the last episode. What would have redeemed it from my 4.5/10 was to kill off Near as well, possibly the most annoying, badly-acted character in the entire series, seeing how Light was to be killed off anyways. L/Near are the false lights. In this end, the real bad guys won...
In summary, I can't believe the same script writers who sustained a 9.5/10 rating from yours truly throughout episodes 1-10 just threw that all away with the horrible way the show ended. Ending sucked so bad, I am likely to suffer from PTSD wrt to J-Drama in the near future. That's b/c the writer is the God of any given work of fiction. If I was God in Death Note's world, Near would be dead at the end too b/c I'm an impartial God, not one who is partial to the authorities that saw their own members die b/c of the arrogance of certain mortals with a preference for white clothing.
All in all, a show is only as good as the ending. If you're the sort that likes consistency, stay away from DN 2015. I swear all the episodes before the last one are like 9.5. IMHO, the last one just blows, made the entire series a meaningless waste of time for me in the end...
Was this review helpful to you?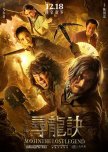 SURPRISINGLY AWESOME!
When I first saw the trailer, I thought to myself, "hey this looks like a Chinese LORD OF THE RINGS: THE FELLOWSHIP OF THE RING!" I was immediately drawn to the movie.
Turns out, IMO, it's even better than LOTR! Sure, there are other reviews that compare it to Indiana Jones. But, I've never been fond of any Indy movies, and this one isn't about stealing valuables from a tomb ONLY. The story goes much deeper than that.
Here's the part that may surprise a lot of ppl. Turns out this is a multicultural Asian work. Turns out the tomb in question was a Japanese war bunker (on Chinese soil) that happened to tap into the supernatural part of the underground labyrinth by accident. The zombies are dead Japanese soldiers in said bunker. And even one of the antagonists, Yoko, is played by a Japanese national. In fact, even the movie's soundtrack is composed by Endo Koji, a Japanese musician!
In regards to the plot, I've felt that the technical aspect of the movie could be better as even the average Japanese movie looks slightly better, in terms of overall cinematography. But the plot is where it blows most Japanese movies I've reviewed so far to smithereens. It's so rich and funny that it almost felt like a Jin Yong work... (In case anyone doesn't know, Jin Yong is one of the most well-known fiction authors in China).
Acting and cast was superb as well. The main protagonist could cycle between a younger adult and an older himself easily, as was the other male protagonist. I've found their roles a bit more complex than Aragorn in LOTR, who never played a younger himself. Hence, my kudos to the actors (and actresses) in this movie.
And as I've already mentioned above, Endo Koji compose the kick-ass soundtrack, so the music sounded more Western than Chinese/Asian, since that is what Japanese musicians are good at.
In terms of rewatch value. Definitely! Remember the Inuyasha ending song, "My Will", where we see a certain red flower being animated and then being bent by the stalks by Kikyo? There's one just like it in this movie and they actually explained why that flower is so special and unique in the movie. That was probably my favorite part too, seeing something that was never really explained in an anime I've watched over a decade ago get resolved in a completely unrelated movie!
Was this review helpful to you?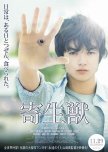 I actually didn't watch this entirely, but rather skimmed a few scenes before dropping it. So, why am I writing this review? Well, my personal belief is that if you have something to say, say it:
1. Story is a bit unreal. The parasytes are capable of shapeshifting like it's a fantasy not sci-fi movie.
2. Too gory. If you're the type that likes watching ppl get killed or decapitated in the most gory, gruelsome way, then this movie is for you. My personal beliefs are that if they have to resort to sex/nudity or gore to get you to watch a movie, it probably is b/c the movie is subpar to begin with and wouldn't sell without these gimmicks.
Was this review helpful to you?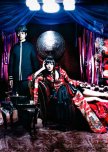 xxxHolic
1 people found this review helpful
STYLE OVER SUBSTANCE WITH TOO MUCH SEXUAL CONNOTATIONS
This is one of those really bad dramas that tries to get you to watch it by sexual imageries. For instance Yuko is all about revealing her cleavage and her thighs. And I seriously thought they were filming the beginnings of a porno when the main protagonist got captured by that spider lady.
Aside from the sexual imageries, it is very visually pleasing, but not much else.
In terms of acting, I thought Yuko and the priest boy did outstanding jobs in their roles, and also Yuko's female kid helpers/servants were pretty cute. The other cast members were bad or overacted. I always thought the highschool girl was just using the main protagonist, and he seemed like a wimp to obsess over such a type. I'm actually glad Anne ended up marrying the priest boy in real life. She has good taste b/c they both put up the best performances in the drama.
Also, IMO the Rain Goddess was the third interesting character (beside Yuko and the priest boy). But, they chose the wrong actress for her part. I found her acting a little annoying, and her portrayal of this "Rain Goddess" almost ruined this intriguing character for me.
Was this review helpful to you?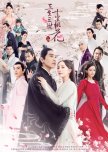 Trailer disappoints. Costumes look bland. Environments look fake. CGI looks worse than a video game from the late 90's. Lost track of the times I've seen some love-sick girl jumping into what appears to be some sort of magical well. Not really liking all that I've seen of it so far...
Was this review helpful to you?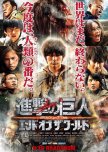 ENTERTAINING MEGA-HULK(S) FLICK
Forget plot, characterization, ability of actors/actresses to emote, a kick-arse soundtrack -- none of which exists in the movie, of course. But if you want to see big-budget CGI mega-hulks duke it out (I'm referring to the super-titans, not the regular [smaller] ones), this is your go-to movie. Enough said.
(Btw, the plot is practically the same as Ang Lee's The Hulk [2003])
Was this review helpful to you?