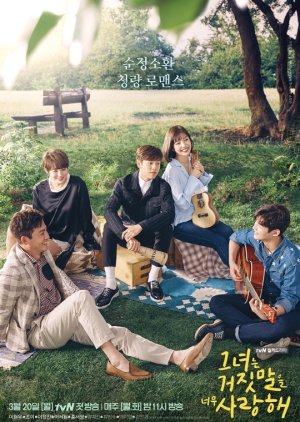 Story
The story was slow paced & really boring. It did progress, but it progressed quite slowly which was a drop for me. There wasn't even much of a story. I usually do love music genre dramas but this one didn't intrigue or interest me in any way which was disappointing. I really wanted to like it, but I just couldn't find myself to sadly.

Acting/Cast
As many know, Joy is from Red Velvet and this was her first drama. I didn't really have any high expectations because I do know some Kpop idols aren't really experienced in acting. Joy, however, was quite decent in her role. I don't get the hate that was being thrown at her for her "rubbish" acting - It wasn't that bad. Lee Hyun Woo was also adorable in his role. The problem was the chemistry between both of them. I didn't find the bond exciting or anything, it was merely boring and unrealistic.

Music
The OSTs for this drama are really sweet to listen to. I just finished the drama & I will definitely download them. I guess for me, this was the only good thing about the drama itself.

Rewatch Value
I hardly rewatch dramas unless they were exceptionally excellent. So in this case, I definitely won't.

Overall
If you are struggling whether to watch this drama or not, I'll say give 1 or 2 episodes a try. If you don't like it, I suggest dropping it because it doesn't get better. But if you do like it, keep going! Don't let my review discourage some of you because everyone has different tastes :) Hope my quick review helped! x
Was this review helpful to you?