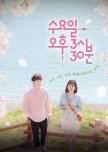 Get ready to be swooned! If you're looking for a light and cutesy drama, then this one is for you!
It is a short but oh so packed with cuteness and OH MY GOSH scenes. The main leads in my opinion, have great chemistry! The main guy, Jae Won, is your ideal boyfriend; caring, sweet, cute (haha in all ways,mind you he loves his bear slippers and bear apron) and all other good stuff. There was no episode where I did not squeal, well probably there was err when that shameless ex of hers is on the screen.
But anyhow, I highly recommend this drama to my fellow viewers who's looking for a romance fill in, as this definitely did the job for me. I hope that my future man will do that kind of dating course for me!!!
Overall, I give this drama an A- ;as the acting was good, story is not so out of the ordinary but I liked the concept of the whole Wednesday 3:30 pm project, casts were good (cute chemistry between the leads), phasing of the drama was perfect and last but not the least, this drama had cute OST too
Was this review helpful to you?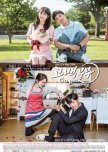 This drama is just okay and it's worth a try as it's not entirely bad but not great either. This drama I guess tried to portray the diminishing love between a married couple and thru time travel, they find their lost love. This drama is quite balanced as it contained comedy, romance, family, supernatural and friendship genre. So if you're looking for something light to watch then give this drama a try. But mind you, if you're looking for heavy rom-com then this might not be for you.
This is quite tough for me to review as it was just an okay drama. If you liked Emergency Couple (as I did lol), then this drama might be worth a try.  They're similar in way that the couple is on the ''brink'' of a divorce, couple just had enough of each other; Bickering here and there blah blah blah.
This drama is not so cliche but it just didn't leave me a good enough impression (aka it did not deliver as much OMG or OMOOOOO factor throughout the whole series).  At first it was quite interesting and thus made me wanna look forward to new episodes per week. But halfway through the series, the story became too predictable and made me didn't wanna look forward anymore. In a way, although this show is relatively short with only 12 episodes in total, I still felt that the story was dragged on way too long.
I give this drama an overall score of 7.5/10 as it delivered some good life lessons (i.e treat your parents and partners with all the love you can give while you can), it had really cute OST's and OMG a really cute and lovable 2nd lead!!! I think I only really continued watching the show just because of the 2nd male lead and of course, his bickering with the male lead. Reason why I give this a 7.5 and not an 8 or 8.5 is because, I did not feel the chemistry between the main leads. I felt more of that spark between the 2nd male lead and and female lead, tbh. Also, I felt like the plot is quite lacking in a sense whereby, there was no enough content.
Was this review helpful to you?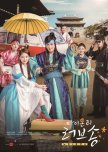 Personally had fun watching this short series. I found this hella funny, thanks to the narcissistic general and of course to Korea's top star, Song Su Jeong. The chemistry between the main leads were great! I'm so happy I got to see them again on screen after we got married.
Acting of the casts were good, except there were times where for Jong Hyun's sad scenes, I can't help but cringe/can'thelpbutsmile. Nonetheless, I think Seung Yeon portrayed her character very well and I was surprised with Jae Jin! OMG! Never knew he can act! FT Island baby is still as cute as before
Was this review helpful to you?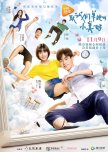 OKAY, so where do I begin? So many and all just good things to talk about with regards to this show! It was amazeballs!!!
This drama tops my 2017 list~ it had everything I could ask for in any drama. The pacing of the story, the content, the actors , the music, the chemistry between the leads(OMG), you name it and you got it here.
I enjoyed and loved watching this show to the very end. It was to the point where I would just automatically check my feed/notifications if a new episode has been uploaded.
The story I think was very similar to It Started with A Kiss and a bit of They kiss Again. You got the really cute female lead crushing on the male lead aka Mr. Cold genius. Me loving ISWAK and TKA (arjoe fan here o.<) made me love this drama even more as the story has a very special place in my heart.
So on with the review, the pacing of the story was okay- not too slow and not too fast either, it was just perfectly right. We got enough of their high school life, how their characters and relationship developed and also to the part were they all are out into the real world. Though, I would've been even happier if they extended another 2 more episodes to just show us how they are in a relationship. I felt like that part was cut-off way too short, I mean the leads had great chemistry so why not show-off more of that?
The content/story as I've mentioned above, is similar to ISWAK and TKA but just a shorter version. This was so good as you have that adorable puppy high school love story which I thought was the sweetest. The leads looked and felt like they were very comfortable with each other, hence made me even more hyped with all their cute cuddly scenes. The acting was good as well, both lead portrayed their characters very well. I mean the content of this drama was so not out of the ordinary but what made me watch and love it was down to how well the actors executed their roles. The music, OMG it went so well with the drama's vibe! The OST's in this drama was very well fitted- soft, sweet and light-hearted.
I HIGHLY recommend this drama to all my fellow drama-lovers out there! As this is packed with sweetness, drama, life lessons, that cute high school puppy love story and of course that really good chemistry vibes between the leads.
So if you're looking for something light, cute, sweet, just good vibes drama, then this one is worth the try! Happy watching, xox.
P.S. To the subbers that subbed this drama, thank you very much for letting us watch this beautiful drama! I hope the sites that used your stuff without permission will at least give you some credits soon.
K
Was this review helpful to you?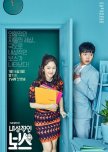 So this drama was OK for the first episode. Until the girl started to annoy me. Had to drop this drama due to her character, basically. Honestly, the main guy was the primary reason why I started this drama (as I loved him in Marriage, Not Dating).
As mentioned, I had to drop this drama because of the girl. Get this, the girl has no respect to one's privacy and or to one's opinion. She was also very pushy and over-all over the top. Not sure if it's the actress's fault for not expressing or acting her character well or what but she or her character was a mess. Hate to say this but, the girl lead ruined a perfectly good drama for me.
Was this review helpful to you?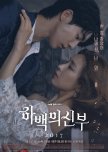 Dropped it.I had high expectations and they were shattered at once. The story  that I was expecting (i.e based or even at least loosely based on the manhwa) was no where to be found. Didn't feel the real chemistry between the leads. The female lead I found annoying, gosh. For the life of her, she cannot act. Honestly speaking, this drama was just a feast in the eyes. Pretty casts with a really disappointing plot.
In my opinion, this drama isn't even worth a try which is such a pity.  Just giving an honest review and saving some from wasting their valuable time on this.
Was this review helpful to you?