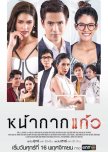 Hands down one of the best thai dramas I have ever watched. Good thing I was bored one day and decided to watch this with no expectations at all. I was very hesitant to start this given the synopsis - it seems complicated and I am not ready for a dramatic lakorn. But in any case, I still gave this a try and wow, I indeed found a gem!
This drama reminds me of those Filipino dramas I used to watch when I was young, except that it's shorter. The plot is really heavy so I did doubt if the writers could wrap this up well. And oh boy they did. Every problem was taken care of and they really did give justice to every character. I was only planning to watch this until the main guy figures out that she's not the real Lookaew (because as I've said, I'm not ready for too much drama). But guess who got hooked and can't stop instead??? What I like about this the most is how we got a super smart lead who literally talks about everything to his dad (this is something we don't usually see in a drama, because parents tend to be those villains who contradicts their children). I like the dad-son combo and how they teamed up to connect all the puzzles together. There's so many twists that I can't even predict what's going to happen next.
Overall, Nakark Kaew is such an addicting masterpiece that you can't stop watching. This drama just hits all the good parts. Just when I thought something's going to happen next, it continued to surprise me and gave me a better scenario instead. I must say the plot is EXCEPTIONALLY GOOD! Yes, it has a heavyyyyy plot but I love how everything fits together and how it got solved in the end. I am usually for the romance, but in this one, I got hooked with both the storyline and romance. I didn't even skip one bit and towards the end, I was always at the edge of my seat. Highly Recommended!!
Was this review helpful to you?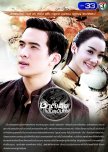 It started really good and ended even better. I'm glad I gave this drama a try. I wasn't really interested after reading the synopsis but since James Ma is here, why not give it a try right? Lol. In any case, the female lead's acting is not that good but I would say that the story and the chemistry between the two leads is enough for me to forgive all the flaws of this drama. I could go on and on but one thing's for sure, I finished this drama with a smile on my face. I love this drama so much and I would definitely rewatch this again some time. Highly recommended!!!
Was this review helpful to you?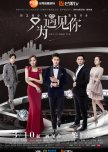 This review may contain spoilers
I was very skeptical about this drama after watching the first few episodes because i found it too cringey for my taste. However the more episodes i watch, the more i get lured into the story.
Okay, this drama has its flaws. It is not perfect. It is cliche at times. You will get frustrated with some characters that you just end up screaming in front of your laptop because of how stupid they are. You will probably have a love-hate relationship with the main characters. But I guess that's what makes this drama really addicting. It gave me different kinds of emotions and will make you think if you should empathize with some characters or not. Midway on the drama and I was already rewatching some episodes. And now that I finally finished it, I am back with rewatching my favourite parts again lmao.
The chemistry between GJ and YZ is no joke omg. Their love story is one hell of a ride but the end made it all worth it T_T The acting is also sooo good, most especially Zhang Ming En. I fell in love with his portrayal of YZ - how he nailed being a sweet boyfriend to GJ and how he acted as a jerk in the latter part. I felt his pain when he thought GJ betrayed him. I also love the character development that is very much present in the drama and how it walked us through the characters' journey to forgiveness.
Overall, there's never a dull moment watching this drama and I believe they wrapped everything up in the end. Definitely recommended if you're a sucker for romance like me. But even if you're not, it is still a good watch as it offers you some life lessons along the way (which is for you to find out *winks*)
PS. Also the OSTs make the drama even better huhu
PS2: So I have read other reviews about this drama and to be very honest, I enjoyed this more than Because Of You. I guess it's really a hit or miss. Try watching a few episodes atleast and see if you'll like it.
Was this review helpful to you?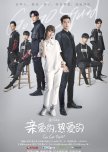 This drama truly deserves its hype - everything is perfect, from the storyline to the acting to the chemistry to the lessons that it's trying to convey.
I started watching this with only one episode out and have been waiting patiently since then until it finished. That being said, the past three weeks has been occupied by this drama and I even ended up putting my other dramas on-hold. I was busy catching up w/ its updates on weibo and twitter that watching GGS alone is already taking too much of my time lol. I mean that totally says a lot on how much i love this drama right???
The casts are well-chosen for their characters and they really gave justice to their roles. No offence but I don't see any c-actor who could pull off HSY like how Li Xian did it! He slays that frown facial expression without trying hard too much. I have always been a fan of Yang Zi since Battle of Changsha and Ashes of Love, and so I love how she nailed her character here again. A lot of people are complaining about her clothes but I wasn't bothered at all. I guess her bright and baggy clothes are there to constantly remind us of the characters' age difference. Well either way, the chemistry between the leads is so natural and cute that you can't help but ship them in real life too. I love the transition of their relationship from being awkward to being able to communicate well with each other - that just gives us a realistic feel of what really happens in the real world. Their seemingly natural interactions and chemistry are what really made this drama on one of my all-time top faves.
There are no draggy scenes (well, for me atleast) that having 41 episodes is not even enough to sustain me. I initially hated the flashbacks but later on realized how helpful they are with getting to know more of HSY and his strong determination to reach his dreams. I found the K&K boys adorable and the humour they bring to the drama just gives balance to the romance. I loooveeee the second couple and craved for their scenes. Moreover, the more episodes I watch, the more I get attached to the old team solo. I love how even though they are already in two separate teams, they are still there to support each other (huhu true friendship indeed!)
Watching the last scene made me so emotional because I am just not ready for this series to end yet T___T. It has been such a good ride and I grew attached to all the characters.
I liked a bunch of dramas but theres only a few that I truly loved - the ones that i got really attached to and wouldnt get tired to rewatch despite the passing of time... And I could definitely say that GGS is the new addition to that list. I can see myself rewatching this from time to time whenever I need a mood booster.
Overall, I love this drama so much and I would totally recommend this to anyone. Although it focuses in romance, it also centres around the characters' pursuit to their dreams that will surely motivate and inspire you <3
PS. THE OSTs FOR THIS DRAMA ARE THE BEST !!!
Was this review helpful to you?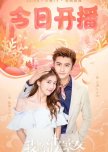 This review may contain spoilers
I have no words on how much I truly enjoyed this drama. I have been meaning to watch this upon seeing the trailer, mostly because I have been a fan of Leon Zhang since V Love days and this will be the first drama I'll be watching with him as the main lead. He already had a few dramas with him as the main but sadly those are not subbed at all. Hence I thought this wont be subbed either and temporarily put it on the side. Thankfully though, it got completely subbed and I ended up binge watching this in two days lol.
The chemistry between the two leads is off the charts and is definitely the main reason on why this drama quickly became one of my favourite cdramas this year. Their interactions and conversations are realistically convincing and amusing that I just want to squeal every time I see them on screen together. Their continuous bickering is just too funny to watch. And even though they did not become a couple till later in the drama, I still enjoyed watching their banters and flirty acts lol. No offence but Leon and Eleanor have done their roles so well that I don't think anyone could have pulled it off the same way.
The story is simple and does not have a lot of angst. I found the ocean research stuff interesting, as well as the Poseidon and Amphitrite backstory. Although I may get how not a lot of people will be interested with this and might find it boring (y'all can get away with skipping those parts tho lol). It did drag a bit in the middle, but I would say still manageable because of the two leads. The chemistry is truly the driving force of this drama I must say.
I loveeee the character of Ye Hai so much - how he's goofy most of the time but could also be serious and responsible when it needs to be. Although An Fei did not like him at first, he tried really hard and continued to show how much he likes her despite her indifference towards him. Ugh Ye Hai is just a boyfriend material alright?? I also like how they justified the actions of the characters - how they aren't really evil without a reason and how most of them changed towards the good in the end. I truly appreciate the writers for that.
The ending is a bit lacking but atleast it's a happy ending. As an avid fan of cdramas, I'm already thankful that the two leads ended up together in the end cos I honestly don't know what to do if they didn't T___T
Overall, I enjoyed this drama so much and would totally recommend it.
Was this review helpful to you?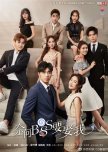 I have been putting this off for quite some time now because the synopsis didn't interest me at all. but good thing i still gave it a try and i was so hooked into it that i finished the drama in two days! it's been a while since i've marathoned this fast for a drama so that says a lot tbh. the story isn't anything new at all and could be cliche at some point. however the chemistry between the two leads are really strong and i guess that's the main reason why i enjoyed this drama. I would recommend this in any case !!
Was this review helpful to you?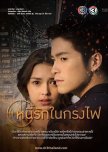 This review may contain spoilers
Selfless love, action, "damsel in distress" trope - it has all the elements that i want in a drama so you could say i'm a little bit biased with my rating. When I read the synopsis, I already started preparing myself for a tragic ending. I mean, if i put myself on the FL's shoes, i don't think I could ever forgive someone who killed my family - regardless of the circumstances. Who would anyway?? However those are just my initial thoughts and everything has changed since then.
Most of my sympathy goes to the ML (Kawin/Nai Noi), which was odd because I thought I would pity the FL (Chalita/Bell) more. The guilt he had to experience as a child and the lengths that he could do for the FL will truly melt your heart. The chemistry between the two leads is one of the best I've seen. The acting is amazing, most especially Alek. One look in his eyes and you could already see the love that he has for the FL. The kind of love that is not possessive, the one that seeks for FL's happiness more than anything. He loves her and yet there's that boundary that he could not cross because of the guilt. Oh I tell you, the scenes where he looks at the FL with his endearing eyes is heart-rending - because even if I (badly) want them to end up together already, I just can't bring myself to do so. The character that I also pity the most is Chakrit. It's kinda funny because I used to hate him in the beginning, but towards the end, I just want him to find the happiness he seeks.
There were TONS of times where the ML will save the FL so if you don't want that, well I guess this drama ain't for you. The FL is innocent and grew up in such a peaceful community (after the tragedy), so it's just understandable that she would find the fighting appalling. As a matter of fact, I love how the ML will do literally ANYTHING just to keep the FL safe. I think the only one thing that is annoying with the FL is how she easily comes with Chakrit and ends up being in danger in the end :---) But i guess, again, it's because she's innocent and was just really determined to find out who Nai Noi is. In any case, I must say that the FL is a pretty likeable character compared to other lakorns - how she could be smart and bold where it needs to be. She does not act on impulse and very much examines the situation carefully.
Most importantly, I love how the drama highlights the importance of forgiveness and acceptance. Let me quote what Nai Noi said in the end: "Don't let the bad past ruin the good time in the present. We might be upset, but must be upset with understanding. Accept it, and continue to move forward." This has really struck a chord in me and probably one of the few things that this drama has taught me. I could never stress enough how understanding and forgiving the FL is. She doesn't get mad easily, but is rather willing to forgive, accept, and cherish the present. Huhu both leads really deserve each other. They are wayyyyy too kind-hearted.
Overall, I would recommend this drama. It has a good solid beginning and has consistently kept my interest and suspense until the end.
Was this review helpful to you?