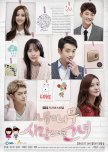 Zero Chemistry. I would only rewatch an episode of this drama, if I wanted to make fun of the poor acting. I kind of hate saying it because I really like most of the cast, and most of them did well.
I have never seen her in anything before, but I did NOT like Krystal in this role. I could be wrong, but it seemed like she was trying to emulate Park Shin Hye's acting style, but she did it poorly. The expressionless face, always speaking slowly in the low tones.... only works if your voice is rich and your eyes alone, can express more than one emotion .
I don't know how Korean Culture views this, but I had a big problem with the idea of a girl hooking up with her dead sisters fiance'. It is just not something I can feel sympathetic about. Even if he was my soul-mate and I didn't find out the connection until after I was pregnant with his child.I still wouldn't date my dead sister's boyfriend. lol... okay, I am exaggerating, but you get the idea. That said, the story itself would not have been as much of an issue, if the Chemistry between the leads was even remotely believable.
On a side note: I enjoyed L in this part, I hope to see him as a romantic Lead in the future. I also always love the second lead female in everything she is in, and would love to see her as the lead in a noona romance... maybe with L. That would be worth the watch.
Was this review helpful to you?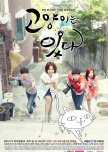 This drama played 5 days a week, for 119 episodes. As expected, the pace is a bit slow.
The overall story is told like a parable. Money can not be taken to the grave. Selfishness is not rewarded with love. The ending for each character is according to whether they Endure with a pure heart, were tempted to the dark side, or if they learn to be Generous with possessions and giving in love.
The first episode was a bit awkward. The Cat theme was a little weird until you understand how they are tying it into the story.
I am glad I hung in there.
I really enjoyed it and after 22 weeks, I am going to miss the characters.
Was this review helpful to you?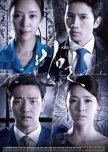 Secret
6 people found this review helpful
This drama is my no.1 favorite drama, but the first time through it was about no. 7 or something.Sometime after the first watch, I was in the mood for something with a little depth. Secret/Secret Love is a little more serious than I like but it has a really satisfying ending... so I re-watched it. And then I re-watched it again. Each time I moved it up on my favs list. I finally had to admit that this is the best drama I've ever seen.
I am not usually a fan of the more serious dramas. It was so dark in the first few episodes I almost quit watching it around the 6th episode... but I am so glad I hung with it, because it got so good after that. The story is really compelling, and I love how they reveal bits of the story as the lead characters are finding them out. I know I am not alone in hating misunderstandings in Dramas. I get so frustrated when you know character A never did what character B thinks they did, but it takes 3 episodes for character B to find out. In this one, everything everyone is doing makes sense based on what you know at the time.
The acting is amazingly good. I hated Bae Su Bin so much after this drama, I had a hard time seeing him as a sweet character after this drama. I am sure that is a compliment to his acting, although, I found him a bit over the top in a couple of scenes. I became a fan of both Ji Seong and Hwang Jung Eum after watching it the second and third time through. Seriously they deserve Oscars(or whatever the equivalent award in Korea is) for their performances. The scene where she crosses the street to get away from him is so good. I recommend this drama to everyone. Watch this when you want to be completely absorbed in the story and characters. It is not light viewing.
Was this review helpful to you?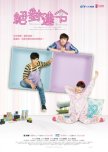 My 100th completed Drama. Yay!. I was excited to see it because I love Jiro Wang, the subject sounded funny, and I saw the music videos from the Soundtrack. BTW. I am so crazy about the song 'Pretend We Never Loved' by Jiro Wang, that I have probably watched the video on youtube a 100 times.
There was a lot of adorableness in the drama. I was drawn into the story and cared about the characters. I was really pleased with the lack of shrill voices and overacting, considering it is a Taiwanese drama. (I usually prefer Korean dramas) Really great cast, all around.
I was a little surprised about how the story ended. It was not your typical and they lived happily ever after ending. I was a little disappointed that there wasn't more about the person the Robot was modeled after . Overall, it is still an interesting story. I would recommend it to people who like Jiro Wang, B Sci-fi, and unrequited love.
Was this review helpful to you?