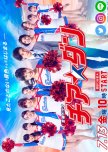 The story isn't anything special. Anyone who's watched any drama about high school sports can probably guess how the story would go. The charm of this drama isn't the outcome of the plot but how each episode zoomed in on different problems and different characters. Not only were the core members of the cheer dan team developed well, the parents and the teachers were also given depth and their own personality. Also, the soundtrack is beautiful! The instrumental track in the OP sequence always gets me excited for the coming episode and the theme song that plays at the end of episodes somehow always makes me tear up…
I think at the core of this drama, it's just a story of regular people supporting the people they love — early on, they mentioned the importance of a "cheer spirit" in doing cheer dance, but as the drama progresses you see how many forms this "cheer spirit" can have in real life outside of cheer dance. You can see how the girls came to develop a sense of cheer spirit that was crucial in their cheer dance. (By the way, it's interesting to note that in the final competition towards the end of the drama, the participating cheer dance teams were very courteous to each other and genuine in their support of each other's success. It was a refreshing thing to see, when normally you'd expect some rivals to be jerks. Hooray "cheer spirit"!)
As a fan of Tsuchiya Tao, it may be bias speaking, but I think she did a really great job on this drama. Her character, Fujitani Wakaba, initially doesn't seem very interesting and is often overshadowed by some of the other more eccentric characters in the ensemble. But as the story progresses, you get to peel her personality layer by layer to understand that she is more than just a cheerful simpleton. Another character I like is surprisingly, the Vice Principal (who is a father of a member of the team). His subplots with his daughter are some of my favourite moments in the drama. I also liked the character of Taro-sensei, the teacher in charge of the Cheer Dance club. I liked how his relationship with Wakaba was painted as a relationship of mutual respect, and how genuine he was in supporting the girls' dreams without any hint of lewd intentions. I was initially a bit wary about whether any romantic feelings would sprout between him and Wakaba (it's a genre Japan seems to be fond of lately after all) but I'm relieved that there was none of that kind of bullshit. His relationship with his wife and son was healthy and nice to watch too.
Was this review helpful to you?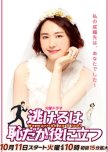 In my opinion even though the trope is in no way original, they somehow made the plot fresh. For one, contract marriages in dramas are often done in reluctance and/or impulsiveness, but in Nigehaji it is a result of calm deliberation with clear, specific terms of contract – giving a new perspective to the issues revolving contract marriage.
The characters are also quite surprising to me as a longtime drama watcher, where every! single! character! has a strong sense of responsibility, intellect, maturity, and most importantly nuance. The most frustrating thing about dramas is how dumb and childish some of the characters can be, and it's really refreshing to have an ensemble of perfectly logical characters (even if sometimes quirky) for once. Having watched too many stupid dramas it's now second nature to me to brace for annoying decisions/reactions in dramas that will result in draggy plot arcs but so far Nigehaji has always pleasantly surprised me in this aspect.
The characters also represent character tropes often exaggerated in other dramas, but instead given complexity – a nerdy bachelor (but not socially inept), a sunny heroine (but not pushy), an old maid (but not desperate or bitter), a handsome "jerk" (but not arrogant and self-centered), a gay character (but his sexual orientation is not made a big deal), just to name some of the more prominent characters. This is thanks to both good writing and good acting.
But personally the true charm of Nigehaji, what makes this drama stand out from other recent dramas, is how serious and real they can get about contemporary social issues, without making the dialogue feel too heavy or unnatural. The social commentary is only sprinkled subtly over casual conversations among the characters but yet the range, depth and nuance that they've managed to capture is really impressive to me.
Rewatch value is 1000/10 for me because I'm not usually a rewatcher type but with this I pretty much watched each episode at least 3 times -- can't get enough of the sophisticated humour and the fluff
Was this review helpful to you?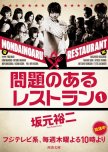 This might be the first drama (or even first show, in general) where sexual discrimination is clearly the main theme. Although I would have liked it even more if they included more diverse body types in the main cast, considering how fat-shaming is in east asia, I think they did have a pretty good variety of backgrounds. It's also nice that they had an actually human crossdressing character, as most of the time when crossdressers and homosexuals appear in Japanese shows they are painted as caricatures. The males' storylines are not very well-developed, but I guess there's not much space for that and the lack was not too distracting.
The acting is impeccable. I think everyone in the main cast delivered their roles spectacularly. I was most impressed by the Heisei girls: Chika, Nitta, Kawana. Their acting had a lot of subtle but powerful moments, and that really brings out the gravity of their problems as they are in real life and helps you understand the complexity behind these characters' sometimes seemingly annoying behaviour.
Recommended to a fellow actively feminist friend, she loved it. Not sure what the response might be if it wasn't a particularly strong feminist watching this, they might get bored by the slow real-time plot progression (due to flashbacks to explain characters' backgrounds). I guess for feminists the digression parts are actually interesting. But I think anyone watching with an open mind would enjoy this. People only looking for something fluffy should wait for another time to watch this.
Was this review helpful to you?