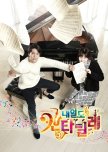 Story: It's clearly said that this is Nodame Cantabile's remake, but somehow i didn't feel that way. The center of story were pretty much the same, but i liked how this drama managed to have a great development between the characters more. That being said, i personally think that we can't really compare these versions, since it have 'its' own way to tell the stories and have a quite big difference on delivering it to us. I haven't watch Nodame Cantabile, so i was kinda happy to have this as a 'new' drama and have nothing to compare at all. The story progressed at a good pace, though there were some draggy scenes. This is a totally about growth of characters. Some people wondered why this drama gave them feeling that this is not a 'musical' drama, while Nodame Cantabile was totally great at managing those aspects. It was music that brought to them together, and i could say that this version was intended to gave us the more realistic things about how these characters manages to got themselves aware about their fear and being able to overcome it together. It has depth in its story, even though it still felt a little bit 'unoriginal' since it's a adaptation.
Acting/Cast: Great. Amazing. I've got nothing to say when these character were slowly became the biggest point of how this drama could be so great even though i don't expected this drama to came out this good. Joo-won was great as always, and Shim Eun-kyung was amazing to have made her 'own' Nodame without trying to be the j-drama Nodame though she unconciously did that on few first episodes. Il-rak was just likeable character, while i don't expect Yoon-hoo to be a lovely character towards the finale. Everybody has done a great job on potraying their character.
Music: Definitely great. No comment for this because i just LOVED all of the songs. Including the OSTs!I've been listening 'Listen To My Heart' by Melody Day for weeks, and has never got bored of it.
Rewatch Value: It was cute and lovely. I'll rewatch this when i have times, although i really don't rewatch the completed dramas that i've watched.
Overall: 8.5/10
It was an unexpected good drama, and one of dramas that i won't forget 'cause of the feelings that it gives to me.
[SORRY FOR BAD GRAMMAR :)]
Was this review helpful to you?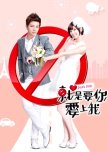 Just You
2 people found this review helpful
Well, i actually liked this drama. It doesn't have a very heavy plot to follow, though it's a bit draggy towards the final. The couple's chemistry was good enough to made me interested, and Aaron Yan was just a perfect actor for his role, Qi Yi!I've known Puff Guo after her appearance on 'We Got Married 2: Global Edition' as Heechul's virtual wife, and I can say i loved her portrayal on Cheng Liang Liang's character. I found her voice a bit annoying, but you'll just get used to it.
Other casts wasn't really important but their story was a nice sight to see. I found their story quite meaningful but not so memorable. Ding Jia Yu was the only character that got on my nerves. She might not be the worst, but she sure a 'bad' second lead. She didn't deserve my sympathy about being a pitiful character when she didn't try to understand at all.
The music wasn't so captivating, but there's a song that i liked (i forgot the name).
For rewatch value, i give it 8.5 'cause i think i'll rewatch this often. This typical rom-com is my favorite, and it kinda helped me on healing my frustation. It's easy to watch, lovely, and cute.
Overall, this drama got 8/10. Even though the story was just so predictable, i found myself really fond of this drama. The main casts were pretty good, and the draggy scenes were not that bad. It's a typical drama which have a nice fluffy romance in it. In short, it was a cute drama that helped you on releasing your stress but not 'that' amazing.
Was this review helpful to you?