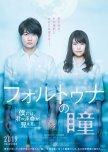 This review may contain spoilers
What can I say but wow?
Fortuna's eye is the perfect mix between thriller and romance, meshing together to make an incredibly unique and moving movie. The acting was superb, and the script really packed a punch, to the point that'd I'd recommend this to anyone even if they weren't into romance.
A few things stuck to me with this movie that I greatly appreciated. One was how Shinichiro approached his ability, and the struggles he faced with knowing a person's future. The movie does not shy away from the difficulty one would go through if they could see when people were going to die and explores it in quite a bit of detail.
Two, the romance was incredibly well done. I admit that I am not a fan of romance, I find the genre to be full of really unhealthy and/or incredibly unrealistic. However Shinichiro and Aoi's relationship was really well done and added quite a bit to the story. It took an interesting premise and pushes it further, as Shinichiro sees Aoi start to fade.
Third, the ending. Now maybe I haven't watched enough Japanese movies but it caught me by surprise and was really moving. I would have cried my eyes out if I could! (Unfortunately a big earthquake happened during the movie so I was still full of adrenaline when the credits started rolling.)
All of this made for an excellent movie that I highly recommend watching!
The icing on the cake was Jun's acting - while he only plays a side character in the movie, he was absolutely phenomenal and I'm glad to see him get more and more roles.
Was this review helpful to you?
I went into this movie blind. I was expecting to not like at all, as I'm not a fan of romances, and the shojo romance adaptations I've seen have been just meh to infuriating. This movie defies all that, with a light-hearted but interesting storyline and a love triangle that didn't make me wanna pull my hair out.
I'll start first with the story. Honestly the whole movie reminded me of Hana Yori Dango in a way, with how the love triangle played out. Usually I find the cold guy in these kind of love triangles to just be a really bad character. However in this case he (Mitsuki) was a really good dude. Taiyo was also a great character and his friendship with Mitsuki was really wonderful, and I found Sei to be an adorable and relateable character. The whole movie actually kept me guessing on who was going to get the girl and to my surprise I got it wrong. My biggest gripes with the story is the bullies were annoying and I found that the movie didn't show Sei's reasoning for the guy she picked as as much as I thought they could.
Now as for acting, really good. Sei's actress is experienced and it comes through. I admit I only watched this movie for Taiyo's actor (Sato Taiki) but I also thought he did a great job. Mitsuki's actor is a newcomer, though I have seen him in 3-nen A-gumi, but he also did excellently and I look forward to seeing more of him in the future.
I honestly didn't notice the soundtrack at all, which means it's good enough to at least no get on my nerves. The cinematography is wonderful with beautiful color, made me miss my old life in the countryside where I could see he stars every night!
All in all, if you want something light and fluffy this movie is a good pick for a warm summer night.
Was this review helpful to you?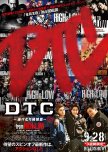 High&Low DTC is the movie that we never asked for but we all needed. It's fun, it's funny, and it's touching, and has a plot towards the end that could stand on it's own if it wasn't part of this franchise. In a franchise that's known for it's depressing stories and violence, this is a breath of fresh air and shows another side of the High&Low 'verse.
First off: this movie is very much made for fans of the franchise. While it won't spoil anything from the previous movies, there's a lot of in-jokes and mentions of off-screen characters (often for a joke) that is really hilarious to fans but probably not so much for people who haven't watched the show at least.
The first half of the movie is pretty dense comedy, and I busted my gut laughing quite a few times. But then the movie dives into a story about a couple deciding if they should marry, and the DTC crew decides to lend a hand. It's really touching, and it gives Dan, Tetz and Chiharu a lot of room to show off themselves outside of the series. It's the content we've all wanted, seeing characters from High&Low in their daily lives and what they do outside of "protecting this town".
The main story of the drama itself, focusing on new characters at an onsen, is really really good. The ending surprised me a bit and definitely made me tear up! All the new characters are amazing and the acting was great.
If you love High&Low, you can't miss it!
Was this review helpful to you?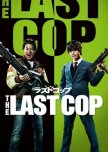 If you've seen the first two seasons, you know you're in for something wacky. But these two episodes (split up into 2 parts each) are an absolute blast, and it's definitely the craziest that we're seen so far.
The first episode is a body swap between Ryogoku, Ryota, Yui and Kanako. It's absolutely hilarious but I have to give huge props to the actors who did a wonderful job considering how different their new characters were! A perfectly silly episode, to say the least.
The second episode have Ryogoku and Matsura travel back in time. Most of the characters in the past are played by the regular cast so it's hilarious to see say, Wakayama as a late 70s punk. The episode was surprisingly touching as well as funny, and you get to see Ryogoku and Matsura's backstories which was unexpected but also great.
If you're a fan of The Last Cop, you have to watch it! Cannot give it high enough praise!
Note that the 2nd episode is just the cast apologizing for releasing the 2nd half of the body swap episode late, since Ryota's actor caught a virus and wasn't able to film. Feel free to skip.
Was this review helpful to you?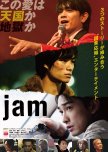 Jam
0 people found this review helpful
This review may contain spoilers
I watched this movie over my winter break, and caught the last showing they had in Tokyo for it. I went in knowing nothing about it, other than it was riddled with some actors I really like (as an LDH film).
And I came out knowing.... not that much more.
The plot is really strange: It follows three characters on seemingly different paths and the movie goes into how their stories are intertwined. There's the oldies singer who has a very dedicated fan-base of mid-50 year old women, the delinquent who just got out of jail and wants revenge on his previous gang that just left him there to rot, and then the guy who's girl is in a coma after being shot.
There are just so many incredibly bizarre things about this movie. From the introduction, where a crazy woman is hurled out of a car windshield, someone actually having God appear in front of him - like a ghost - and tell him things to do, to the revengeful delinquent walking around with a knife in his back and at least 2 bullet holes for at least 4 hours. And that's not even covering half of it.
There really is like no plot to speak of. Events happen, but at the end you're just left wondering why you watched. It's so incredibly vague (that guy and his grandma has to be dead by the end of things and what he was seeing was the afterlife) and just so weird that when the lights turned on when the movie stopped I couldn't help but laugh for a solid minute trying to process what I watched.
If you want a really really out there movie, I mean, go for it. If you want to see your favorite actors (like I did), just know that you're getting into some really weird stuff and it's probably best watched with a friend or two and some strong drinks.
Was this review helpful to you?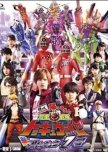 Taking place 10 years after the show, this v-cinema follows the ToQgers after they've grown up and they personally revisit their final battle as the ToQgers.
The movie revolves around the themes of growing up (and growing old), what it means to be an adult and serves as an amazing reminder that you never have to let go of your inner child. It's the perfect movie for both adult and child fans of the show, with a message that everyone can learn from.
As for the acting, it's spot on - especially the child actors. They do a really good job and the scenes between the adult and child casts are really a joy to watch.
The only thing that I could complain about is that the second set of suit actors they got are too tall but I mean they can't hire actual kids to do stunts, so it's fine. And you can always explain away things with ~imagination~ if you want.
A lot of people are really moved by the movie, and I was no exception. I personally cried like a baby during some of the most moving parts when I first watched it.
Highly highly recommended. If you're a ToQger fan, you can't miss this one.
Was this review helpful to you?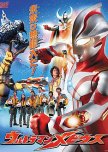 It's hard to put into words what Mebius means to me. But maybe I can explain what makes this show so special.
Mebius ran on the 40th anniversary of the Ultra series, and the writers definitely took advantage of that fact. Produced when Tsupro was on the brink of bankruptcy (it was the last show until Ultraman Ginga, 7 years later), you can tell the writers, producers, stunt workers, and every other behind-the-scenes staff poured their blood, sweat and tears into this show.
How do you know?
Because it will make you cry like a baby.
The show manages to celebrate what makes Ultraman truly special in a way that both newcomers and old fans can enjoy and be moved by. It doesn't just pay homage to it's predecessors but adds to them, providing incredibly meaningful and wonderful conclusions to previous series.
However Mebius does all of this without sacrificing it's own show. Ultraman Mebius and the GUYS defense team stand as the central focus, and their development and growth over 50 episodes was a delight to watch. Each character is so enjoyable and feel necessary, thanks in part to the writers deciding to dedicate the first half of the show primarily to them.
All of this builds up to a show that was made by fans, yet is easily accessible to newcomers and die-hard fans alike. Mebius's charm is infectious and you will want to share it with friends. Crying alone isn't very fun, but with friends.... that's what friendship is for, right?
Was this review helpful to you?