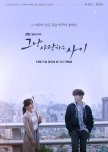 In a sea of overused tropes and tireless storylines, there is JUST BETWEEN LOVERS–a drama that dares to be quiet in a world that exists in noise...and makes itself heard not by the sound it makes, but how it makes you feel.
This is a beautiful drama that draws its inspiration from life itself and all the hardships and triumphs that come along with it. It somehow manages to take the simplistic and mundane of life and make it strangely beautiful. And I think that's why it resonates with so many people. It's not a story about a poor girl winning the heart of a rich, cold-hearted man or a story of a girl who can see ghosts and walk with goblin's.
It's just a story about life and the pain that comes with it. And I think it's a story that echos the life of so many people. The hardship of losing a loved one and being the one left behind. Being filled with self-hate and guilt for being the one that lived. Learning how to appreciate the little moments in life that make your heart swell, even though they are brief and flitting because they are what make life worth living. All these moments and more that we encounter in life are in this drama and I guarantee you, you will not walk away from this show untouched.
So I hope you will take a chance on a story like this one and love every piece of it for what it is. A story about two people, living life, and learning how to brace the hardships and triumphs of life together.
Was this review helpful to you?