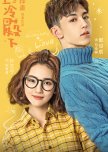 This drama is one of the best Chinese dramas i have watched!
The story line is perfect for me . We got to see not only the relationship between the main character and other side characters . From love to family to friendship to celebrity business!
The Story is so not only funny but romantic. It has many cute scenes that got me wanting to keep watching . The chemistry between the two main leads was perfect !
The music was great too , i even added one of the songs to my playlist .
If you are a fan of cute, short heart warming dramas , then this one is definitely for you !
Was this review helpful to you?