The website is currently undergoing maintenance. Sorry for the inconvenience.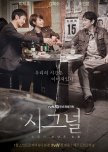 Signal
150 people found this review helpful
Just finished this AWESOME drama!! The feelings are still here. I can;t even count how much tears was produced due to this drama. This is definitely a must watch drama. Although some parts of the case may be pretty graphic (according to me) it was still good. This drama definitely wouldn't be how it is without those scenes.
Story: This is by the best story line I have ever seen. All the actors are perfect. I felt their pain, their happiness, their frustrations, everything. This drama made me smile, laugh, and cry. Nothing can explain the feelings I had while waiting every week for new episodes.
The writer did such a good job at keeping the suspense always there. The fact that the story has many questions left to answer and is kept for the audience to decipher on what they want to happen is so breathtakingly beautiful. Its just so amazing that the writer and director was able to mesh all that and bring this wonderful work. This drama is definitely by far one of the best detective dramas, or drama overall.
Actors: I love the actors. Every one of them meshed into their character so well, I couldn't even tell they were acting. The child actors just hit my heart so so bad, especially the famous omelet scene. Gotta give it to the boy, I cried so much watching that scene. After this drama, I am definitely having an ahjussi-crush on Jo Jin Woong. The mains of this drama was just the best ones the directors could have gotten. I can't even imagine any one else playing their characters. Kim Hye-soo was also superb. Her acting during the shock scene was just...no words possible. Last but not least, Le Je Hoon was not just eye candy. The emotions he showed touched my heart soo much. I fell for him even more after this drama. Overall, the actors and actresses were TERRIFIC. I wished this drama never ends.
Music: Love the OST. Been jamming with it every day. It's definitely going to be on repeat to relinquish my withdrawals from this drama.
So many questions are left after I finished this drama... Despite that fact, this is still a must watch drama!
Was this review helpful to you?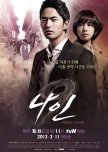 i love this drama!! it is sooo one of my top drama. the story line was fantastic whenever you think it's going in this direction the writers screw you up. i cried soo hard in this drama and sometimes smiled liked a crazy person. overall, the writers did a really good job in this drama.the chemistry between the main couple... i like it mainly the guy. OMG he was soo hot in the later episodes!!PLUS THE KISS SCENES...///O..O/// anyways i highly recommend this drama:)
Was this review helpful to you?