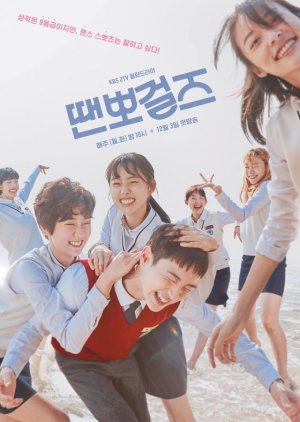 This review may contain spoilers
When Your world populated by full of powerfull people, to the point your world makes you feel small, your dream seems so BIG and you seems unable to achieve with of what you have, you face real struggle and the weight seems getting heavier each step you take. The obstacle getting bigger and your small body and mind is no longer can handle it. Without knowing, you are looking the light in a dark of a cave , You seeks Opportunity and hope when you face full of pessimism people that almost take you down. Every people need escapism, These student find their escapism in dancesportsgirls, a club which almost getting eliminated in their school Girls commercial due to less people interested in, and getting overlooked by others. In the end, this club is the one who give them the happiness they crave even if it's just for a brief moment, and the little glory that give their hope up. For every reality you face : Money, powerfull and selfish people, pessimism, bad environment. There is Escapism, and someone/something you can rely on as your grip. Shie EUn has it in Dances sport girls club, Great Teacher, Seung Chan. In this worlds is hard to find it. But when you find it, , try and achieve your dream, so might be someday, you will be the one people could rely on, and become their hope among endless array of pessimism.

This drama have great message. Each episode, you will be an awe of each the storyline and the realism the writers put in each character. This is one of many aspect that makes a drama special. There is a lot of writers who seems excel to create a believable and cohesive story, but they lack soul and heart that make a good story become great. This drama has both from the first scene until the last one credit rolling. without giving us useless gimmick, more focus to the overall narrative . . The only aspect I think is lacking is I wish KBS give the writers more episode to give this drama more justice, so some conflicts would be unfold more subtle and believable. But overall, another great project from the writers among her other drama KBS Drama Special. I hope My Favourite writers will get another awsome project from KBS or any TV station despite the low rating this drama got. She is awesome.

Was this review helpful to you?