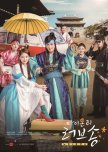 This is a super cute drama, yes, there are plot holes (but it's a historical web drama what do you expect) but overall it was well executed. It a quirky, funny little drama that doesn't require much commitment but you'll be thankful you watched it.
OST's- The track wasn't great, wan't bad but not particularly memorable.
Storyline- Was extremely adorable. I was satisfied with the ending although I wished they'd shown a bit more of the ending parts and dragged it on a bit longer. There were plot holes but nothing too bad. Overall I was happy with the writing of the drama.
Acting/Cast- They did really well with the casting of this drama, all leads portrayed their roles well and the chemistry was great between all cast members. The lead couple and the 2nd male lead did really well too, the 2nd male lead was adorable and made me love him so much.
I implore you to go watch this drama, you won't regret it, it's super cute and will make you feel warm and fuzzy inside (and wish you had a man/woman like the leads i the drama).
Was this review helpful to you?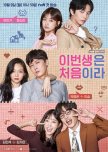 I'm not going to do a full review just because I don't know how to put it into words, but this is one of my all time favourite dramas. It tackles real life issues while at the same time putting a humorous twist on it. If your looking for a lovey dovey romance drama then I suggest looking elsewhere- the drama between the two main leads picks up quite late in the drama- but it's still definitely worth watching. I wouldn't say this is an easy watch, you get invested in the drama and there is never a time where you are questioning why you haven't dropped the drama yet. The second male lead it super cute and the side couples are adorable too. Words that I would use to describe this drama are 'just right'- it's just right in all aspects: complete with a cute romance (but tackling real issues), parental friction and just overall life problems. The characters don't particularly know what they're doing with their lives, and that's why they're so easy to relate to.
Anyway I would always recommend this drama to anybody; in my opinion it's underrated. The cast is incredible, put together with good ost's and a well written story line it's a drama that I plan to rewatch many times in the future.
You should do yourself a favour and stop reading this review, go watch the drama instead :))
Was this review helpful to you?
To.Jenny
1 people found this review helpful
This drama was just so adorable- it left me satisfied and glad that I'd watched it. I dreamt of moments where a guy would like me that much as the male lead like the female lead in this drama and I wished that I could have that type of young, naive love. The acting was well executed and there were no discrepancies in the story line.
The male lead Park Jung-min (Kim Sung-cheol) was lovable and forced you to love him in his awkward moments.
One downside of this drama is this amount of time they spent with the male lead singing, I skipped through most of these scenes. This definitely shouldn't stop you from watching the drama because overall it's incredible, but it's something small to look out for.
To conclude this drama was short and sweet, the acting was sweet, the storyline was sweet and it left a sweet aftertaste. I'm about to go rewatch it- and I think that everybody should go do that too.
Just an after thought: Jung Chae-yeon was good too, I'm a fan of her from her I.O.I days (and now from DIA) but I commend her for her strong acting. It didn't stand out as amazing but it wasn't bad either. It was sweet just like everything in this drama special. Also don't get discourage because it's only two episodes, the drama gave us everything we need within these episodes and didn't leave any loose ends.
Was this review helpful to you?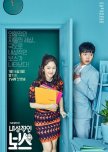 Looking through different reviews of this drama I was a little disappointed to see that it didn't get particularly good ratings, I love this drama and I would recommend it to anybody any day of the week.
The OST's were great (I'm listening to the sound track as I write this and it makes me want to rewatch the drama again), especially Memory by Ben, Because Of You by Kim EZ and One More Step by Sandeul- they're my favourites. The acting was well executed and the two leads played their characters well, it wasn't overdone or too melodramatic. There were sweet moments between the two leads, yes, you may have had to wait for them for a little while, but they happened eventually and they were incredible and worth waiting for.
I especially liked the acting of the second male lead, Yoon Park is a great actor who always portrays his roles well- In 'Hello My Twenties' he made me love his character so much, while in 'Introverted Boss' he made me hate him at moments and then love him at others. I really commend him for being to be able have that sort of duality.
I loved how you really got to watch Eun Hwan-Ki come out of his shell and get more comfortable with the Silent Monster team, many people argued that it happened too fast and it didn't really make much sense with the timing of events- but I disagree, I loved this aspect of the drama and loved seeing all the weird situations he got in when trying to help out his team-mates.
Another aspect of the drama that I loved is how sweet Eun Hwan-Ki (the male lead) is and how the drama portrayed this, everything he does he does it when thinking of how it will benefit others. He's just a shy little boy trying to express himself in the best way he can- yes it does come off as a bit creepy at the start of the drama but you learn to love his quirks and oddities as the drama progresses.
All in all I'd really recommend this drama, give a bit of time (don't drop it too soon) and I'm sure you'll come to love it as much as I do. Don't judge it too harshly at the start and go into watching it with an open mind. Everything will make sense at the end of the drama so don't get confused when it's a bit convoluted. Good luck :))
Was this review helpful to you?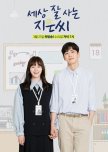 Miss Independent is my absolute favourite web drama- and I automatically find myself going back to watch my favourite parts of it each week. It's was all perfectly presented, with just enough romance to leave me feeling satisfied and happy, wishing that I had a guy like Woojin to woo me perfectly like he did to Jieun. They were the two perfect leads, the acting was great, and casting for all the positions was well done.
What I especially love about this drama is it's story line- it talks about everyday issues; from bitches that you have to face at work to getting your period while wearing white pants. And the female lead reacts to all of this well, as stated in the title she is 'Miss Independent' so whilst watching the web drama you learn tips from her, she takes on all of her problems in a rational way and thinks things through. This is my favourite aspect of the drama, as it really depicts that splice of life perfectly. She doesn't jump into the romance with the male lead abruptly, and reacts to crushes in a way real people would, she not a typical kdrama girl, and that's why I love her so much.
I should stop talking about how incredible Jieun is woops- anyway I would completely recommend this drama. You won't regret watching it and it will leave a sweet aftertaste. You can watch it on Youtube so it's easily accessed (here's the link to the videos https://youtu.be/GLXFLrYjWxA ).
Was this review helpful to you?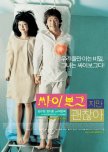 Honestly I was mostly confused throughout this whole movie- I went into with no expectations (and mainly watched it because of Rain... because why not?), other reviews said this movie was for people who enjoy quirky, out there entertainment, and that's normally not me, but I thought I'd give it a try. I can see how others would like this a lot, and I didn't dislike this movie in the slightest- I just didn't really understand it.
The character development was consistently good throughout the film with the two leads. The ML was extremely adorable, and I liked how the FL grew as a person throughout the movie, but that's really all I would say. There's not much of a story line and it seems to jump around a bit, so I wouldn't recommend this to anybody who doesn't know what they're getting into.
The romance was well slotted in, there wasn't a lot of it but when it was there it was well written and acted. Park Il Son made me swoon, and the FL naivety was well placed too.
One thing I will say is that the acting was really good, they characters were complex, and it looked like they would have been difficult to portray, but it was really well done. Throughout the movie I forgot that the man I was looking at was Rain, and started the think of him as Park Il Son.
Overall I would say, yeah, totally go watch this movie, but go into it with an open mind. I won't criticise it because in theory it was a good movie and I liked most parts, but it just was not to my taste.
Was this review helpful to you?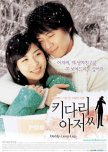 I think this might be loosely based on the novel Daddy Long Legs by Jean Webster, it's one of my favourite books. Even if it's not I would really recommend that novel, it follows a similar storyline to this drama (at least that's what I get from the description as I haven't watched it yet) but was written in 1912 and is super sweet... I should go read it again actually.
I'm going into this movie with no expectations, I realise that it's probably quite different from then novel so I won't be disappointed if it doesn't reach my expectations. Let's hope it does though :))
Was this review helpful to you?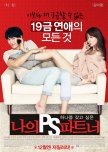 There's not much to this movie, it's funny so if you're wanting a good laugh then I recommend this. It's got a lot of well written scenes and the acting is executed well.
I really enjoyed this so I would recommend it 10/10 if you're wanting and easy watch comedy (maybe don't watch this with you're parents around lmao cos it can get a bit frisky at times).
So apparently my review has to be 500 characters in length so I'll lengthen this out a bit.
The two leads had extremely good chemistry, and it was funny watching them both realise that they liked the other. The two found themselves in some funny situations that were cliche but but worked out with the dramas vibe. It wasn't too comedic that you got sick of the jokes and they added just enough romance for you to ship the two main characters.
I don't remember the official sound tracks (if there were any), so I can't comment on that.
Anyway I've just finished downloading this movie so I'm going to go watch it again- I hope you go do that too :))
Was this review helpful to you?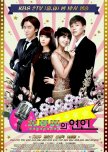 This review may contain spoilers
I started watching this drama extremely excited for it- I'm a fan of Apink and Eunji's acting, but this drama just didn't cut it. It seemed like they ran out of story line after maybe the first 7 episodes and they just didn't know what to do with the end. Some of the story lines were just too dragged out and I almost dropped this drama half way through, if it wasn't for Eunji I would have. The acting was good but they could have done so much better with the story line.
A good this about this drama was the female leads little sister- she was cute and provide so funny moments throughout the drama. Also the cute moments when the male lead comes to eat at their house it one of the highlights of the drama.
SORT OF SPOILER HERE:
The amnesia storyline was unnecessary- it didn't add anything to the drama and just made me frustrated. It wasn't well executed and just left me confused.
SPOILER END
Overall I would only recommend this drama if you're a fan of any of the actors and are willing to sit through a not so good second half. It wasn't too bad but mostly it was only memorable for Eunji's vocals and the shitty story line. The drama isn't so bad but I wouldn't recommend it, there are some cute moments but there weren't enough to 'save' the drama.
Was this review helpful to you?