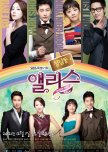 I liked this drama. It was a different perspective from the others and was mostly done well.
In the first few episodes it was just hilarious and crazy that I missed it in the ending episodes. But, although many people didn't like it, I understood most of the decisions the characters took and felt that they were correctly depicting reality, sadly enough.
The last 2 episodes, however, I didn't particularly like how they chose to resolve the conflicts set up and sometimes was so confused that I had to pause the show to try to understand what was going on. I was also puzzled with the message the show was trying to teach me.
Even though I'm a huge fan of MGY, PSH and So Yi Hyun carried the majority of the show. I came for MGY but stayed for PSH and SYH. SYH's character was the highlight of this show. I started hating her and by the end I was rooting for. I also loved the secondary characters.
One thing that must be mentioned is the OSTs and BGM. They were done perfectly in this drama and completed each scene they were played in. Many times a would be boring scene was made better with the music.
Overall, a well done drama. Addictive at first but leaves a weird aftertaste after
Was this review helpful to you?