The website is currently undergoing maintenance. Sorry for the inconvenience.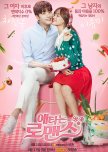 This is one of the dramas I would like to binge watch just because 2 episodes per week ain't enough. It's a very typical kdrama romance, but very light on the angst so it's very enjoyable to watch. I never expected much from the leads. I've only seen SungHoon in Noble, my love and I'm not impressed with the acting there but he is a surprise in MSR, he improved alot in the acting department and I especially liked the way his eyes expressed how he feels during the last part of the ep 1, the one night stand. I felt that the acting on both leads made the scene passionate but less racy. The story so far is fast moving, no unnecesaary scenes (the beauty of 12 episodes).
I recemmend this to those looking for a romcom with great kissing scenes.
Was this review helpful to you?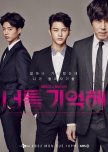 I marathon-ed this drama and love it to bits. But I'm giving it a 9/10 just bacause it was open-ended and I felt like for this type of drama, if there won't be a second season slated, they should have gave resolution to the JoonHo issue. There is just no closure for everything and nobody paid for their mistakes.
Romance is not necessary to make the story exciting. But the bromance between brothers Hyeon and Min is so beautiful. I kinda understand Min's devotion to Hyeon, his hyung has protected and taken care of him like a parent does when they were younger. I kinda wished my sons' relationship is that close.
Although the story arc is about serial killer Joon Ho and Min, I felt like they were not necessarily evil, but they do have a twisted sense of justice. Makes me think of Dexter (from the serial killer US series Dexter), but unlike Dexter who kills evil people just satisfy his nature to kill. Killing is never be justified. It's always wrong. But you will feel a sense of pity for MIn, maybe because Park BoGum acted him so well. I think that if he stayed with his hyung, he wouldn't have turned out as bad as he is. I do feel sorry for Cha JiAn, she was always getting beat up. Anyway, I think 16 episodes are not enough. Ep 1-15 are really great, plot wise, but ep 16 towards the end felt rushed.
****SPOILER****
I was feeling very crappy when I thought Min has died, but I'm glad that he didn't. I would really feel terrible and regretful if he died. Mostly because I think that he has a potential to change. He was not the type of serial killer who kills to satisfy his bloodlust, but someone who takes justice into their hands when they see people who abandoned their children because he thought he was abandoned and left in the clutches, plus brainwashed that his hyung left him. But he did show that he can restrain himself as is the case of the adopted parents who left their adopted son to die in the hands of bullies in one of the episode. And his promise to his hyung not to kill anymore.
****SPOILER****
I think that JoonHo is the catalyst to most of the trauma in Hyeon's life. He made Hyeon's father doubt his son, making him out to be a future psychopath, when even before when he already has suspicions, he never acted on them. But upon Joon Ho's goading, he locked up his son "to protect him and protect the world from him." which is twisted in a way, when all he could have done is talk to his son and guide him and shower him with love and understanding, Meaning, his dad is stupid.
Joon Ho, I think felt the need to belong to a family, that's why he is so obsessed with Min and Hyeon. Thinking of them as his children in his own twisted way, when he was the one who killed their father. Unlike other series with necessary evil, the main antagonists here are not annoying, makes you think about choices and morality.
Was this review helpful to you?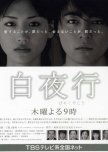 It's crazy how it's been so long since I watched thia drama and watched the kmovie version as well, but suddenly, I chanced upon this again in mydramalist and I remember how I felt watching this like it was just yesterday. I cried so many frustrated tears over this story. They just can't catch a break, maybe it was because they keep choosing to do the wrong thing and trying to wrongly justify it. And the main lead just love the girl too much he does everything she ask and sacrifice everything for her. Crime always pay, but it's just unfortunate that the lead, as children, had to resort to murder to free themselves from abuse.
But overall, it's a very good story, just be ready for a lot of tragedy and get some tissues ready when u watch. Plus yamada and ayase are very good actors so it's a real tragic treat.
Was this review helpful to you?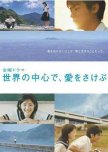 Every episode left me weeping. But this is a bittersweet drama you won't wanna miss.
Was this review helpful to you?