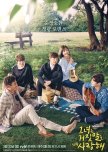 Go in with low expectations and you will be pleasantly surprised. This drama is a relatively light watch that is easy on the eyes and ears.
As someone who hasn't read the source material I can't really comment on how this drama lines up. It did well to get so far with a limited amount of plot. At times the writing feels a little awkward but not enough to stop watching.
I liked that compared to the Japanese movie the main couple were closer in age and by the end So Rim was an adult.
The cast were very attractive and did surprisingly well with the script they were given.
I didn't feel that there was much chemistry between the two leads, fortunately the friendships within the bands and the secondary couple make up for this.
The most enjoyable part of this drama is the music and the relationships between the characters. I found the songs would get stuck in my head for a few days after watching.
All in all a reasonably enjoyable show to watch with catchy tunes.
Was this review helpful to you?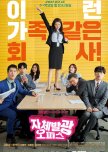 Connections get you everywhere, but should they? This is the story of the drama which unexpectedly stole my heart this autumn.
It took 4 episodes to hook me.
Honestly, I considered dropping it, but as I was watching it with others I went past my usual three episode cut off and it grew on me. They cut out the imagination scenes around here (which added little to the drama other than showing how bad Ho Won's reality is) and the story kicks in. I'm so glad I kept watching.
Story:
If you try anything 100 times you should be able to do it right?
Eun Ho Won thinks so. After 100 unsuccessful attempts at full time employment, enraged and exhausted she gives up on it all. But she can't even do that right. She ends up in the emergency room where she meets Do Ki Taek and Jang Kang Ho who are in a similar situation, before running out on their bills they overhear that one of them has a terminal illness. They end up meeting again and again and become a mini support group for each other. They end up scoring short term contract work with the chance of permanency but will they do anything to get that?
The story is nothing out of the ordinary, but it works so well. This series was written by a rookie screen writer, Jeong Ho Hyun and I am super excited to see their next project when the time comes.
The characters are realistic and likeable, they are well developed throughout the series. The relationships and the interactions between them are what makes the show so enjoyable.
The two main love lines are well done.
The comedy ranges from subtle to slapstick and will have you in fits of laughter.
The plot moves along at a reasonable pace and the story line is enjoyable.
Acting/Cast:
Casting for this was on point.
The characters were well played by their prospective actors.
Ha Suk Jin is so typecast as the tsundere man it's not funny, but he is so great at it I don't ever want to see him in any other role. His character Seo Woo Jin is a hard man with a soft gooey centre that is hilariously afraid of cats among other things. Meow!
Go Ah Sung was just fabulous as Eun Ho Won. Her eyes are amazingly expressive, her stare is deadly. Her comedic timing is spot on. Her chemistry with Ha Suk Jin is killer.
Oh Dae Hwan is wonderful in everything he does, he is such a great supporting actor. His character was so annoying yet so funny.
Another stand out performance is that of Lee Dong Hwi as Do Ki Taek, he played the fierce friend so well I was moved.
Music:
The music is well suited to the drama, it's modern and fits the scenes. The title track 101 is really catchy and uplifting. Actually the whole sound track is well worth a listen on its own.
Rewatchability:
I have rewatched the first four episodes and found them much better with a second viewing I didn't even hate the imagination scenes so much as they made more sense with added context.
Summary:
This was a very enjoyable and heart warming series, I laughed a lot more than I cried. It works well as a comedy and a romance, although some people may find this type of slow burn romance frustrating I found it delightful. If you try this series give it a little bit of time to grow on you as it comes into its own around episode 4-5. I hope you love it too.
Was this review helpful to you?