2018 TBB (to be binged) Goal Progress: 12/60
I like goats. Books. Skiing. XC. Drama (like theater). Drama (with a K attached to that somewhere). Being dramatic. Etc.
You can call me Kenji, Macks/Mahcts (pronounced Max), or 타조 (pronounced Tajo) (which means Ostrich) (because I look like an Ostrich) (sorry not sorry I don't have a real profile picture), or just "Hey, You!", but I really prefer it when people make up a new nickname for me, above are just some of my favorites.
Make sure you check out my recommendations, favorites lists, and reviews!
SoOOoO my favorite band of all time is Anberlin (super underrated, super amazballs, it's American Alternative/Rock with the most meaningful lyrics you've ever heard in your life)
I just had a breakup with BTS as my favorite kapop (my pronunciation of KPOP) group. Bangtan is still my favorite but Beyond the Scene is not. (Not because I'm being petty, but because I genuinely LoVE their older stuff and am not a huge fan of their new style and music.)
My favorite Korean actor is Kim Bum but my first love was Lee Hong Ki. If I was ever in a love triangle, lord let that be it.
My favorite Color is White. Don't ask me why. I have no idea. It just looks... clean. And delicious. And when talking about light reflection and like, science-y things, white is the combination of all colors. So boom. Fight me. (I also like the combo Red Black and White)
Apparently I like Randomly capitalizing Words.
First 10 Star Rating: Reply 1994                                Current Favorite Drama: Reply 1994
First favorite Male Actor: Lee Hong Ki                   Current Favorite Male Actor: Kim Bum
First favorite Female Actor: Go Ara                          Current Favorite Female Actor: Go Ara/ Moon Geun Young
First Korean Drama: Playful Kiss                                Current Favorite Movie: Our Times
First Japanese Drama: Good Morning Call           Favorite Drama Moment/Scene: (Reply 1994) Line of guys
First Thai Drama: Kiss Me                                                making sexy faces/poses/cat noises at Na Jung (in present
First Taiwanese Drama: Our Times (movie)           day) to make fun of her actions when she's drunk (idk
First Chinese Drama: Min & Max (movie)                wut episode) (someone should seriously tell me that)
Have some random memes that made me laugh hysterically when I first started drama-ing: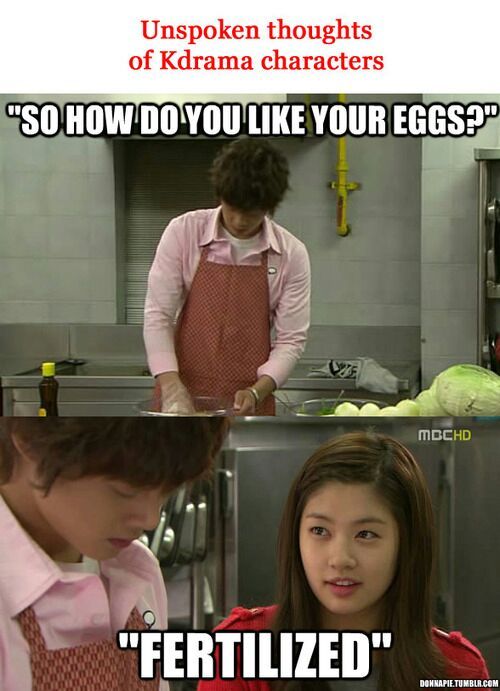 Ok those last two have nothing to do with anything, but I still keel over of laughter every time...

Statistics
75d 4h 42m
ALL TIME
1,671 episodes, 145 shows
7d 11h 5m
ALL TIME
96 movies
List Updates
Currently watching

62

/200

20 days ago

Currently watching

5

/20

20 days ago

Currently watching

6

/20

20 days ago

Currently watching

308

/434

20 days ago