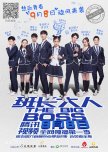 I enjoyed "The Big Boss" fully. I was on YouTube and found it by chance and i was soo happy. Let's begin the Review: (And I'm sorry, if there are any grammer or vocab mistakes... english is not my first language)
I liked the story, it was very entertaining...wait "like" is a understatement...I LOVED IT. I loved the chemistry between the chracters. I loved it, how they could solve any problem and got new friends. Let's talk about my "they" in the last sentence. The whole cast was amazing. Ye MuXi, the female lead, monitor of the class, my favourite chinese female actor and a very cheerful and joyful (i think both adjektive mean the same but who cares?). And then there is Liao Dan Yi, the male lead, intelligent guy and the opposite of Ye MuXi. And then there is the whole squad, where everyone of them is uniq.
There is just one point in this show, which I didn't understand and like. Whenever there was a singing scene, the singing got dubbed. I was a bit stupid, but can live with it.
In summary, I really enjoyed it and recomend it to all who want to watch a comedy school-life drama with fantasy and much much more.
Was this review helpful to you?