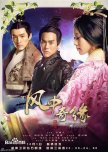 We can start with the story. Already from the start, the story plot had me twisting in anticipation. At the most time when I thought I knew what was going to happen, it was the opposite. It is a very beautiful story, at the same time, it is kinda scary as it shows the darker side of the human nature.
I like the cast very much. I feel like the main characters had a excellent chemistry. Both of the male leaders portrayed their characters very well. And Xin Yue was also great.
I also enjoyed the music. At first, I didn't like the Bai Tou Yin by Della Ding as the music was a bit odd. But you grow to like the two songs by her as they play throughout the whole drama. Also, the opening song is also very nice and has really meaningful lyrics. Definitely a 10 from me!
Actually, I have rewatched this drama two times, and every single time I just couldn't stop watching. Even though I already seen it before. It is just so good.
Overall, I think they have made an excellent drama! I feel like the clothing and scenery was quite nice. I definitely recommend this one to everyone that loves for example Prince of Lan Ling, which is also one of my favorite drama.
Was this review helpful to you?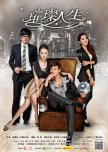 So this is a REAL drama. With 80 episodes, it still leaves you hungry for more. I really love the story, it´s unique, a little bit predictable - but also surprising at some moments. It´s one of those stories that makes you cry a river and laugh.
I loved the acting and the cast, especially Peter Ho. The girl that plays Ye Lin is gorgeus and her acting skills are great.
Also, the music was good. Both the OST and ending song are sung by Peter Ho. ??? and ??.
Overall, this is an amazing drama. The only thing that I kinda didn't like was the fact that there were too many flashbacks for my liking. Otherwise, this is a drama I would recommend to all of you that loves drama.
Was this review helpful to you?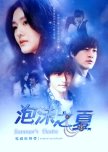 I remember the 14 year old me watching this drama in 2010. I loved it, because it´s so intense - I fell in love with the story and Ou Chen. I found myself getting obsessed with him after this drama. I think that the story is very exciting as you don't know who the girl will end up with. And also, all of the characters are very closed, and sometimes I had a hard time knowing if their feelings were real or fake (for example Luo Xi). This drama made the 14 year old me cry and it still made the current me cry.
I think the cast was OK, I like Peter Ho and Barbie Tsu but I´m not the biggest fan of Huang Xiao Ming. I think that Peter did an excellence acting as Ou Chen.
One thing that I really love is the music - and the fact that the actors are singing. It really brings a lot of feeling to the episodes. I love Diamond and I remember I loved.
Watching this series again makes me want to go to taiwan. I really love this drama and I´m kinda sad about the fact that I´m not living in Asia.
If you´re searching for a drama filled with excitement, mystique and romance, this is IT!
Was this review helpful to you?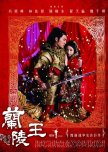 Story: I´m actually not a fan of chinese history but this story was amazing, even though it had certain war scenes they managed to balance love, war and drama perfectly. Not many series/dramas make me laugh and cry so much.
Acting/Cast: Great cast, and I also feel that the costumes were great. It was a joy to watch them. And the prince of lan ling and the king was hot!
Music: There were 2 songs that were on replay through the serie. And I love them. When I hear the songs it reminds me of the rememberable moments of the movie.The lyrics is so meaningful and beautiful.
Rewatch Value: I feel like I can rewatch this serie and never be bored.
Overall: Great job, great drama.
Was this review helpful to you?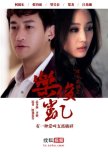 For a so short drama I have to say that this is very intense and breathtaking. Its a story about love and hate, and how there is a thin line between those two emotions. And also, the story is not what you expect, so it´ll surprise you!
The acting was great, I liked the acting and feelings.
The music was good, I mean, as always - Peter is doing a great job.
Overall, I think that it´s good that it was so short because it was intense and there was always something happening. Definitely recommending this to those who like intense dramas.
Was this review helpful to you?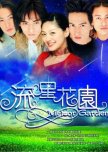 This was one of the first dramas I ever watched. I remember being at home putting the DVDs' into the DVD player, choosing episodes. Those were the good times huh. I guess I still liked the korean version more. This version is better than the japanese one though.
Anyways, the TW version was the first one I watched and at that time I loved it. I got obsessed and couldn't stop watching it. I like the story overall and it gets interesting with a love triangle.
About the cast, I really like Vic Zhou, Jerry Yan, Barbie Hsu and Rainie Yang are great actors. I don't really like the other actors in the drama.
I liked the music, it was ok. Nothing special, but it wasn't very remarkable. When I watched this series once again I felt like it was ok. It didn't give me that WOW feeling like when I was younger.
Overall this drama is very good in my eyes.
Was this review helpful to you?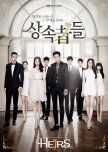 When I read about Heirs for the first time I didn't watch it thinking that it would be boring. But I like the story. I think this drama have a great potential but some factors made it just boring and average.
I think the cast was great. I´ve watched Park Shin Hye and Lee Min Ho before and I like them both. I absolutely hated Kim Woo Bin in the beginning, but then I just kinda changed my mind. I like him too. The characters were actually really complete.
I like the music with a bit of english. It was ok, nothing remarkable. If someone were to play a song from Heirs I probably wouldn't notice it.
Overall I think they did an okay job. This drama could defiantly could have been better with a little more effort. I think those who have watched Boys Over Flowers will be a bit disappointed when they´ve completed this drama. But you should definitely give it a try! It´s not that bad.
Was this review helpful to you?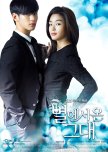 I really loved the whole story about the Alien guy falling in love with the celebrity. The plot writer was a genius. This drama had really fun moment even if there was serious moments, and they have really succeded with leaving you wanting more at the end of every episode.
I´ve never seen these actors before, but they leave me speechless. I really loved Kim Soo Hyuns acting, he portraited Do Min Joon very well. I also really liked Jeon Ji Hyeons acting. All of the characters were very compact which made the drama feel so real.
I think the ending was ok, although it was not what I was expecting, but overall this drama is one of the best I´ve ever seen.
Was this review helpful to you?