If you're still experiencing technical difficulties, please report it
here
.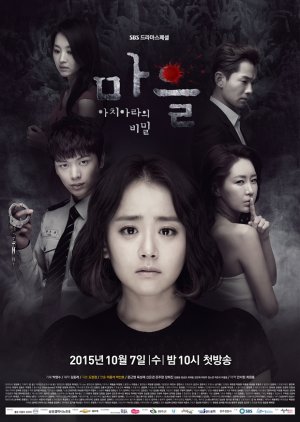 The Village: Achiara's Secret Episode 5
---
---
The Village: Achiara's Secret Recent Discussions
The Village: Achiara's Secret Episode 5 Reviews
'The Reason They Are Silent'
1.Based on video footage that was likely the last day she was alive (based on clothing) police can confirm she was filmed about 100 meters from where the body was discovered. Officers go to Ji Sook's home to question Gi Hyun, the man in the video. He insists it was a casual encounter. For reasons unknown, he does not reveal to officers that during that conversation Hye Jin insisted she was from the village (born there). He is able to show that the clothing she was wearing in the video is actually different from the clothes she was found in, meaning that he was probably not the last person to see her alive.
2.Assembly man has dinner with his father while this happens, and his father promises him that that Hye Jin, who has caused as many problems alive as dead, won't ruin his life. He later calls his son to ask what the police wanted and his son tells him he did not give away any information and that his affair is still secret before hanging up.
3.Locals everywhere are gossiping about the incident with the police questioning Gi Hyun. At the beauty parlor ladies say that they know Hye Jin visited that house often (this is gossip) and that the family probably benefited from her death (I think this implies they think she might have been having an affair with Gi Hyun). So Yoon overhears this, and tries to do a search for her sister in their computer. Using date of birth, guess who comes up? Unsurprising, it is Hye Jin (I think we all know by now its her sister). Still, So Yoon has her doubts...even though she visits places all over the city and the same thing happens
4.Gi hyun begins his role as chairman at the school We learn he is also investigating So Yoon and why she came to the town. (His true colors are showing!) Meanwhile Ba Woo gives Ji Hee (pharmacist) the time capsule. Nam notices it, and steals it...
--I think Ji Sook is someone's mother--
5.Meanwhile, Ji Sook seems to be having a meltdown of guilt in the office of Gi Hyun and says that Hye Jin is dead, so why is she still bothering her? She cries in his arms, and Ga Jeong films this...(In another flashback, on that same day he met her in the woods, Hye Jin called his father trash but states the bigger trash in the family is his stepmother....)
6.Officer Park visits Hye Jin's old boss who is now all tears (so fake) and she essentially reveals that she believes that Hye Jin was a manipulative seductress. The girls in the office who are interviewed reaveal nothing new. elsewhere, Park's partner interviews Ga Yeong's mother, and we learn she had an affair with assembly man and he wonders if she has lingering feelings. He says this to rattle her because no one is helping with this case. She reveals that Hye Jin used to volunteer and sometimes played tennis with Ji Hee, which she thought was odd since the latter had no friends.
7.At the elderly home where she volunteered, we learn that Hye Jin specifically requested to assist the mother of assemblyman! Meanwhile, the grandmother reveals to Ji Sook that how sad she is that Hye Jin died because she was so kind but Ji Sook 1)tells her she was probably ticked by her and 2)almost threatens her, reminding her that she has to be careful during this police investigation not to say anything that might threaten the future of her grandson
8)Meanwhile, Officer Park meets outside with an employee at the art studio where Hye Jin worked. he learns that the boss lady ordered a gag order on Hye Jin's name so no one would talk about her because of the epic brawl she got into with Ji Sook just before (a month) Hye Jin disappeared. He learns that this order was made because the studio is owned by the steel factory and they needed to be mindful. He shows how utterly dumb he is because even after she tells him this fight was likely over a man, he has no idea who the man is!
9)Meanwhile, Nam, we learn, has a compulsive gambling problem that returned after Hye Jin died. She wants the box he took back and accuses him of trying to ruin their lives, he accuses her of killing Hye Jin because she was going to quit (we don't know what) and she didn't like that. This earns him a slap. he also wants to know Jo hee's secret...
10)We learn that So Yoon is using a private investigator and this has yielded nothing. He also is working for Gi Hyun, secretly. He tells Gi Hyun he has learned nothing but did not reveal to So Yoon he is also looking for her sister's former classmates...
11)Yoo Na recognizes the half necklace in So Yoon's home and explains that Hye Jin was very upset because she lost it, that her little sister had one, but died in a car accident. Naturally the wheels in So Yoon's head begin to turn. She immediately runs to the police station.
12)Officers interview Hye Jin's mother, who appears. She explains she avoided them because she could not accept it. She wants to see her body. So Yoon asks her if her daughter had any siblings, but she says she was an only child (oh come on! you can't back off because of that!). Hye Jin's mother collapses and sobs when she sees the body of her daughter.
13)The episode ends with Ji Sook, who is obsessed with having a child. Fixated even.
Was this review helpful to you?
Spoilers Ahead!