If you're still experiencing technical difficulties, please report it
here
.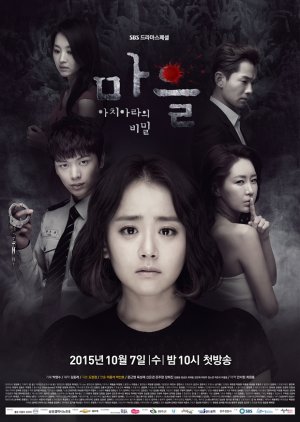 The Village: Achiara's Secret Episode 6
---
---
The Village: Achiara's Secret Recent Discussions
The Village: Achiara's Secret Episode 6 Reviews
'Funeral'
1.In this episode Yoo Na's mother directly accuses her of not being on her side. In a flashback, we learn that Yoo Na asked her 'why did you kill my sibling?' and this is because she was able to sense the dead baby in her mother's womb (it is likely it was a miscarriage). Meanwhile, her mother confirms that her primary reason for having a child, specifically a son, is to protect her status but I am certain it is deeper than that (she uses her children?). She essentially blackmails her husband, who is resistant to in vitro because of his age and the fact that he has two children, but his wife tells him that Hye Jin's death could ruin his campaign but she will support him if he helps her.
2.Meanwhile, Hyo Jin's mother placed flyers all over the town inviting everyone to her daughter's funeral. As this happens, the officers continue their interviews of the townspeople. They interview Ji Sook who shares that during the time Hyo Jin was killed, she was with her mother in law visiting temples. She also shares that she did not notify them that Hyo Jin helped her mother in law as a home care giver because she did not like her. In addition to this, she states that the fight was started by Hyo Jin (we, the viewers, know otherwise). Her hands, however, are shaking during this interview and Officer Park's senior partner notices this. (Officer Park is extremely sympathetic to the wife during this interview it's almost annoying).
3.Seo Chang Gwon, the assemblyman, is interviewed next. (Moments before he is interviewed, he is meeting with our favorite pharmacist, and it seems she has certain items of interest from the time capsule and is using it to pressure him to keep his son 'away from the front lines'. She is seen leaving his office by the officers). Chang Gwon reports that he had the affair, that she threatened to blackmail him if he did not give her 30,000 dollars. Fearing for his image and campaign, he ended it and that was his last contact with her. He confirms this by showing that during the time she was killed (a 2 week window) he was heavily involved in his campaign and could not possibly see her. The officers tell him that there is no signs of Hyo Jin having ever received any money from him. Also, why should he be bothered by a woman when the position he was campaigning for was not so important? The congressman is evasive and asks the men to confirm his schedule with his secretary.
4.Following these interviews, Officer Park's senior points out how weird it is that the two people who had the strongest connection to the case have such well thought out and planned alibis. To prove this, he points out how rare it is for people to know EXACTLY what they did two years ago and yet these two people had an answer for everything. Also, Hyo Jin was one of many women the assembly man was with. Why should he care about one more?
5.Meanwhile, Chang Gwon meets with his son and explains to him that his step mother wants another child. He essentially tells him that she has always wanted to be the chairman of the schools because she never finished school (I wonder why?) and tells his son to not shake the boat, to focus on the company he will inherit, and reminds him that blood is thicker than water. His son straight up asks him if he killed Hyo Jin and he tells him that he would never make his son the son of a murderer.
6.Meanwhile, we learn that So Yoon's sister may have been illegal adopted. This is learned while she is following some leads and meets the 'ghost mom'--a woman whose baby died at birth but she can't accept it so she visits the hospitals and orphanages looking for her baby. She is quite famous. The woman reveals in the elevator that she knew her sister and that they were on t.v. together....she also shares that 'not all mothers like their children'
7.The grandmother is interviewed, and she is very tightlipped regarding her relationship with Hyo Jin. She essentially states that she never noticed the help, but lets slip that no one worked as well as her (which is why she fires people often). When the officers ask her how she could not notice when someone she liked so much went missing, she again insists it was no big deal.
8.At the diner, the two officers discuss the case, and they begin to focus on Hyo Jin. Why did she even come to this town when she was pretty, had no connections, and clearly could have gone anywhere. did she really just come here to be a con artist? She specifically chose the wealthy family to volunteer for, in order to seduce the father. Perhaps she had a grudge? This causes the shop owner to drop her food, and she so clearly knows something but won't tell...
9.While searching online, Officer Park learns that a woman posted about 'looking for adoptive parents in Achiara' her name is Jung--the sister So Yoon is looking for--but the last four digits of her cell are the same as Hyo Jin's....
10.The pharmacist is questioned. She denies noticing Hyo Jin disappeared and dismisses the time spent playing tennis as casual as running into someone at the gym. She claims not knowing her very well at all. Her answers are logical, the officer points out. So Yoon is sitting nearby, and I think because of this, she reveals that Hyo Jin shared she was looking for a sibling and that is all she knew about her reasons for coming to the town. (I find this female lead annoying lead. she seems to trust everyone even though a lot of weird stuff has being happening.)
11.Officer Park shares the info he found about her sister and Hyo Jin. Now Hyo Jin is finally beginning to suspect that she may be her sister. Meanwhile, Gi Hyun interviews an old classmate of Jung (the sister) who reveals she saw a woman walking down the street a couple years back and instantly recognized her. She stopped when called her name, but insisted she was Hyo Jin. She believes it was Jung because 1)she stopped and 2)she was so pretty and unforgettable it had to b her. She confirms the picture of Hyo Jin as Jun, and Gi Hyun does not share this information with So Yoon....(we also learn during his meeting with So Yoon that he wanted to be an architect and his family is overwhelming him)
12.The officers learn that the assemblyman's driver changed during the two weeks leading up to Hyo Jin's death. This is a pretty big deal because those final weeks were especially busy AND you don't just fire your driver.
13.At the funeral, many towns people arrive. Yoo Na goes, but her brother and parents don't (I wonder why). Song isn't there, although he is wearing black, because he has been tracing his footage of Hyo Jin and it leads him to Dae Kwang Mokje (the lumberyard?) which is locked. He leaves a note there...
14.A thunderstorm rolls in and the message 'Save me mom' and 'mom save me' appears in blood red paint behind a tapestry that falls during the funeral...shocking everyone...
Was this review helpful to you?
Spoilers Ahead!