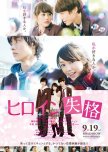 # Japanese
# 1 girl, 2 boys
# Guy steals first kiss
# Manga-based
# In Kurosaki-kun no Iinari ni Nante Naranai, the first male lead kisses her and confuses her, while in Heroine Disqualified the 2nd male lead does so.

It's about a girl who's in love with her childhood friend and wants to be his girlfriend, but encounters several difficulties along the way. Of course, another guy appears who suddenly kisses her and confuses her. He's extremely nice, but her childfriend keeps their relationship cool.