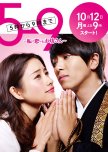 Both of the stories have an unique plot. One with a mixed media of romance and comedy. And the other romance and affair. There is another recommended drama back in 2009, called "Buzzer Beat". Keiko Kitawaga, my other favourite actress stared in it with
Tomohisa Yamashita. Japanese drama never disappointed or discouraged viewer of their romance and love stories.

Excellent romantic and love story. Japanese have indeed have the best plot for summer love stories. Tremendous!