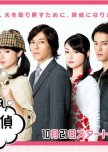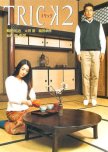 Both are old mystery drama which was quite popular in Japan, so please forgive the low quality of the production. However, both are still quite enjoyable to watch in your free time and you will be really surprised by all the cast who played in it.

Both have a partner of a woman and a man who are solving cases.

Trick is harder to enjoy because it has way too many Japanese puns as a joke. The case is more interesting (its all mix of old legend and fake supernatural) and the characters are weirder.

Another difference is, the woman in Trick is the one who actually solves the case, but in Remote the one who solves the case is the guy.