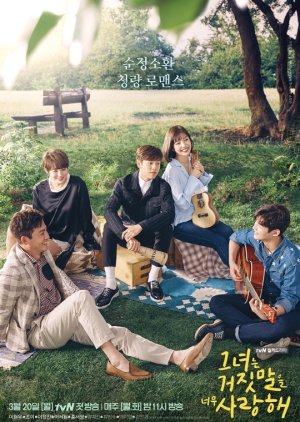 The Liar and His Lover Episode 7
---
---
The Liar and His Lover Recent Discussions
Reactions
Oh, and I love how the good teacher and students were rejoicing!
Actress Park Ji Young has a knack for playing wickedly mean female leads. She makes a great villain as the CEO (she doesn't even have a name yet!). As usual. She needs to control everything . . . yet her father is very right. I'm curious how Jin Hyuk will best her and bring his artists to victory.
Oh, and Yoo Na isn't just a reflection on the cruelty of aging female celebrities. Nope apparently an echo of other power woman trying to take each other out. CEO is deliberately taking down to her and purposefully killing her career. Why?
The most real part of this episode were Chan Yeong's comments about being on stage with his band and audience, but only being ever alone. His story of never being truly accepted by the other members of Crude Play is cruel. Though he should realize that they feel threatened by him because he has solid talent.
I also believe this brings to light the reality of session musicians. The real talent who aren't given the chance or attention to be the real talent. This has always been something I've never liked about the music industry. Especially since everything can just be auto tuned and corrected. (I love Katy Perry, but the woman can't sing.)
The promise of three years seems wrong to me as Chan Yeong simply wants to get back at Han Kyeol. Nothing annoys me more than guys out to have pissing contest with the other guy, compromising the female lead. So Rim has to be questioning some of Chan Yeong's actions right? Or is she that sympathetic and fans struck?
Was this review helpful to you?
An obvious episode, but the cuteness makes up for it. First from the mean teacher suddenly being warm and saying he knew So Rim would make it. To how they came up with the band name. Most importantly that So Rim and Han Kyeol made up so easily. Leading to such cute romantic moments. (Though the crotch kick was hilarious and sad.)