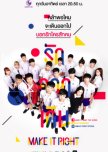 Hoping for season 3, Season 1 all the actors are new except for some from Love Sick the series but most are only supporting, as for the main cast, Fuse (Peak), Tee (Boom), Fame(Ohm) and Book(Toey) all of them are good especially Fuse and Tee, their love for each other after many setbacks at the end they are together again, same with Fame & Book.
For the story lines season 1 looks more innocence however, season 2 most of them have grown up and are more open in their acting can consider Make it right 1 & 2 is still the best BL series so far.
Some may find season 1 is better than season 2 but we shouldn't compare between series because every season have a different story to tell. anyway seriously hoping if the producer is reading this comments there are many hoping for seasons 3.
Lastly line to the directors (I understand season 2 have a few assistant directors) and producers, staff and all, you have done a great job for giving us this series and for Making it Right!