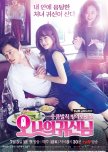 1. They both take place for the most part in the kitchen.
2. The ML are both skillful Chefs that can be both arrogant and adorable.
3. FL end up working for the ML in their restaurant (and learning from him).
4. In both, the relationship between the lead starts off as a bit of love and hate; with the ML being very demanding in the kitchen and have little patience. As the show progresses and the ML becomes aware of his feeling, he becomes more patient and gentle with the FL.
5. They both have comedy, though Oh My Ghostess has a lot more.
6. There's a love triangle in both shows.

Big differences:
1. Oh My Ghostess has a supernatural element to it (having two main female leads pursuing the male lead, though one is a ghost). The show also has a crime element to it that gains strenght during the second half.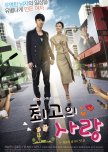 1) Female leads are both a bit unconventional, fun and very lovable. They aren't afraid to voice their thoughts.
2) Leads' relationship starts on the wrong foot, but they become friendly soon after.
3) Second male lead in both are very gentle and caring towards the FL. They come into the FL's life almost like a knight in shining armor.
4) MLs' are a bit arrogant but also very good at their craft. They do have an adorably childish side that makes it fun to watch them.
5) There's a love triangle in both, but it's more drawn out in The Greatest Love, with the FL being more indicisive.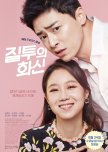 The overall feel is very similar in both series. Jealousy Incarnate has better (or more developed) support characters but Wok of Love has more charismatic leads. Here's a list of other, more specific, similarities:

1. A love triangle takes part during a good chunk of the story (it gets resolved faster in Wok of Love).
2. FL is inspired by ML to try something new (out of their confort zone).
3. ML becomes the FL's mentor, begrudgingly at first but they grow to like their role.
4. Second male lead is sweet and helpful towards the FL from the start.
5. ML and FL find common ground in undergoing and sharing a similar experience.
6. The FL is funny, charismatic and a bit unconventional (which is very refreshing). They are also active in pursuing the ML.
7. ML and 2ML share a strong friendship.