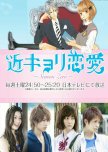 Both shows are about high school teen-love and friendship. They both show the interconnected-ness of people.
Their main plots revolve around the struggle of everyday high school life for the characters.
The shows also follow a similar pace of events, with nothing occurring really that quickly or slowly--kind of the pace you would expect from a mellow/low-key high school drama.
There is also a slightly nostalgic feel to both of them.