The Upload Image feature is currently undergoing maintenance. Sorry for the inconvenience.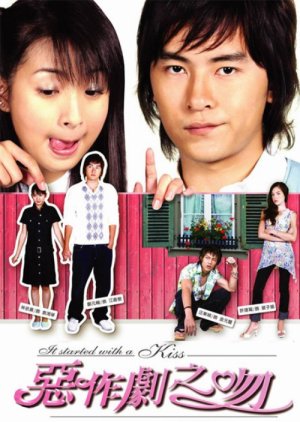 It Started with a Kiss Episode 8
Eighth Kiss
---
---
Upcoming game has Zhi Shu pair up with Xiang Qin, but the team leader is not being fair and forcing Xiang Qin to lose practice time by having her cook the clubs meals during training camp. Luckily, Zhi Shu secretly helps her with cooking, until he forced to attend an afternoon training session does everybody find out. That night Xiang Qin notices that Zi Yu is trying to confess to Zhi Shu, but Hao Qian is also watching, and she realizes that he has a crush on Zi Yu. They create a plot to try to separate Zhi Shu and Zi Yu. During the game with Zhi Shu and Xiang Qin vs. Hao Qian, Xiang Qin is able to successfully return a pass just before her ankle gets twisted, so Zhi Shu's honour is restored. Meanwhile, Zhoa Zi learns Zhi Shu kissed Xiang Qin, and uses it as an excuse to have them move back in. While Hao Qian and Xiang Qin plan have them following Zhi Shu on his date with Zi Yu and through circumstances they each end up having dates with their wanted partners.
It Started with a Kiss Recent Discussions
It Started with a Kiss Episode 8 Reviews
There have been no reviews submitted. Be the first and
write one
.