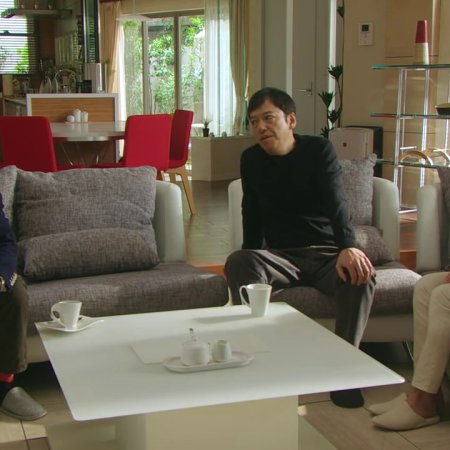 Kazoku Game Episode 1
---
---
In the opening scene, a man in a pale blueish high school uniform is shown walking through gloomy woods. He abruptly falls to his knees, before screaming as though in pain. In his bloodied hand, he clutches a skeletal, woven doll. The episode formally begins with the Numata family gathered in their living room for an interview by a prospective home tutor. According to the strange man, who had tricked the older brother of the family into skipping his after-school supplemental classes to attend the meeting, the interview was necessary for him to assess whether his potential student truly needed his help. After a remarkable first conversation, in which the home tutor slaps his new student in front of the entire family, he introduces himself as Yoshimoto Koya. In his words, he would henceforth be in charge of Numata Shigeyuki - the younger, problematic son of an otherwise ideal family. So far, Yoshimoto is the 6th tutor to have attempted teaching Shigeyuki.
Kazoku Game Recent Discussions
Reactions
The family is quite shattered, the sensei did a great job of studying it; a father who cares about work and co-workers more than his own family, a housewife who cares about appearances more than her kids (like Kouya sensei said: bad mother), an older brother who is a student of honor but shoplifts and don't care a bit about what happens in his family and finally a younger brother who's getting bullied in school and was betrayed by the only friend he got; quite tangled.
Also, let's not forget Kouya's sensei's problem, he apparently had past sufferings which made him this way; I am very curious about that.
Was this review helpful to you?
Now, that was one twisted way of making a child attend school; his method is over the top and very harsh but it actually come right at the end so I can't say that I hate it.