Akai's Personal Movie Picks for the Weekend!
Ding, dong! And the weekend has come! Do you know what to do? As it's cold and snowing nearly all over the world, you should stay at home. Just enjoy the weekend and some movies. Here are 3 movies that I really love to bits.
Hello, Schoolgirl is one of the first Korean movies that I watched streaming. For me, it holds a special place and fits perfectly in the winter. This movie is about 2 couples and how their love develops. The main couple is social worker Kim Yun Woo (Yoo Ji Tae) and schoolgirl Han Soo Young (Lee Yeon Hee). The two first meet next to the garbage bins. A wonderful place to meet... The second couple is Soo Kang (Kang In), who just started working, and  Kwon Ha Kyeong (Chae Jung Ahn), a photographer.
While watching Hello, Schoolgirl, you will just feel along the characters and fall in love with them. I love how the movie develops slowly and without or with little obstacles. Just try it out!
---
Genre: Comedy, Romance                                                                                                               Year: 2008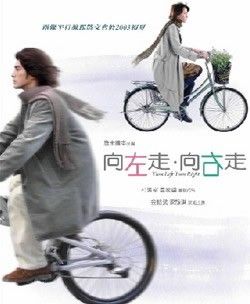 As a Takeshi Kaneshiro-fan, I just started Turn Left, Turn Right to peek on Takeshi and drool a bit and ended up amazed by this movie. I totally forgot Takeshi Kaneshiro and just saw his character John Liu, the violinist. Though I never before saw anything with Leung Gigi, I loved how she played the clumsy translator Eve Choi. The whole movie is just a coincidence, but as Yuko Ichihara in xxxHolic said: 'There are no coincidences in the world.'
Watch this movie and see how two people loving each other, but who are not meant to be together, try to find each other. Personally, I gave it 10 points and added *****! This movie will warm you up in this cold season.
---
Genre: Romance                                                                                                                              Year: 2003
Have you ever watched Disney's Mulan? It's funny as hell, but it's nothing more than lies. As a Disney fan, I always wanted to know more about the real Mulan. Upon reading somewhere about the upcoming Mulan movie, I just waited patiently. Of course, I couldn't wait for the subbed versions. Being that excited, I even watched it first in really poor quality and still, this movie got me.
No need to tell you what that movie is about, but the moment that soldiers start to sing... no, no, no... I won't tell you, just watch the movie.  By the way, Jackie Chan's son (Chan Jaycee) is also in this movie.
---
Genre: Military, Friendship, Romance, Drama                                                                                 Year: 2009
Now, what are you waiting for? The weekend is about to end.
If you already watched these movies, tell me how you feel about them!