You can't help getting older, but you don't have to get old.

George Burns
(47)
If you're into the 1990s period or more precisely into the 1990s stars, then you must have seen this actress zillions of times. And since I am a fan of that period and I'm currently writing a stalker's guide on Kim Min Jong, I see this lady almost everyday. She was such a sensation in the 1990s. It's a waste she isn't anymore - scandals didn't leave her alone either.
Don't judge her if you watched only her recent works! It's so unfair for such a talent.
I just want to mention one performance of hers, a mind-blowing one. 3-Iron, though it isn't everybody's cup of tea, is a film capable of leaving you gaping at the screen in admiration. If I say anything about it, I might ruin it for you but Lee Seung Yeon there really impressed me. I got an idea why she was extremely popular.
---
(55)
You know those actresses who play really really evil mothers and give you the creeps every time. Lee Hwi Hyang is one of them. She's so good at it. She's got a face and a voice I can never forget. And she surprises me every time.
Have you watched Stairway to Heaven? Don't.
Wait, that's not what I wanted to say.
Anyway, in Stairway to Heaven she played the role of a woman trying to escape the clutches of the past by ruining the lives of others on the way. Maybe because the drama was my third ever or because of her superb acting, I can't forget how ill she treated Choi Ji Woo. She was her mother and she gave her hell. So when I saw her in The Family is Coming acting funny, I gasped. The two images just didn't match for me. Now that I'm watching Secret, I can breathe. She's a famous designer who's abandoned her child and came after 20 years to claim her. That sounds more like her.
---
(41)
This woman impresses me in many ways. But she impresses me the most in the fact that she's married to Park Sung Woong. To marry such a gorgeous guy is in itself a great ability.
Oh my god, here I go again. I should see a doctor. I've been having concentration issues lately.
I obviously didn't watch her in what she's mostly known for but I watched enough of her to see the variety of roles she can pull.
I'm watching her now in Hwajeong and she gets on my nerves all the time with all the whining and misunderstandings but honestly, isn't she awesome? Doesn't she look real in her fears and emotional traumas? When she looks at Gwang Hae, I can feel her ardent desire to avenge herself against him. Her hatred of him is presented through every gesture, every look and every word. It's crazy how immersed in the role she is. (I'm behind so!)
Her roles in Hyde, Jekyll, Me and Endless Love didn't really have much to them. I liked her all the same. But in other works, she totally gained my reverence and I found myself grinning and clapping for her. Her Incomplete Life's role was small compared to her other roles but as the director said, there was no small role. She presented the struggle of working moms so realistically, it was painful to watch. I'll never forget when she told An Yeong Yi to never get married if she wanted to keep her job.
In Reset - which I LOVED - she gave a strong performance. No matter what she does, it suits her. I felt that she was born to be a detective. That mysterious aura suited her. And that kind side of her was so adorable.
But the role that left me gaping was in Faith. Holy cow, did you see her there? Her dresses and makeup? Her magnetic bad self? That fire? She was just the best thing about the drama - with that hottie with white hair. I didn't just grin evilly!
---
(46)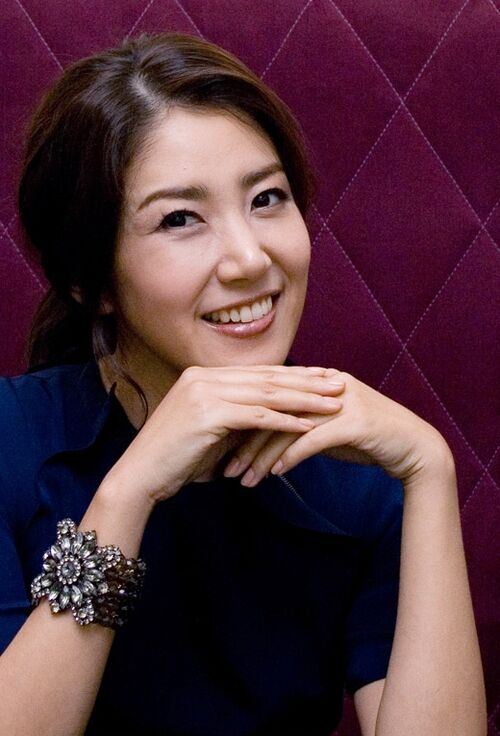 Tell me you've watched or are still watching Heard it Through the Grapevine! Please! You need to watch that to be able to relate to my feels for this lady.
First time I saw her in Sunny and of course I loved her role and acting so much - I loved everyone and everything about the film anyway. So I checked her out. The pleasant surprise was when I started the BEAUTIFUL and BRILLIANT Heard It Through the Grapevine. Her character is one I'd typically despise completely: arrogant, prejudiced and superficial. But she played the role so adorably I couldn't hate her. She was simply amazing. Making me want to watch more of her.
---
(66)
This veteran can either be utterly adorable or utterly hateful. She can be so sweet and so bad. She does every role perfectly, confusing the hell out of watchers...
She was so caring and lovely in All About Eve, guilt-stricken and pitiful in Pearl Necklace and annoying but funny in Coffee Prince. My two favourite roles by her are the latest two, Fated to Love You and The Family is Coming. Where in Korean drama would you find an in-law taking the wife's side? Where would you find a grandmother actually encouraging the choice of her grandson?? No plots, hatred, threats or money envelopes. Imagine!! I was taken aback at her role in FTLY and absolutely loved her.
But then came The Family is Coming. God, that was brilliant. Her hairstyle and colour did half the job anyway but she really presented a novel and beautiful performance of a long misunderstood woman trying to set things right once and for all. As much as she made me laugh, she made me cry.
I haven't watched A Hundred Year's Inheritance so I'm sorry for those who did. I cannot feel what you feel.
---
Reader's Pick:
Ladybritaky:
Do Ji Won is so talented and beautiful.
That she is ;)
(49)
I don't really know this lovely actress. I have only watched her twice. But was more than intriguing. I know that you know!
In Missing You she was one more than annoying and selfish woman. I didn't hate her enough even. Well, I was too miserable to. But it was Healer that had me smitten with admiration. Man, that was powerful. Her physical and emotional pain was written all over her features. When she would clutch the hands of her wheelchair or her bed sheet, I swear I would feel a pang of pain in my heart. If I have to choose the one who was the most immersed in their role in that drama - which is impossible, I'd choose her. She was simply the best.
---
Honorary Mention:
(72)
And again, she's been everywhere so I practically cannot cover her works. But she always impresses me. She's always strong –and many a time evil. I absolutely loved her in Shining Inheritance. She was the second best thing after Bae Su Bin. I supported her logic and ways from the beginning till the end and cheered her on. She made me cry more than once.
I liked her second best in Rooftop Prince, not because she was a kind character but because she mastered her role, amazingly.
Watching her now in Last and unable to get enough of her.
---
Reader's Comment:
AngieBird:
'' Wow, thanks for the "Reader's Pick" ParkChohwa! :) And great article again, it is somehow really entertaining to read your writings. Fresh and hilarious :D''
-You're most welcome.. Enjoy ^^
---
Can't wait to read your comments and your picks ^^
---