SPOOKY ASIAN DRAMAS ~HALLOWEEN EDITION~
So are you the first gif (totally into scary/gore/freaky stuff) or the second gif (a total scaredy-cat)? Perhaps you are also one of those who cannot stand or are totally indifferent to the Halloween mania/horror genre and in that case you won't even read the article or just throw a glance or two at the recommendations. Additionally, there are also those who prefer to watch cute and romantic stuff on the Halloween night or they have real lives and spend them somewhere at a costume party or something (lol).
Nevertheless here are some of my recommendations for the Halloween mood, feel free to comment on them, recommend some others, say which ones you like and dislike etc. 
Oh and Happy Halloween to those who celebrate it! 
Make sure to get scared shitless and live to tell it.
---
---
This is probably the scariest drama this season and believe me, it has everything: a spooky village with corpses popping out around, a creepy family, the mystery, freaky children who dress like adults, stalkers etc. I would even go so far as to say that it is overloaded with horror elements but hey, I don't remember watching such a drama in a long time. So if you are sick and tired of cute romantic stuff, check this out. 
Watch it if you're into: creepy families, murders, investigation, isolated villages with crazy people...
---
Perhaps not as frightening as some may like, but it does have many creepy and make-you-jump scenes including the disgusting ones. It is more action based and a bit cliche, but with only 9 episodes it can turn your Halloween night into a pretty entertaining one. The main actor is hot, which is very important, you will agree.
Watch it if you're into: vampires, hot guys, action, vampire-falls-for-a-human, shining eyes...
Similar dramas: Freeze, Vampire Prosecutor
---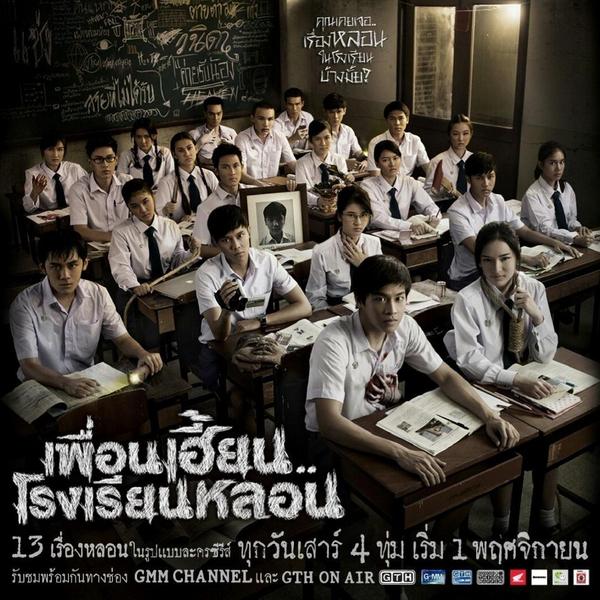 Now this is something worth your attention. Trust me when I say that the Thai know how to make them scary. If you're a fan of Hormones you will like this one too, because the cast is almost the same! It's like Hormones Gone Scary or something. The drama consists of 13 episodes or 13 horror stories and they are creepy indeed.
Watch it if you're into: ghosts, curses, creepy school stuff.
---
Not sure if there is anyone who hasn't watched it yet, but oh well, there is a first time for everything. It's not really scary in my opinion, but it does have some rather frightening and surprising scenes. Fans will probably tell you that romance is its stronger suit, but it's not just romance that makes it interesting, the effects and the overall atmosphere is executed really well.
Watch it if you're into: ghosts + romantic stuff
Similar dramas: Who Are you, Cheo Yong, Raak Boon
---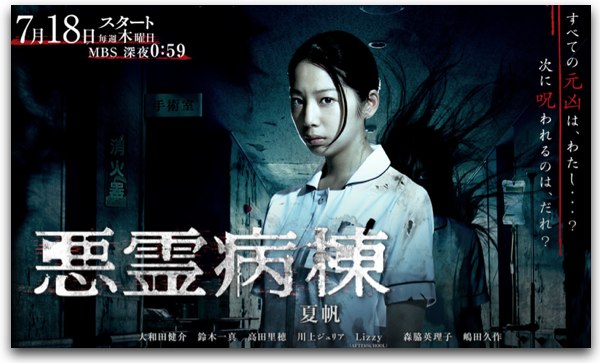 Hospitals are really creepy places and even more when you find yourself alone in some dark hall or ward. This drama follows a nurse who finds herself in a turmoil of strange occurrences in the hospital where she is working. 
Watch it if you're into: creepy medical stuff, ghosts, curses
Similar dramas: Coma
---
A seemingly happy family moves into a new home and that is when their lives get a turn for worse. The neighborhood is creepy and diabolic as hell and the ghosts from the past start reappearing. But what is even more scarier is when people whom you trust only pretend to be close to you.
Watch it if you're into: creepy neighbors, mystery
---
This is like a Thai version of I Know What You Did Last Summer. A group of not so nice students bury alive their fellow student in order to stop her from reporting them to the police. They get what they deserve because the girl's wrath has not died with her.
Watch it if you're into: curses, ghosts, school stuff.
---
A girl gets possessed by her dead twin sister's spirit which results in her gaining superpowers and being able to help a criminal investigator in catching bad guys. Perhaps not really scary but it gets freaky, especially at night. It's a pity there are not many dramas like this one.
Watch it if you're into: ghosts, paranormal, investigation, twin-sibling-haunts-me stuff.
---
Another my-dead-twin-sister-haunts-me drama in which a girl starts digging out some really disturbing stuff about her dead twin sister's past, family secrets and people who are involved in the whole mess. Many fans proclaimed it as a great mystery drama, so do check it out.
Watch it if you're into: ghosts, mystery, twin-sibling-haunts-me stuff.
---
Following eight different stories in this Hong Kong horror drama you will meet vampires, zombies, diabolic characters, some really gruesome murders and supernatural moments. It seems entertaining and bloody.
Watch it if you're into: vampires, ghosts, supernatural, murders etc.
---
Seven friends who are uni students go on a trip that seems like real fun, at least at the beginning. Stranded in a cottage all alone, they slowly start revealing their true motives, secrets and all of the other negative aspects of human personality. 
Watch it if you're into: suspense, mystery, secluded mansions, fake-friends-turn-into-bitches stuff.
Similar dramas: Limit, Under the Black Moonlight, White Christmas
---
An orphaned girl gets adopted by a mysterious family that lives in a secluded mansion. However, the family members have the rules of their own and they confine the girl, as if she were...right, in a doll house. This is a short drama, each episode lasting only 7 minutes, but it is creepy.
Watch it if you're into: creepy families, secluded mansions, mystery
---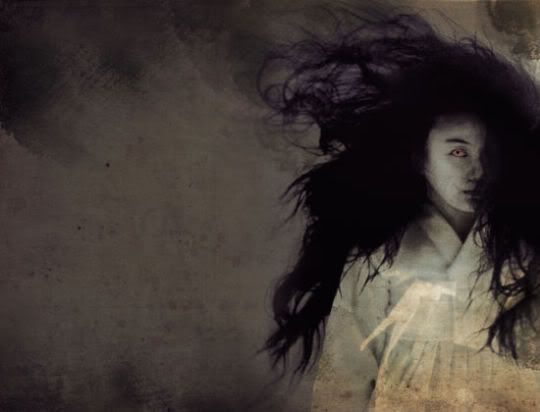 Ten individual horror episodes based on Korean classic ghost stories. The effects are probably considered old-fashioned today, but they can be still entertaining, especially if you are into historical horror. It is also kinda disgusting.
Watch it if you're into: vampires, ghosts, curses, zombies, historical stuff, classics.
Similar dramas: 100 Tales of Horror, Scholar Who Walks the Night
---
This new Chinese Sherlock drama is not scary in a typical way, but it has some really creative and disturbing serial killers that make the whole drama very spine-tingling. It is still ongoing, but if you are into spooky and mysterious dramas with a hint of romance, then check it out.
Watch it if you're into: murders, mystery, investigation, eccentric mmc...
Similar dramas: Evil Minds
---
---