---
A STALKER'S GUIDE TO T.O.P
Choi Seung Hyun or commonly known as T.O.P is a member of the k-pop group Bigbang. He's a singer, songwriter, actor and an awesome rapper. That's how I first discovered him. It's funny, the show that he is most known for is the one show I haven't really watched. Even though he was in the drama I Am Sam in 2007, most people know him for his role as Vick in IRIS.
I fell in love with him the first time I heard him rap in "Fantastic Baby".
After that I started watching and listening to their older songs. I actually watched him as a guest in a Korean variety show called Family Outing. He was very funny in that one. 
But the very first acting role I watched him in was the movie Commitment.  I loved him in that. After that I started watching his other works. I haven't seen all but I can tell you a bit more on the ones I have seen.
Here are his acting works from most recent to his first:
---
DRAMA
I think of all the acting roles he's done this is my most favorite one. Probably because it's not as serious as the other roles he has portrayed. And it also shows a side of him that hasn't been seen outside of variety shows and behind the scene clips from his role as T.O.P from Bigbang, Bingu T.O.P.
The Secret Message is an 18 episode web drama (the longest web drama I've seen so far), I think sponsored by LINE. The story is about two people who even though they are in different countries (A Korean man in Japan, and a Japanese woman in South Korea) suddenly connect through a single text message. The girl Ueno Juri (a Japanese actress in Seoul) has been depressed since she lost her first love. One night she decides to send a message to his LINE account and normally it stays unread but that fateful night, her message gets answered. T.O.P's character (an aspiring Korean movie director in Tokyo) has been searching for the meaning of love since his first love broke his heart. He gets a message on his new phone and an unconventional friendship begins. T.O.P's roles are normally bad ass, so it's nice seeing him as a regular guy and not a spy, soldier or an assassin. And the song he sang for this drama is so…I melt when I hear it. You can tell it for yourself by watching this. 
---
Haru is a Korean web drama made specifically to promote tourism in South Korea. It had a bunch of Hallyu stars in it including Bigbang. So T.O.P's role is just him and his group mates having a fun holiday. It's not much acting because their scene wasn't that long. They just look like regular guys, well, idols, going to a town to make kids' wishes come true.
---
This is the one drama that I haven't really seen him in. I tried watching episode one but it hasn't really captured me. I've seen clips of him on this though and he's really good at playing the strong silent type. I know this is the show that got him recognized for his acting abilities. Maybe I'll try to watch it someday.
---
I just started this drama and as always, his role is the guy who you're supposed to avoid in high school. The silent guy who's looks can kill. I'm about halfway through the drama by the time I've finished writing this article.  He seems like the kind of guy who just wants to be left alone but not an all around bad guy. He is a main role but the drama is essentially about the teacher, Yang Dong Geun. Park Min Young and Lee Min Ho are also in the drama but I like T.O.P's character better than Lee Min Ho's.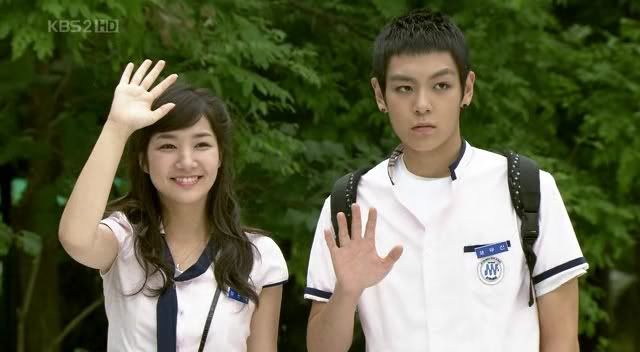 ---
MOVIES
As soon as I saw this movie's trailer, I knew I had to watch it. And this had a scene that a lot of  T.O.P's fans have been waiting for. If you're a Bigbang fan, then you know that T.O.P hates showing his body, probably because when he was younger, he was a bit chubby. It almost cost him his spot in Bigbang. Every single member of Bigbang have shown their abs in music videos and concert videos except for T.O.P, who is almost always covered from head to toe. Who knew that someone who looked like this:
would end up looking like this:
Anyways, back to the story. This movie is about a kid who grew up in a household where members gamble. He grows up with a talent for gambling. He becomes set up as a fall guy and he has to play for his life in a final game.
---
T.O.P takes on the role of the son of a North Korean spy. His father gets falsely accused and some bad guys take his sister away. He becomes a spy and has to pretend to be a high school student, while at the same time, he has to kill spies sent to South Korea. He's really good at playing the role of a bad ass killer. He played the role of a devoted brother so well too.
---
It took me awhile to watch this movie because I sorta knew how it was gonna end since it is based on a true story. But I was glad when I finally watched it. I'm not a big fan of war movies but this is one of the best war movies I've seen. I cried buckets for all the students.
71: Into The Fire is based on a true story about 71 students who were untrained and outgunned and were conscripted to defend the local girls' middle school in P'ohang. Most of them have never fired a gun before but they were able to defend the school for 11 hours thereby allowing the soldiers to have any time to regroup. T.O.P plays the role of Oh Jang Beom, a volunteer militia student soldier who acted as a gofer for soldiers in need. When he gets transferred to the school, he was forced to become the leader of the student soldier unit because they believed he had the most combat experience. I cried buckets for this movie. T.O.P played his role as a soldier real well. I felt the anguish he felt, not wanting to be in the middle of the fight but at the same time, not having a choice but to fight.
---
I watched this because I couldn't get enough enthusiasm to watch the drama. The problem was, this movie seemed like the 20 episode drama cut and pasted to fit a 2 hour movie. It wasn't the best movie I've seen. And T.O.P's role was like really, really short.
---
This is the first movie T.O.P has starred in and he was in this movie with his bandmate Seungri. I have to say it's not their best work because as you've seen above, T.O.P's acting has improved over the years and Seungri, I watched him in Angel Eyes and I think he was great in that one. Anyways, I do love the opening sequence where T.O.P is rapping. His voice just does something to me. He can say the most boring stuff and I would listen. T.O.P's role in this movie is of a nineteen year old who, along with two other nineteen year olds, were the last people to see a girl they knew alive. They all had to run because they were the main suspects. They had to find a way to prove their innocence. One of the things I did like about this movie was his role is not as serious as his other roles in his other works. He smiles more in this movie. And you can also see his rapping skills.
---
OTHER FACTS ABOUT T.O.P.
*Real Name is Choi Seung Hyun 최승현.
*The name T.O.P. (I think it means The Official Pimp) was given by his former label mate Se7en.
*He was born November 4, 1987 in Seoul, South Korea.
*He has an older sister, Hyeyoon.
*Before he was member of Bigbang, he was an underground rapper known as Tempo.
*When he first auditioned for YG, he was turned down because he was overweight, It is said he lost about 20 kg in 40 days. When he auditioned again, he had a slimmer and more toned look, and he was accepted. 
*His speed dial #1 is his mom.
*He loves modern art and designer furniture. He actually collaborated with a Swiss furniture company named Vitra and designed a chair for them.He also loves going to museums in his spare time.
*He may not have the regular SNS account but he does have an Instagram account where you can see his love for art.
*His dream is to open a design museum after collecting stunning furniture.
*He can rock out any hair color, whether it's black, brown, white, blonde but I think my favorite is when he was rocking out what I call Mint T.O.P :D
*He is currently filming a Chinese movie,Out of Control.
Are you in love with him yet like I am? Before I end this stalker guide, here's my favorite MV of T.O.P. 
Thanks for reading about my obsession about this wonderful, goofy, charming being.
---
If there is an actor or an actress that is worthy of a Stalker's Guide in your opinion, and you have watched enough dramas of his/hers to prove it, please contact KatelynJaynea.
---