Charismatic, with piercing eyes and a penetrating gaze that has the power to bring crowds to their knees, Choi Shi Won is like a rare, heart shaped polished deep blue diamond with a high color intensity, unique, priceless, incomparable, super, the face of Super Junior, the idol group he's a member of.
His voice might be a baritone, a medium compass singing style, but gems like him formed across time are everlasting independently of the category they are attributed to.  
With a 4th rank black belt in Taekwondo, a degree in Theater & Cinema from Inha University, Choi Shi Won is a special representative for Korea's UNICEF having actively supported it since 2010.  
A successful model, singer and actor, he is fluent in Korean, English and Mandarin as it can be ascertained through the myriad of occasions where he has demonstrated his level of proficiency in the three idioms including drama/film dialogues and interviews to name a couple.
As a model Choi Shi Won has endorsed several brands including the ones bellow. Please feel free to gush over! Gasping, jumping up and down on the sofa, screaming at the screen, wishing to be the photographer taking those photos, the producer making those videos…imagine, dream, be happy and don't take yourself too seriously! Choi Shi Won seemingly doesn't and this is all about him!
Maeil Dairies's Korean Caffé Latte
Piaget
He has also graced the cover of several magazines. 
Arena
Prestige 
Indeed, "the Fantastic Man"... 
As a singer, the key words at the moment are patience and re-watch!  
Time goes by slowly…days…weeks…months…cannot go quick enough…it's Spring, flowers are blooming, birds are singing yet Summer still remains…distant…the beach, holidays…friends…fun…yet…
"Hundreds of words, thousands of images
I see them and it's the same, I hear them and it's the same
It's a strange feeling, it's hard and it's easy
Out of the many loves, it's the same love"
This is Love by Super Junior
Fall…when will it arrive? The leafs falling on the sidewalks, hot chocolate on a coffee shop watching the rain fall… 
"No one is in the rain 
But just one lone umbrella 
I stop in place at the emptiness of it"  
Raining Spell for Love by Super Junior
Winter… at home browsing through Super Junior videos, reminiscing…   
"Everybody put your hands up 
Sometimes, let yourself go 
Yeah Yeah Yeah jump however you want 
Everybody put your hands up 
Forget about tomorrow 
Come on. Come on. Yeah Yeah 
Seize the day"  
Let's Dance by Super Junior
Time cannot go fast enough until Choi Shi Won is back in K-Entertainment. Until then: 
"I am here, we are here, there is a future to be excited for 
Until always, we will gain strength once again."  
Mamacita By Super Junior
Normally Choi Shi Won communicates with his fans via his Twitter & Instagram accounts. Normally being the key word as the entertainer has been fulfilling his mandatory military service as a conscripted police officer since late 2015 and is expected to be discharged in August 2017, a year and four months approximately but who's counting right? That's approximately 16 months, 11.680 hours, 700.801 minutes and 4.205e+7 seconds. Time doesn't fly, it walks! 
Recently fans rejoiced. After 4 months on inactivity Choi Shi Won has updated his Instagram account with a new post:
Winnie the Pooh and Super Junior's Yesung Here I am First Mini Album CDs on display. An amazing display of affection and loyalty for both Winnie and Yesung. 
For those that are curious about the MV or that, like Choi Shi Won might equally want to support Yesung, his 'Here I Am' video can be watched bellow: 
In the meantime, Super Junior can be followed as a group on their Facebook page and their MV's watched on SM Town Youtube Channel. The group's Facebook page regretfully is not very useful overall. The posts in general don't add anything new about Super Junior to Korean or international fans, giving the impression that their page exists just for its nearly obligatory presence on the social media platform rather than actually having a purpose. One is left with the impression 'this is it? Ok' and move on which is a shame. Having a Facebook page and not use if effectively to communicate with fans does not make Super Junior more popular, does not reach a mainstream audience of potential listeners and is a waste of resources. SM Youtube Channel is good overall as it showcases all their artists however it's a bit like going to the market in search for oranges in the middle of a fruit stall where the fruit is all mixed up. One has to search for the oranges amongst the array of fruit to find them. It's time consuming and exasperating. Should there just be a part of the stall dedicated a specific fruit, marketing would be more effective, the fruit easier to find and shoppers would not fell frustrated having to go through all the fruit just to buy the one they want. SM should consider doing that, develop individual channels for their artists as it would give them all the visibility they deserve and fans the opportunity to engage more efficiently with their favorite artists. It would also promote their work better, enabling the artists to gain more exposure worldwide and to potential reach new audiences. 
Super Junior most iconic songs vary from person to person according to personal preferences, however there are two classic tracks in any Super Junior playlist: 
Sorry Sorry is a Super Junior single released in 2009 that has a symbiotic synchrony metamorphosis in terms of movement, voice and visuals. The song catapulted the group to stardom, transforming idols into artists and singers into entertainers. Considered a Super Junior monumental symbol, Sorry Sorry is equally a K-Pop icon worldwide which has achieved the 'Triple Crown' and has peaked at number 1 domestically and internationally in Thailand and in Taiwan. Sorry Sorry was also popular in the Philippines.  
Mr. Simple is Super Junior most watched MV on Youtube with an excess of over 107 million views and is easily understood why. Addictive, catchy, with a mind-blowing uncomplicated choreography, Mr. Simple makes one want to jump into the video at 0.40 seconds and dance with Super Junior, join in the fun! The song is the number one track of the same title album released in 2011. The album which peaked at number 1 in Korea and at number 3 at Billboard World Album Chart in the US was considered the album of the year at 2011 Mnet Asian Music Awards.
For more complete information Super Junior's website offers a variety of relevant and interesting content that provide ELF's, general K-Pop fans and prospective fans an engaging experience with their work. It's almost like going Easter Egg hunting, each egg containing a wow factor, a new level involvement with Super Junior, exciting, fun, appealing. Lucky for everyone life nowadays means pretty much technology. Imagine living at a time where there was no internet, no cable TV channels and K-Pop music videos only aired on Korean television…plane tickets to South Korea are not cheap! 
As an actor, the key words at the moment are more patience and re-watch, re-watch, re-watch! 
Below is a retrospective of his work. 
---
2015 – Choi Shi Won as Kim Shin Hyeok 
Kim Shin Hyeok is a ridiculously funny feature senior editor at Most Magazine; a carefree comedian impersonated, yet mysterious man with an initial somewhat ambiguous lifestyle and seemingly superficial personality. Kim Shin Hyeok however is as blasé as he is smart and as intricate as the simplicity he chooses to portray to those around him and Choi Shi Won seems to have the time of his life in character. He steals the show whenever he's performing to the point where inadvertently the main leads fade into the background. It's as if She Was Pretty story was about a silly unconventional man falling in love with a plain poor woman rather than the actual premise.  
Kim Shin Hyeok fits Choi Shi Won like a glove, almost like an extension of his own being or an alter-ego version of himself given his flawless performance. The character is undoubtedly his best work up-to-date for which he has received two nominations at MBC Drama Awards: Popularity Award – Actor and Excellence Award - Actor in a Mini-Series. Choi Shi Won has also won Idol Actor of the year 2015 and Best Bromance with Park Seo Joon at 11th Annual Soompi Awards this year where he was equally nominated for Second Lead Syndrome. 
Choi Shi Won also contributed to the drama's OST with the track너뿐이야 (Only You), showcasing the softness of his voice. 
She was Pretty is a drama about reversal of looks and fates. A girl that used to be a swan becomes an ugly duckling and a boy that used to be an ugly duckling becomes a swan. Friends as children they meet again as adults. 
Take a look at the trailer:  
The story also has great dialogues which ended up resulting in great scenes on screen i.e.
"Kim Shin Hyeok (KSH) -  A sausage?  
Kim Hye Jin (KHJ) – I'm not eating that!  
KSH – I'm asking you to cut it open.  
KHJ – What?  
KSH – You thought I was giving it to you? Wow, this is so precious to me!"
---
2015 – Choi Shi Won as Jeong Ji Won 
Jeong Ji Won is a calm, well-grounded professional cyclist with a high self-control and an incredible speed that gives the impression of being cold, while in reality is a very upstanding man, destined to become a legend in the sport. Choi Shi Won had an outstanding performance. After a rigorous training which included working out regimentally in the gym, cycling 100 km a day, eating a healthy diet, rich on protein and shaving his legs for the role, Choi Shi Won's hard work and determination to become Jeong Ji Won, be Jeong Ji Won and being seen as Jeong Ji Won paid off. 
To the Fore is a Chinese/Hong-Kong movie about the friendship and love of 3 cyclists who become professional road racing athletes under the same team, their races, lives and challenges. 
Take a look at the trailer: 
---
2015 – Choi Shi Won as Song Chen Yi 
Song Chen Yi is an idealistic lifeguard, passionate about the ocean. He's a big child with the dream of sailing around the world with the woman he loves. He's a simple character who lives with his head in the clouds. Choi Shi Won's performance is heartwarming in the way he portrays Chen Yi's naivety, artlessness and guilelessness, all pouring from him throughout the drama. The work put into the character was striking and focused particularly when Song Chen Yi is such a departure from the category of roles Choi Shi Won has accustomed his audiences to and so exceedingly different from the artist personality perception. 
Fall in Love with You Again is a drama about a 38 year old unhappily married woman who suffers a car accident and is given a second chance at life by returning to her 22 year old self. 
Take a look at the trailer: 
---
2015 – Choi Shi Won as Park Woo-cheol 
Park Woo-cheol is an agent for the Korean National Intelligence Service. The role which consolidates Choi Shi Won as a strong actor within the entertainment industry worldwide, is inside the scope of his previous two drama performances in Poseidon and Athena: Goddess of War, albeit a progression as Helios is an movie with acclaimed international actors such as John Cusak and Adrien Brody. 
Helios is a Chinese/Hong Kong film about a Korean/Chinese task force that works together to arrest a criminal and recover a weapon of mass destruction. 
Take a look at the trailer: 
---
2015 – Choi Shi Won as Yin Po 
Yin Po is an ambitious goal orientated guard in the Chinese Protection Unit and Choi Shi Won performs him well showing an understanding of the character that comes with great preparation. Yin Po is an antithesis of the roles Choi Shi Won has undertaken and a venture into an uncharted character type, although not an uncharted genre. 
Dragon Blade is a Chinese/Hong Kong period film about the alliance formed between a Roman Legion and a Chinese Protection Unit to fight a common enemy and protect their respective countries.
Take a look at the trailer: 
---
2012 – Choi Shi Won as Kang Hyun Min 
Kang Hyun Min is a selfish, arrogant and egotistical K-Star and lead actor on a drama. This is not the first actor role Choi Shi Won performs but it's the most intolerable in a good way. The character is so full of himself that reactions to him vary between 'Kang Hyun Min needs a reality check' to 'obnoxious Kang Hyun Min' but never 'switch off the computer and ignore the drama because he's entertaining and over the top, and that's not meant T.O.P from Big Bang. Overall, the character was a solid performance. 
King of Dramas is a drama about a successful drama company CEO who suffers a pitfall and attempts to get back on top through the production and airing of a new drama. 
Take a look at the trailer: 
---
2012 – Choi Shi Won as Himself in I AM
Choi Shi Won playing himself the singer and member of Super Junior, not the actor. 
I AM is an SM Entertainment documentary about their artists including Super Junior, TVXQ and Girls Generation. 
Take a look at the trailer: 
---
2011 – Choi Shi Won as Dung He Lian 
Dung He Lian is an entertainment star like Kang Hyun Min's albeit a multi-layered artist as opposed to him. Outwardly he's respectful, well-mannered, nice and composed but he loses all reason when it comes to the woman he loves. At times, in the beginning his words seemed imbedded in venom; with time however the venom melts leaving solely sweetness in its stead. Dung He Lian is very insecure in love as a consequence of his lack of experience, despite having had several relationships. As a character he's also more complex than Kang Hyun Min's, making him more interesting as a person whilst Kang Hyun Min seems to represent a hyperbolization of K-stars personalities that think that the earth spins around them and not around the sun; in which case they ought to consider revising science. Choi Shi Won was convincing as He Lian, a character with a clear story, set personality traits, all very defined, not leaving a great deal of space for maneuver outside of what is already set in the manga Skip Beat. Fans already knew what the character was like, what he liked, disliked, his past, present and future and that made Dung He Lian more challenging that developing a character from scratch without the weight of a loyal fan base behind it who, given the chance would scrutinize the performance to its core essence and shred it to pieces if bellow standard. Choi Shi Won had big shoes to fill and he filled them remarkably well. He brought the idea of the character to life and that made the difference in what was a sink or swim performance. 
Skip Beat is a Taiwanese drama adaptation of the same name manga. The story revolves around a girl who dedicates herself to making the man she loves (Super Junior's Dong Hae) a successful artist and upon discovering that he used her embarks on revenge by vowing to become more successful than him in showbiz. 
Take a look at the trailer: 
---
2011 – Choi Shi Won as Kim Sun Woo 
Kim Sun Woo is a genius naval officer that joins Poseidon after an incident and goes undercover to capture a major criminal. He's a straight-forward man, committed, hardworking and loyal with a strong sense of justice. Choi Shi Won did not disappoint with his performance, on the contrary, his acting grew in substance.  
Poseidon is a drama about a maritime intelligence investigative unit: Poseidon and their plans and actions to catch a bad guy. 
Take a look at the trailer: 
---
2010 – Choi Shi Won as Kim Joon Ho 
Kim Joon Ho is an aspiring elite undercover agent who works as a data analyst for a national agency. He's a steady character, albeit a secondary one who gave Choi Shi Won the experience in terms of drama genre to perform the lead role in Poseidon and the confidence and acting maturity to perform Kim Sun Woo convincingly which he did.
Athena: Goddess of War is a drama about a national security agency task force that is assigned to rescue South Korea's President kidnapped daughter. 
Take a look at the trailer: 
---
2010 – Choi Shi Won as Sung Min Woo 
Sung Min Woo is another obnoxious and selfish K-star, yet Min Woo is not just another K-star, is a K-star with an illegitimate daughter. Choi Shi Won might have, counting this one performed the role 3 times which is said to be the charm, but wile on paper and on the screen the three characters might appear to be similar or even identical, under the surface they're actually quite different. Min Woo evolves as a character; he matures throughout the drama, stopping the unendurable attitudes and immature shenanigans to become responsible and unselfish, putting is daughter's needs before his own; falling in love with a woman and growing as a man and as a person making him complete as a character which was endearing to watch. A man putting his parental duties before his professional duties, taking risks in loving an older woman for her, not caring about the age difference, about her being a single parent, just caring about loving her as age and just a number and there are many women who raise their children alone. Choi Shi Won's performance was utterly staggering and he exceled as Sung Min Woo. SBS agreed and in 2010 the actor received the New Star Award for his exemplary performance as Sung Min Woo in Oh My Lady at SBS Drama Awards.
Contrasting Choi Shi Won's 3 K-Artists roles, Kang Hyun Min remains flat throughout the drama; Dung He Lian is a man with more than meets the eye personality and experience wise, he's also more tangible; Sung Min Woo is the young guy that grows into a man. All artists which, granted, may be considered repetitive are very unique entertainers in their own ways and a statement to Choi Shi Won's evolution as an actor throughout those roles and performances. Each character reflected the extra dedication which came with the experience gained throughout the previous same style role and that was always visible here in retro action. 
Choi Shi Won sang 못났죠(Worthless) for the drama OST. 
Oh My Lady is a drama about a mid-thirties woman who becomes a K-Star housekeeper to financially be able to retrieve her daughter's lost custody and in the process is put in charge of caring for his illegitimate daughter. 
Take a look at the trailer: 
---
2007 – Choi Shi Won as Lee Mong Ryong in Legend of Hyang Dan
Lee Mong Ryong is a strong albeit to some extent a feeble-minded character. He's Choi Shi Won's first leade role in a drama. The actor's performance is sweet and stable. 
Legend of Hyang Dan is a 2 episode parody drama about Chunhyangga, a classical Korean story. 
Take a look at the trailer: 
---
2007 – Choi Shi Won as Choi Siwon 
Choi Shi Won plays Choi Siwon, that is himself although his character is an egotistical and good-looking president of the student council kind of like John Malkovich being John Malkovich esque. 
Attack on the Pin-Up Boys is a film about handsome students from different schools who are individually attacked and become famous. The movie stars all Super Junior members and it might be considered fan service to ELF. 
Take a look at the trailer: 
---
2006 – Choi Shi Won as Park Sang Woo 
Park Sang Woo is the female lead's cousin, eventually adopted brother and Choi Shi Won has performed him well enough for a rookie actor. 
Spring Waltz is a drama about a boy that meets a girl on an island, falls in love with her but when she's ill in hospital he disappears. Years later they meet again in Europe.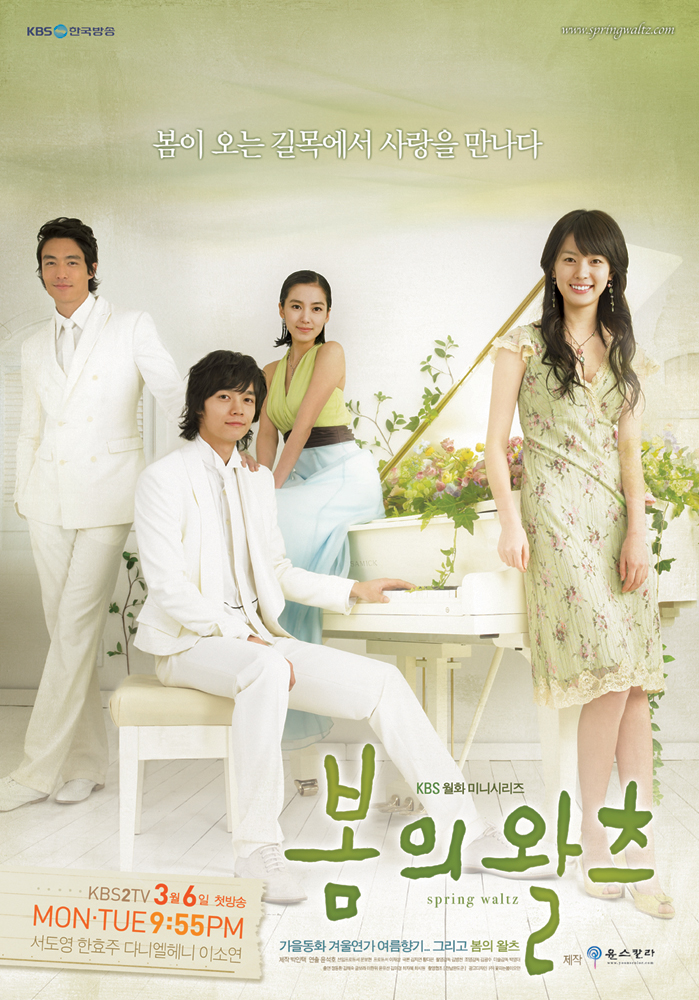 Take a look at the trailer: 
---
2006 – Choi Shi Won as Liang Shi 
Liang Shi is the Prince of Liang. This is one of the first roles Choi Shi Won has performed as an actor and he does it well.  
Battle of Wits is a Chinese/Hong Kong film about a battle in 370BC and the events that eventually led to China's unification under the Qin Dynasty. The movie is based on the Japanese manga Bokko and the novel Bokkō. 
Take a look at the trailer: 
With each project Choi Shi Won undertakes he further perfects his craft, further develops as an artist and further increases his fan base. Through a blend of hard-work, talent and skill, he has proved that he's more than a pretty face with a posh family background; a flower boy tag he carries but does not exclusively defines him. He attracts multitudes to him due to his idiosyncratic magnetism and keeps them interested through his well-spoken intellect and easy-going personality. More than labels and looks Choi Shi Won continues to challenge himself as an actor, enchanting audiences across the globe with Super Junior and helping those in need, all the while being loyal to himself, to ELF and to Bugsy.
---
If there is an actor or an actress that is worthy of a Stalker's Guide in your opinion, and you have watched enough dramas of his/hers to prove it, please contact KatelynJaynea.
---