Mifune Toshiro was known to fans across the world for his Samurai movies, most notably the 16 done with Kurosawa Akira. The man was a legend off-screen as well as on it and lived his life in high gear. He loved fast cars and alcohol and had a highly publicized affair with a mistress several years his junior. At his busiest time, he churned out 27 movies in four years.
He was often referred to as Japan's John Wayne and was one of the actors Clint Eastwood studied. Did you know he was asked to be Obi Wan Kenobi or Darth Vader in The first Star Wars movie but he turned it down? Or that he was considered for the role of Mr. Miyagi in The Karate Kid, but after the reading, the producers felt that he acted the role too scary.
Now before you ask... no, I have not seen all of the aforementioned 16 Kurosawa-Mifune Movies, but I do own on dvd:  Sanjuro, Yojimbo, The Hidden Fortress,  Seven Samurai, and Rashomon.
In preparation for this article, I watched The Sword of Doom, The Bad Sleep Well, Princess from the Moon, Drunken Angel, High and Low, Samurai I: Musashi Miyamoto, Samurai II: Duel at Ichijoji Temple, and Samurai III: Duel at Ganryu Island.
I will be watching more, it is one of the things my husband and I enjoy watching together when our schedules line up.   Now let's learn about the legend himself.
Name: Mifune Toshiro
Birth Name: Sanchuan Minlang
Native Name : 三船 敏郎 (みふね としろう )
Nicknames: The Wolf; The Shogun, Sakai no Mifune or "World-wide Mifune" 
Born: April 1, 1920
Date of Death: December 24, 1997
Birthplace: Tsingtao, China --now Qingdao, Shandong, China
Place of Death: Mitaka city, Tokyo, Japan   
Height:1.74 m (5' 8½" )
Blood Type: O
Constellation: Aries
Occupation : Actor / Producer / Director
Languages:  Mandarin and Japanese



| | | |
| --- | --- | --- |
| Early life/WWII/Family | | |


Born to Japanese parents who were Methodist Missionaries in Tsingtao, China -- now Qingdao, Shandong --, China, lived in Dalian, Liaoning, China until the age of four and then Manchuria from 1924 -1939. He only set foot in Japan when he was 21 after the war. His father, Tokuzo, was a photographer and he helped in the shop sometimes. His mother, Sen, was from a prominent family. Both were lost in the raids during WWII their bodies never to be recovered. He was the middle child with his older brother being Yoshiro and a younger sister.
He was educated at Dairen High School, where he excelled at national sports like karate, archery and swordsmanship, skills that were to serve him well in his on-screen career. He was drafted for the Japanese army in 1939.
During the final phase of the war, Mifune was assigned to a tokkōtai (special attack unit) base in Kyūshū as an instructional officer. Part of his job was to give the young "kamikaze" pilots a proper send-off before they departed on their suicide missions. According to Mifune's account, he would treat each of the doomed aviators to a sukiyaki dinner and admonish him not to yell "Long live the emperor" at the end. "Go ahead and cry out for your mother," he would say. "There's no shame in it." Charged with taking commemorative photos of the pilots before their departure, he focused his lens on more boyish, red-cheeked faces than he could recall.

Sending these fresh-faced youths off to missions from which they would never return was painful in the extreme. In later years, Mifune wept as he related such wartime experiences to his sons. As he saw it, war was nothing but "senseless slaughter." - Nippon.com
After many months of convincing her parents, Mifune married Toho Fresh Face Actress Yoshimine Sachiko in 1950. Their eldest son is Shiro, then came Takeshi. Rikiya Mifune is Mifune Shiro's son and is the producer for Mifune: The Last Samurai and Samurai Marathon 1855.
In 1982, a scandal involving Mifune's personal life hit the news as it was revealed that he had a mistress Kitagawa Mika with whom he had a child Mika Mifune. He was 62, she was 34. His wife never divorced him and returned to his side to help him, while he battled with Alzheimer's at the end of his life, until she died of cancer.
| | |
| --- | --- |
| | Movies |
Looking for work after the war he submitted his application to become a cameraman for Toho Studios, or that was the plan anyhow.  At the same time, he was looking for work, a large number of actors had gone on strike and the Studio was holding a contest to recruit more actors and actresses. His application got sent there instead.
He failed the "Fresh Faces" audition that time refusing to take a direction not understanding what all the emoting had to do with being a cameraman. But he caught the eye of a few other other directors there, one of them being Kurosawa Akira.
Kurosawa later wrote that he entered the audition to see "a young man reeling around the room in a violent frenzy... it was as frightening as watching a wounded beast trying to break loose. I was transfixed." When Mifune, exhausted, finished his scene, he sat down and gave the judges an ominous stare. He lost the competition, but Kurosawa was impressed. "I am a person rarely impressed by actors", he later said. "But in the case of Mifune I was completely overwhelmed." - english wikipedia
He auditioned again and was accepted, along with 48 others, and allowed to take a screen test for Yamamoto Kajiro. Instructed to mime anger, he drew from his past experiences. Yamamoto took a liking to Mifune, recommending him to director Taniguchi Senkichi which led to his first feature role, in Shin Baka Jidai.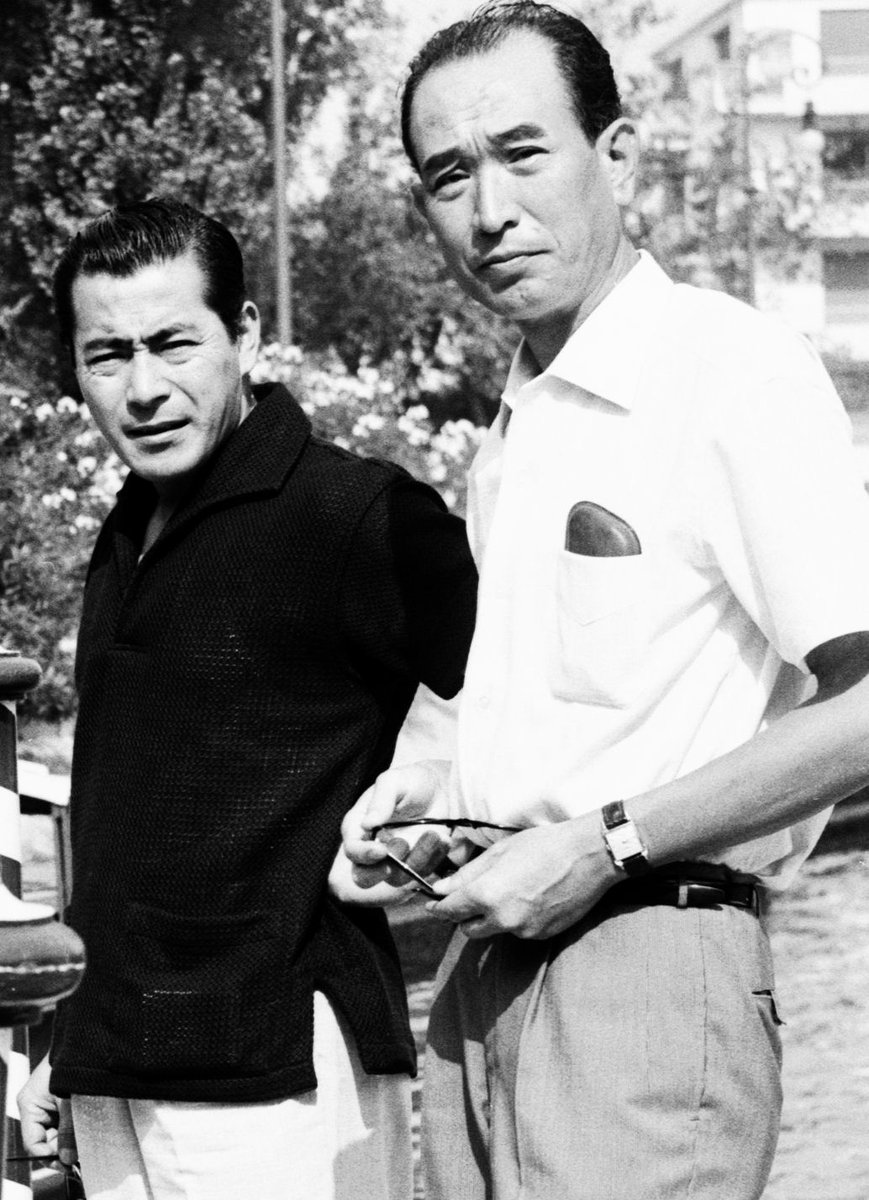 "All the films that I made with Mifune, without him, they would not exist"  -Akira Kurosawa
In his autobiography, Gama no abura ("Oil of Toad", 1982), Kurosawa describes the impact the "hooligan" Mifune made on him:

Mifune had the kind of talent I had never encountered before in the Japanese film world. It was, above all, the speed with which he expressed himself that was astounding. The ordinary Japanese actor might need 10 feet of film to get across an impression; Mifune needed only three feet. The speed of his movements was such that he said in a single action what took ordinary actors three separate movements to express... And yet with all his quickness he also had surprisingly fine sensibilities. - Obituary in  Independent
Chambara (sword fighting) - a subgenre of Jidaigeki (period or Era) - movies were banned for seven years by the Americans after the war. Mifune's first movie with Kurosawa in 1948 was Drunken Angel, then Stray Dog 1949 and, when the ban was lifted, Kurosawa was ready in 1950 with Rashomon. Together, they went on to make 16 (IMDB List) movies together before parting ways after the fiasco with Red Beard. 
During the time he was making Red Beard, Mifune could not take any other jobs because he was required to grow out an actual beard, and it hit him financially. So, as soon as it was finished, he took any job that came up and Kurosawa took this as defection. He stated he would never cast someone who was in a show like Shogun (1980) and cast a different lead when he was suggested for Ran.
Kurosawa presented Mifune with the Kawashita Award which he had won two years before. They finally made a move towards reconciliation in 1993 at the funeral of their friend Ishiro Honda. After making eye contact, they tearfully embraced one another, ending nearly three decades of mutual avoidance.  


Post Kurosawa
His success did not end when he parted ways with Kurosawa Akira, instead, he enjoyed fame at home and abroad in places like Europe and America. Learning languages by listening to tapes and mimicking the sounds. He had previous experience when Mexican producer/director Ismael Rodriguez cast him as the drunken Indian peasant in Ánimas Trujano (El hombre importante) in 1962.
His first English Speaking role was in Frankenheimer's Grand Prix and he went on to make more such as Boorman's Hell in the Pacific, Spielberg's 1941 and was well known to American audiences with his role as Lord Torinaga in the television mini-series Shogun. He was always disappointed that his voice was dubbed over in the American movies he did after all the practicing he did.
Roles he took on were Samurai that had a cause and were single-mindedly determined to achieve his goals while maintaining the true spirit of Bushido or the Samurai ideals. Historical roles were not the only ones he took, he also played heroes from his own time periods such as Admiral Isoroku Yamamoto whom he played in several films which include Storm Over the Pacific, Midway, and Admiral Yamamoto. 
I'm not always great in pictures, but I'm always true to the Japanese spirit. - Mifune Toshiro
He was making dramas and movies up until 1995 where he played Tsukada in Deep River thus ending his nearly 50-year acting career. If his health problems hadn't prevented him from acting, I think he would have done so until the day he died.
| | | |
| --- | --- | --- |
| | Production | |

Mifune Studios
In 1962, Mifune Productions was established as more and more actors broke from the turmoil at Toho Studios. The first movie it produced was Gojuman-nin no isan and it was a flop and Mifune never directed again.
The studio went on to produce such movies as :
And also many TV dramas which can be found here on IMDB and those that qualify will be added to MDL over the next month as the author of this article has time. : )
In 1966, in Tokyo, Setagaya-ku, Seijo Tokyo Chofu the studios built an open set on wasteland. Eventually, though the sets were torn down and Luxury apartments were built on the lot.
In the early 1980's, he founded a short-lived acting school called Mifune Geijutsu Gakuin which, after three years, had to be shut down due to mismanagement of finances.
Shadow of the Wolf 1992 (German production)
Later years and death
After many decades of overwork, hard drinking and a rather intense lifestyle, he suffered either a stroke or heart attack in 1992. At this time, he retreated from public life and in the special from 2015 that his son was interviewed in, he stated his father had begun to suffer from Alzheimer's disease.
Sachiko Yoshimine, who had never signed the divorce papers returned to his side to take care of him until she succumbed to pancreatic cancer in 1995. He followed her less than two years later.
On December 24th 1997, he died in  Mitaka, Tokyo at the age of 77. He was survived by his two sons, his daughter, a grandson and two granddaughters.
| | | |
| --- | --- | --- |
| | | Awards/Honors history |
 (original table taken from Ja.wiki and modified)
Award

Year

Category/Honor

Title of the work

Result

Blue Ribbon Award
1951
Best Actor Award
The Life of a Horsetrader  and Who Knows a Woman's Heart
Award
1961
Best Actor Award
Ánimas Trujano (El hombre importante) *
Yojimbo 
Award
Special prize


Award
1965
Best Actor Award
Red Beard 
Award
1966
Special prize
Grand Prix **
Award
1987
Supporting actor award
Tora-san 38: Goes North 
Award
British Academy Awards
1955
Best Actor Award (Foreign Language Film Division)
Seven Samurai 
Nomination
Everyday Movie Competition
1957
Best Actor Award
Throne of Blood 
Downtown 
The Lower Depths 
Award
1987
Actor Support Award
Tora-san 38: Goes North 
Award
1997
Special prize


Award
Kinema Jump Award
1961
Actor Award
Daredevil in the Castle 
Yojimbo 

Award
1968
Actor Award
The Sands of Kurobe
The Day the Sun Rose 
Admiral Yamamoto 
Award
Venice International Film Festival
* The only actor to have won this twice
1961
Actor Award
Yojimbo 
Award
1965
Actor Award
Red Beard 
Award
Japan Film Press Association Award
1961
Best Actor Award
Yojimbo 
 Ánimas Trujano (El hombre importante)*
Award
Photogrammas de plata
1967
Foreign Film Actor Award
Red Beard 
Award
Golden Arrow Award
1967
Grand Prize
Ánimas Trujano (El hombre importante)*
Award
1997
Special prize


Award
Emmy Award
1980
Best Actor Award
Shogun mini series**
Nomination
Montreal World Film Festival
1985
Special Grand Prix


Award
Japan Academy Prize
1987
Supporting actor award
Tora-san 38: Goes North 
Princess from the Moon 
Outstanding performance award
1994
Chairman's Special Award


Award
1997
Chairman's Special Award


Award
Japan Film Critics Grand Prize
1993
Golden Glory Award


Award
Japanese Government
1986
Medal of Honor with Purple Ribbon




1989
Medal of Arts and Culture




1993
Order of the Sacred Treasure




Moscow International Film Festival.
1973 (8th)
he was a member of the jury 




1977(10th)




Hollywood/L.A.
1986
Honorary degree (UCLA medal)






Los Angeles honorary citizen




2016
Star on the Hollywood Walk of Fame located at 6912 Hollywood Boulevard.




Art Encouragement of Education, Culture, Sports, Science Minister's Prize
1968


Samurai Rebellion


29th Makino Shozo Award
1987






6th Kawakita Prize
1988






*Ánimas Trujano (El hombre importante) is a Mexican title and not listed on MDL, **Grand Prix and Shogun are American titles and not listed on MDL


| | | |
| --- | --- | --- |
| Music | | |


Mifune can be heard singing on these two songs from movies he did.
Mountain man's song (released in May 1956, Columbia Record ) Lyrics: Ichiro Sato, composition: Masaru Sato You can hear it here. 

This  was  different from the soundtrack and was not purposely added to the record, but Kurosawa did not know the circumstances preached to Mifune: "An actor does not do strange things!" 
The Rickshaw Man (released in July 1958, Columbia Records ) Singing: Hideo Murata
B side "Degrees of Heaven" Lyrics: Yoshino Yujiro, Composition and arrangement: Masao Koga
The Gion taiko that appears in the interlude is what Mifune is included in, but this is also different from the soundtrack.
---
Please check out my sources as I could not include everything about this legend in this article:
Wikipedia ※ IMDB ※ Britannica※ toshiromifune.org※ tvtropes.org※ acidlogic※ geraldpeary※ badassoftheweek※ blackbeltmag※ Japanese Wiki: Mifune※ Mifune:The last Samurai※ Japanese Wiki:Mifune Studios※ independent.co.uk※ nippon.com※ sfgate※ filmreference※ thegaurdian※ chicagotribune※ cinecollage※ Japanese wikipedia:works of toshiro mifune 
---
I found out many things I did not know about this iconic actor and confirmed many things I did. This article has begun a new tradition in my house where my husband and I will be watching his entire career together time permitting.  I hope you enjoyed reading this article as much as I did writing it.  
Which of his works have you seen?  
Did you learn anything new about this legend from this article?
Would you like to see more on deceased influential Legends in Cinema? 
I am sure many of you will tell me which ones I need to see next. I just have to weed out the ones my husband has already seen and watch those without him. Our next one scheduled is Snow Trail.