Ever lost track of time looking at photos, watching interviews, or reading other people's blogs on a specific actor and then realize "Oh crap, have I turned into one of THOSE people? " 
I was at a convention once and watched a mob of grown women tear down (as in tearing it off the hinges) a door to get to James Marsters (Spike from Buffy and Angel). I swore on that day I would treat all actors like people and not just objects.  
Every now and then I find myself obsessed and these scenes pop in my head: 
Yamato Nadeshiko Shichi Henge Episode 2 and 3
Here is a link to the Stalker's Guide to Kamenashi Kazuya from 2012.
And with that my obsession with our favourite Turtle Pear still, persists.
---
Basics
Native name: Kamenashi Kazuya (亀梨 和也)
Also known as: Kame, Kame-chan, Kazu
Born: February 23, 1986

Origin: Edogawa, Tokyo, Japan

Genres: J-pop

Height: 171cm 
Blood Type: B 
Weight: 54kg 
Star sign: Pisces 
Talent Agency: Johnny's Entertainment 





Occupation(s):

Singer-songwriter
Actor
TV host
Producer
Radio host
Model

Hobbies:

Whoever thought this hair-do would be associated with sexy?
PERSONAL PHILOSOPHY
"To being faithful to myself. To face anything straight on, without illusions." (as of 2013)
Instruments: Vocals, Alto french horn (played in the wind orchestra during grade four), The writer of this post has seen a video of him playing the drums and remembers him stating he was learning the guitar in an interview with Suga Shikao the writer of Real Face (KAT-TUN's Debut song)
Years active: 1998–present
Label: J Storm
Associated acts:
Website: www.j-storm.co.jp/kattun
---
Early life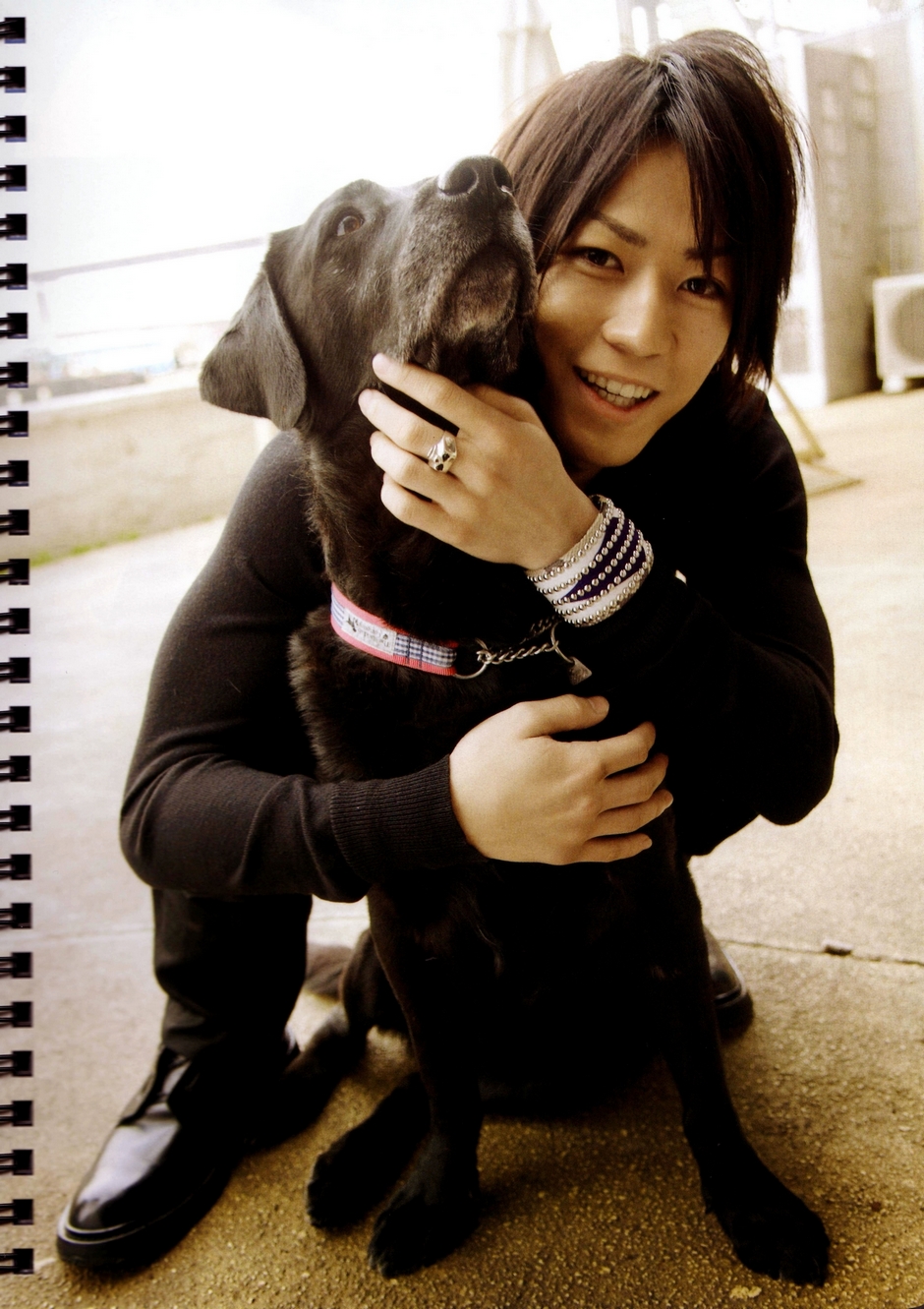 Born into a large family by modern Japanese standards on February 23, 1986, the third of four boys.  I remember watching a video online (I do not recall where and I may even have in my one drive) but he and his brothers were known around his hometown as those "Kamenashi Boys". All the shops knew him and his brothers because "boys will be boys." His two older brothers are Yūichirō and Kōji, and his youngest is Yūya.  His older brothers are married and have children.
Name's origin: His mother wanted the "wa" of "heiwa" [peace] to be part of his name; it also comes from the name of "Kazuya", a character from the manga "Touch". This manga was written by Mitsuru Adachi.  Fellow KAT-TUN member Ueda Tatsuya was named after the twin brother in the same manga.
When he was younger he wanted to become pro baseball player and he was talented in that area as well, representing his country in the Junior World League as a shortstop.  He had to give up the sport professionally due to lack of spare time after he joined Johnny's Entertainment at the age of 14.  Kitagawa Johnny supported him following both career paths if that is what he chose.  He has done a lot of baseball challenges for Johnny's in-house games.
---
Acting career
For a complete list of his works go here.
His role of Odagiri Ryu in 2005 Gokusen 2 won him the 44th Television Drama Academy Awards: Best Supporting Actor and 8th Nikkan Sports Drama Grand Prix: Best Supporting Actor.
His role of Kiritani Shuji in Nobuta wo produce in 2006 won him the 47th Television Drama Academy Awards: Best Actor. Shuji to Akira's "Seishun Amigo" won the Japan Gold Disc Awards: Song Of The Year and This is also the first year he won 23rd Best Jeans Award: Best Male Jeanist.
in 2007 he won 1st Astar TV Drama Awards: Best New Asian Star of 2007 for Japan
His role of Kanzaki Shizuku in Kami no Shizuku in 2009 won him 12th Nikkan Sports Drama Grand Prix (Winter): Best Actor.  
His role of Takano Kyohei in Yamato Nadeshiko Shichi Henge in 2010 won him 13th Nikkan Sports Drama Grand Prix (Winter): Best Actor, 13th Nikkan Sports Drama Grand Prix (Annual): Best Actor, TV Navi Drama Awards (January-March): Best Actor. The is also the last year he won the best Jeanist award see below "Fashion section" section as to why.
His role of Bem in Yokai Ningen Bem in 2011 won him 15th Nikkan Sports Drama Grand Prix (Fall): Best Actor, 15th Nikkan Sports Drama Grand Prix (Annual): Best Actor, and 71st Television Drama Academy Awards: Best Actor.
It's Me, It's Me in 2013 Won 15th Udine Far East Film Festival, Italy - My Movie Audience Award
Kaitou Tantei Yamaneko as Yamaneko in 2016 won him 19th Nikkan Sports Drama Grand Prix (Winter): Best Actor
in 2017 for his role as Makoto Masaki in Boku, Unmei no Hito desu he won Nikkan Sports Drama Grand Prix (Spring): Best Actor
He was on VS Arashi to promote Kami no Shizuku, P to Jk, Kamenashi Kazuya vs AB Blood Type Team, Kamenashi Kazuya vs Uehara Team, and at least once the sixth for team Arashi.
---
Theatre
SHOCK
Magical Musical Dream Boy
Hey! Say! DREAM BOY
SUMMARY of Johnny's World 2004 (with NEWS & Ya-Ya-yah)
DREAM BOYS 2006 (with Kanjani8)    (I have this on my one drive it was ..interesting)
Dream Boys 2007 (with fellow member Tanaka Koki)
Dream Boys 2008 (with fellow member Tanaka Koki)
Dream Boys 2009 (with Shibutani Subaru, Tegoshi Yuya)
Dream Boys 2011 (with fellow member Tanaka Koki, Nakamaru Yuichi)
Dream Boys 2012 (with Yaotome Hikaru, Tamamori Yuta, Miyata Toshiya, Senga Kento)
Aoi Shushi wa Taiyō no Naka ni Aru 『青い種子は太陽の中にある』 - 2015 -- Go here for someone that watched the play
---
Modeling and fashion
In 2008 he walked the runway for Hermès' men's autumn/winter 2008 collection in Tokyo (he's the first one).
For the years 2006 -2011 he won the best Jeanist Award in the Male category. The first year he got almost triple the votes of the second place winner Aiba Masaki . After five consecutive wins, he received the Eternal Best Jeanist, promoted to the Hall of Fame, and no longer eligible to win. (Cause lord knows that man would get my vote EVERY year).
---
Music
He is the youngest member of KAT-TUN and the defacto leader. KAT-TUN Was Originally a 6 Member Boy Band put together at Johnny's Entertainment. In a Premium interview,  Ueda Tatsuya stated they hated each other and got into fights often in the beginning. A famous one happened during SHOCK when Kame and he got into a fist fight over Ueda not covering for Nakamaru. This fight is also referenced in an interview on Osharism with Kamenashi.  Apparently, Johnny approved of them fighting over work.
KAT-TUN was
Kamenashi Kazuya,
Akanishi Jin (left in 2010 to pursue career in America and marry Kuroki Meisa, they now have 2 children),
Tanaka Koki (Kicked out by JE in 2012 for breaking contract rules, Arrested in 2017 for possession of Marijuana, Leader singer for INKT),
Taguchi Junnoske (Left in December 2015 to supposedly marry his older girlfriend of eight years),
Ueda Tatsuya, and
Nakamaru Yuichi.

As of October 2017, KAT-TUN is on hiatus, each member that is left is doing their own projects.(see their message here)

Kamenashi is doing his first Solo Concert "Come Follow Me" 38 performances at 17 venues across Japan starting July 2017 - October 2017.
For a blog from someone who attended go here.

Written both 'Kizuna' and 'Special Happiness' (under the pen name K²) 
---
Publications 
Books
[2010.08] Kazuya Kamenashi VS Jin Akanishi KAT-TUN Dattai no Shinjitsu (Feature)


Magazines
[2011.08.xx] BEST STAGE October 2011 Issue (Feature)
[2011.09.xx] POTATO October 2011 Issue (Cover & Feature)
[2011.09.xx] FREECELL Vol.8 (Cover & Feature)
This section is incomplete but I cannot find a list other than CDJapan and it doesn't explain well why these mags come up when searching for Kame.  
Baseball
In 2009, he threw the first pitch at the Pacific League opening ceremony at a match in Chiba City having the Chiba Lotte Marines against the Fukuoka SoftBank Hawks on July 19, 2009. On November 23 of that same year, he participated in the Central League's Yomiuri Giants 23rd FanFiesta and led his team to victory. In the first inning he was the shortstop and in the second and third he was the pitcher.  He was on the team Black Rose Variety lead by SMAP's Nakai Masahiro against the Giants Select Members team.
He was given the opportunity to do live coverage of Major League Baseball in 2012. The game was between Oakland Athletics and Yomiuri Giants.  
He threw a ceremonial pitch against Jemile Weeks.
He is a host on the show Going! Sports&News and Dramatic Game.
---
Endorsement
---
Kamenashi Kazuya's quotes
"There's something beautiful about keeping certain aspects of your life hidden. Maybe people and clouds are beautiful because you can't see everything."
― Kamenashi Kazuya
But OAL you didn't include his favourite foods, or his fears, or his favourite colours or that he is a Fashionista... You're right I didn't cause people change when they get older.  He probably still hates pickled plums, but he may not.  Roller coasters probably still mess with him and he may still love fresh squid (just not so fresh the suckers stick to the roof of his mouth).  He loves his dogs and he is dedicated to his work. You can find those on any fan page from 2008 - 2012 and I wanted this article to reflect the next stage of this life.
---
Next Episode: Matsuda Shota
Thanks for reading! Share your thoughts in the comment section below!
---