Nobunaga Concerto was the first time I saw Yamada Takayuki and, as I expanded my viewing experience, I found more things with him in it.  His range is amazing and very versatile. He can be super dark in one role, and comedy the next. I hope you enjoy watching his works as much as I did and look forward to the new things he does in the future. 
The following is everything I have watched with him in it, mostly I recommend. Others... Well, you'll see. The stalker stats part will be under this section.
Movies
Crows Zero / Crows Zero 2   Role: Tamao Serizawa  
My rating 9/10
As the leader of the top gang at the school, he is to defend against upstart Genji Takiya (Oguri Shun) whose main goal is to rule the school to show off to his father that he can take over the Yakuza group his father is in charge of.


Ikigami: The Ultimate Limit 
Role: Satoshi Izuka 
My Rating: 7.5/10 

He wants to make the ultimate sacrifice for his sister when his 24-hour notice is given.


252: Signal of Life 
Role: Shigemura Makoto 
My Rating: 7/10 
Every disaster movie has the "not helpful dude" and that was his role in this movie. The one person to do all the wrong things when something life-threatening happens.
A group of assassins comes together for a suicide mission to kill an evil lord. A lot of reviews online likens this to Kurosawa's

Seven Samurai 

(1954).  I am not sure if it is all that, but if you love samurai movies, this is a must see!




My Rating: 8.5/10

An investigator, who is trying to understand the Gantz-related violence, but is not part of it.




Gantz is a movie about Aliens who resurrect dead people to fight other dead people for a chance to live again.



In Hirohiko Araki's Jojo's Bizarre Adventure manga, as well as the Diamond is Unbreakable TV anime, Anjuro "Anjuro" Katagiri is a villainous hardened criminal.  

Jojo's Bizarre Adventure - Diamond is Unbreakable 
Role: Anjuro "Anjuro" Katagiri (Angelo)
My Rating 7.5/10 
Dramas
Lunch Queen 
Role Ushijima Minoru
My Rating 9/10



Minoru is a live-in apprentice cook at Kitchen Macaroni.
Byakuyako 
Role: Kirihara Ryoji 
My Rating 8.5/10

He is part of a co-dependant existence of misery. Hiding from an act he did as a child to protect the woman he loves.

Yuusha Yoshihiko to Maou no Shiro Role: Yoshihiko 
My Rating 8/10

He is the main character in an old style RPG console game, or at least this is what it feels like.  This is a must if you RPG game at all.

Nobunaga Concerto / Nobunaga Concerto: The Movie Role: Denjiro / Kinoshita Tokichiro / Toyotomi Hideyoshi 
My Rating 8.5/10

To explain his character would reveal too many important things about this drama.  I highly recommend watching this.
Currently Watching:
 dele Role: Sakagami Keiji
A very proficient computer programmer who runs a company that deletes sensitive materials from clients' electronics devices upon death.  I was up to episode 5 at the time of this writing and am really enjoying the show. Yamada makes you believe he has been in that wheelchair for years as he is proficient in making it seem a part of him.
Now on to the Stalker's portion of this Stalker's Guide. :)
Basics
Name Yamada Takayuki
Native: 山田 孝之 (やまだ たかゆき) 
Born:  20th October 1983
Birth Place: Satsumasendai, Kagoshima Prefecture, Japan
Height: 169cm
Weight: 50kg
Star sign: Libra
Blood type: A
Family: Older sister/actress Tsubaki Kaori, older sister/singer Sayuki, son and wife
Talent agency: Stardust
Skills: Horseback riding and basketball
Hobbies: Soccer, taking pictures, collecting figurines, and playing the guitar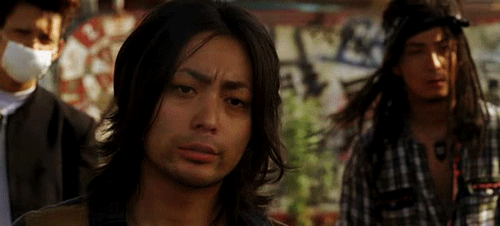 Personal Life
In 1998, when he was in Sendai City Tachikawa Uchiminami junior high school, his family moved to Tokyo from Kagoshima. It was around that time when he was 15 that he was discovered by Talent scouts in Harajuku.
His family consists of two older sisters, Tsubaki Kaori (model/actress) and Sayuki, a Japanese R&B singer and Model. He also has a son (2005) by ex-girlfriend Ooyama Chiho, a non-celebrity wife and son born in 2012.

Music
single




Stage: 
City of Angels (September 1 - September 30, 2018, New National Mid-Theater, Shizuoka City Shimizu Cultural Center Hall Marinato Great Hall, Osaka Shin Kabukiza) - Role of Stone 
Pettens and cheaters (September 2019, Shinbashi Acting Center) - Role of Freddy Benson 

Video Games
Dragon Quest Heroes II (2016) – Ceser
PV's
Voice Acting
Neko no Ongaeshi  (July 20, 2002, director: Hiroyuki Morita) - Prince Rune role
DC Super Heroes vs hawk claw Orchestra (October 21, 2017, published, Director: FROGMAN ) - Batman role
Awards


---
I hoped you enjoyed this instalment of Stalker's Guide. I look forward to watching more of his works in the years to come and finish combing through his backlog. 
Which is your favourite Yamada Takayuki work?