If you are in the mood to watch a movie about supernatural creatures, maybe you will find an inspiration here:
---
Movie: Death Note
Country: Japan
Release Date: Jun 17, 2006
Duration: 2 hr. 6 min.
Rating: 8 / 10
Yagami Light, a highly intelligent Highschool student gained possession of a Death Note — a book used by Shinigami (death ghosts / grim reapers) to steal life from human beings. Now Light have got this power and uses it for, in his opinion, good deeds. He is accompanied by Ryuk the Shinigami who owned the book. There is only one counterpart who could stop Light — L, a freaky mysterious genius. Who is the good and who is the bad one? Who will win in the end? And what is it about the apple?
I already loved the anime. This movie adaption is pretty close and adjusts some things I didn't like in the anime version.
Actually, besides the funny interactions with Ryuk and the very interesting setting, the ethical question the movie raised was the most remarkable aspect. Is it OK to kill someone just because he/she gets suspected to commit a crime? Is it OK to stop the person who does that?
I liked L more than Light not only because Matsuyama Kenichi performed his character awesomely. I loved the shrewd battles between this two. But both characters have a point and respect each other somehow. They are equal. Ryuk is a character with cult status. The animation is pretty good for this time. The main characters are characterized very well.

There are some more drama/movie adaptions of this anime, but this is my favorite!
---
Movie: Spellbound
Country: South Korea
Release Date: Dec  1, 2011
Duration: 1 hr. 54 min.
Rating: 9 / 10
Kang Yoo Ri has the ability to see ghosts. This ability influences whole life so that she has neither friends nor family. One day she meets Ma Jo Goo a magician who performs at a horror show but actually is easily scared. Mutual affection rises but is he able to enter Yoo Ri's world and do they find happiness together?
The cast is outstanding! Son Ye Jin (Kang Yoo Ri) is a master of emotional expressions. She even transports emotions through her voice in a touchable way. Lee Min Ki already proved in Shut Up Flower Boy Band that he is a great actor which he verifies in this movie again. The chemistry is really good — there is no suddenly affection but a slowly rising attraction.
Even if I do not like slapstick comedy in this drama the well-dosed amount of it reduce the tension of the spooky mood in the right way.
The story is nothing new but if you liked Masters Sun, you may be like this movie as well.
---
Movie: Train to Busan
Country: South Korea
Release Date: Jul 20, 2016
Duration: 1 hr. 58 min.
Rating: 8.5 / 10
Seok Woo is a divorced workaholic who has not much time for his little daughter. One day he enters the train to Busan to bring his daughter to his ex-wife, but he didn't know that zombie apocalypse already started and Busan is the last safe place in South Korea. But even in the not every person is healthy anymore...
This movie as well shines because of the outstanding cast. Starring Gong Yoo (Goblin), Ma Dong Seok (Bad Guys), Jung Yoo Mi (Live) and Choi Woo Shik (Fight For My Way) in this enthralling zombie thriller. The main characters do show more dimensions of a personality so it is easy to relay to them.
It is a standard story produced in the old-fashioned Korean way: Emotional music, touching moments accentuated by slow motion, special spotlight and close-ups as well as a lot of plot twists. You never could feel sure about who will survive and who will not.
---
Movie: BLEACH
Country: Japan
Release Date: Jul 20, 2018
Duration: 1 hr. 48 min.
Rating: 6.5 / 10
Since his birth, Kurosaki Ichigo was able to see ghosts. When he was young he could not differentiate between living and death persons and didn't identify if a ghost is good or evil. But he arranged himself with this life. One day he meets the Shinigami Rukia and his life becomes even more complex when Rukia transfers her power to him, and he now has to fulfill the duty of a Shinigami... but transferring power to a human being is a deathly crime. Will Ichigo manage to fight the evil hollow? What happens to Rukia? And who is this guy with the arc?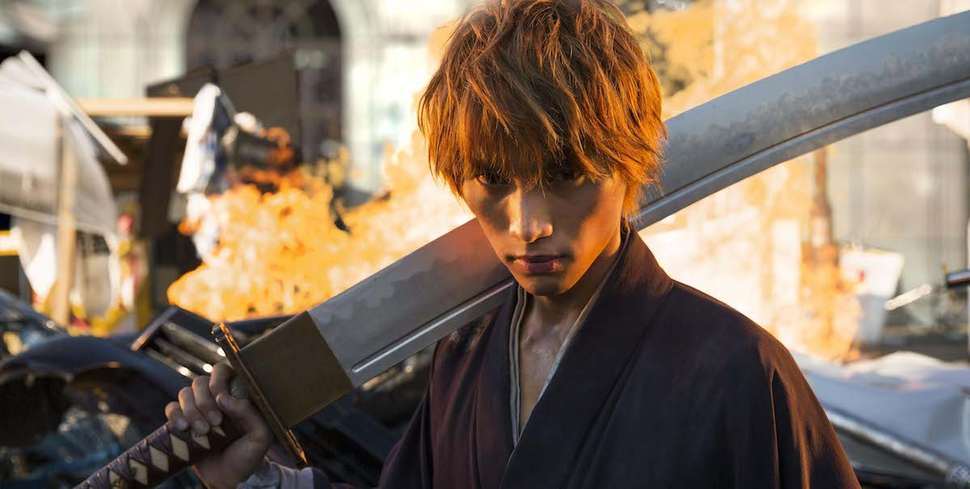 This is another anime adaption, and they stuck pretty close to the original story.
All in all the movie is average — the acting skills, the special effects, the story. But being average is not bad! The outstanding part of this production was the Soundtrack. It was powerful and strong and very well placed. The final fight was interesting and the special effects better implemented.
It is hard to point out the lovable or special characteristics of a particular character within only 2h. Also, the development of the relationship between the characters happens to fast. But it is nice to watch after a long working day.
---
Movie: A Werewolf Boy
Country: South Korea
Release Date: Oct 31, 2012
Duration: 2 hr. 5 min.
Rating: 7 / 10
Soon Yi lived in a rural village when she was young. At this time she met a weird boy. He seemed to be the uncivilized boy who lives outside, doesn't wear proper clothes and doesn't speak. She takes him in out of pity and names him Chul Soo. She teaches him how to behave in the right way, but she doesn't know that this wild boy actually is no human being. When the villagers find out about this secret he becomes the subject of their fear, and they start to chase him.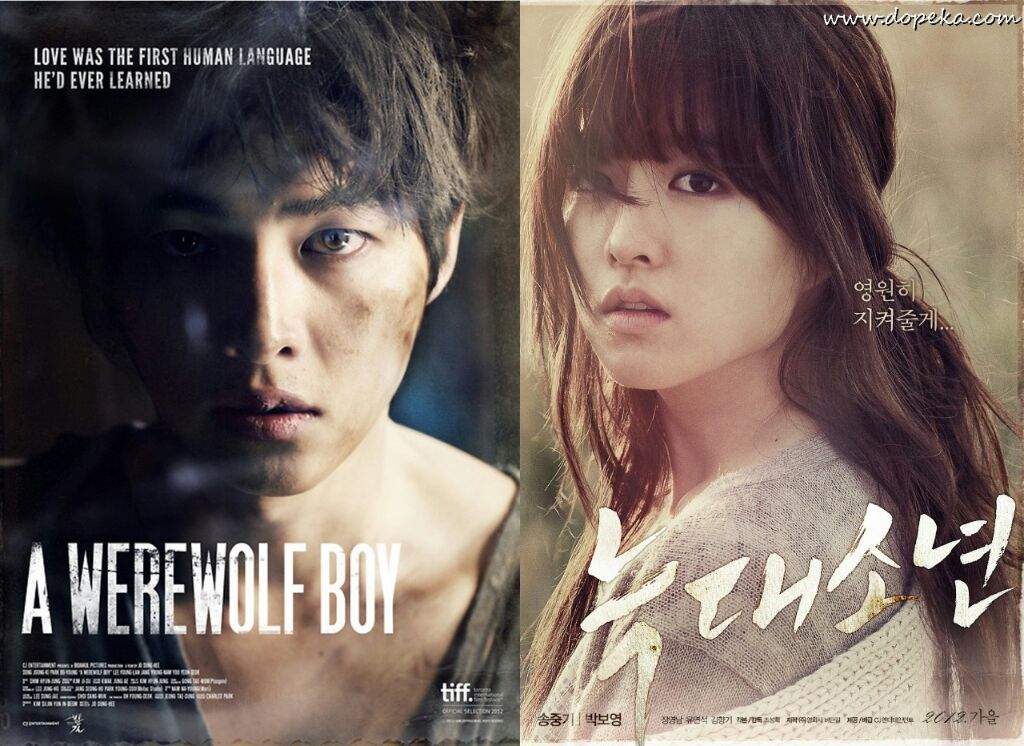 The whole movie is filmed in the retro perspective. Soon Yi is old now and remembers everything by visiting the old house she used to live in. It immediately creates a nostalgic maybe sad mood. The mood, in general, is calm and emotional.
Park Bo Young and Song Joong Ki have a beautiful and totally not passionate chemistry. The girl is very young and it is noticeable how the bond between the to of them get stronger.
As well this story is not new but so nicely staged! And when he says his first words I cried so hard because I was choked for emotion.
---
Do you have other movie recommendations with supernatural creatures?