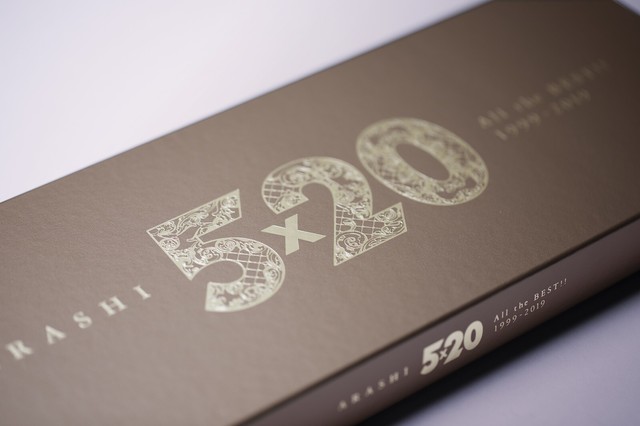 Arashi has acquired enough album sales to reach the No. 1 spot in the world with massive equivalent sales of 1,304,000! This twitter post is what prompted this article. This quote is from June 27, 2019 on JpopAsia:
Japanese idol group Arashi have released their 20th anniversary Best Of album, 5x20 All the BEST!! 1999-2019 and it's already set new records for the group!

The album sold over 729,000 copies on its first day, beating the group's previous record for first-day sales which was 413,000 copies with Japonism back in 2015.

Arashi also set another incredible record for male artists. With their new release, Arashi now holds the top five sales records for a male artist in Japan. The first and second are 5x20 All the BEST!! 1999-2019 and Japonism respectively, followed by 2017's [untitled], 2014's THE DIGITALIAN and 2013's LOVE.
So let's talk about their music and dramas, which was how I found them in the first place.  Most of the Arashi fans I hang out within the community are the opposite of me, falling in love with their variety shows and/or their music, and have barely dipped their toes into dramaland. Mind you, they are the subbers for said variety shows, so as Arashi's schedule is grueling, so are theirs. :) We also only have one more year before they go on hiatus... yeah I said it, hiatus not disbandment or "cease all activities as a group" as I have seen on other sites.  I will believe they believe they are going to return.
Unfortunately, the text editor does not allow us to embed videos at this time but I will link the video in text for each title.
1999 - 2001
---
---
Early in their career their music was a little less pop, had more guitar and was more crunchy. At this point they did not need to please everyone, just their fans who helped them get their debut.
---
2002 - 2004
---
---
Still very early and true to their unpolished and youthful sound.  A few ballads per the industry standards, but they were still under the mass appeal radar.
---
2005 - 2007
---
---
This is when the group obtains MASSIVE attention with Matsumoto Jun's Hana Yori Dango, Wish, A Love So Sweet and One Love becoming a staple at almost every concert to this day. Other members of the band credit him with shining the spotlight on them that catapulted them into National Idols. They are the next tier up from Super Idol from this era until now.
---
2008-2010
---
---
Vs Arashi began in this time period, adding to their already busy schedules and in 2010  Arashi ni Shiyagare started adding yet another show for them to do as a group.  Sakurai Sho begins his newscaster career with News Zero at this time also. The music is now a more polished machine, and the choreos for their dance routines become a little more complicated.  Powerful dramas such as Maou and Quiz Show 2 are released but the songs that you will hear now are Truth and Troublemaker.
---
2011 - 2013
---
Starring: Ohno Satoshi

Drama: Nazotoki wa Dinner no Ato de

Starring: Sakurai Sho

Drama: Kazoku Game

Starring: Sakurai Sho

Drama: Lucky Seven
Starring: Matsumoto Jun
Song: Wild at Heart

Movie: Platina Data
Starring: Ninomiya Kazunari
Song: Breathless

Drama: Mikeneko Holmes No Suiri
Starring: Aiba Masaki
Song: Your Eyes



---
The Brand of Arashi is now everywhere: old fans, young fans, generations of fans. The songs are now being tailored for mass appeal, all bad boy images long erased and tried to be forgotten. Kazoku Game was released and is still lauded as a one of a kind drama that others have tried to replicate but fallen short at it.  For me, "Endless Game" and "Facedown" from Kagi no Kakatta Heya (a locked room mystery that DOESN'T SUCK) are the highlights of this era.
---
2014 - 2016
---
---
At this point, you cannot turn on the TV, go to the train station, or anywhere, without seeing one Arashi somewhere (call me out if I am wrong, this is the impression I get). Sakura is the only OST Arashi has done that was for a drama none of them was in.
---
2017 - 2019
---
---
I myself have seen most of these and with a lot of them cannot separate the two If I hear "Endless game" I picture the ending of Kazoku Game and "Truth" and Maou are just go hand in hand. This is not always a good thing I detested Aiba's character in Kizou Tantei but I sort of like "I'll be there for you" and my dislike for the drama mars my feelings for the song.
Thank you AMV for helping with the layout and checking to make sure I am not too boring! 
Haha, I see what you did there⬆️ AMV thanks!!!
---
Which of these are your favourites? Would you like me to create the same on any other Jpop band that does drama music? Let me know in the comments below!
---
Like writing articles for MDL and want to be able to interact with "veteran writers" or help newer writers? 
Join us on Slack!
---