Name: G.E.M.
Native name: 鄧紫棋
Given name: Tang Shi Wing
Also Known as: 邓紫棋;Jem;Deng Zi Qi;Gloria Tang Tsz Kei;Gloria Tang;Gem
Nationality: Hong Konger
Gender: Female
Born: August 16, 1991
Age: 27
Gloria Tang Tsz Kei, better known by her stage name G.E.M., is a Hong Kong singer-songwriter. The stage name is an acronym for Get Everybody Moving. Her debut music release, the self-titled EP G.E.M. (2008), brought her the attention of the music industry, winning her the title of 'Best New Artist'. She has since debuted three additional studio recorded albums, a best-of album and is now on her second world tour. She is also one of Hong Kong's top selling artists and was titled 2012 IFPI Hong Kong Top-Selling Female Artist.
G.E.M.'s fan base is not restricted to Greater China; she has a fan base in the United States, Canada, Australia and southeastern Asian countries.
Gloria Tang Sze-wing (鄧詩穎) was born in Shanghai and moved to Hong Kong at the age of four. Her mother graduated from Shanghai Conservatory of Music, her grandmother taught her to sing, her uncle played the violin and her grandfather played the saxophone for an orchestra. G.E.M.'s own musical life began when she was five, and she appeared on Educational Television for Mandarin when she was seven. G.E.M. started writing songs as a composer at the age of five entering many singing competitions, winning inter-school singing competitions. When she was thirteen, she achieved a grade eight in piano.
In 2006, G.E.M. entered the "Spice it Up" competition in which she won first place. She caught the attention of her now-manager, Tan Chang, who offered her a contract with Hummingbird Music thus becoming a professional singer at 16. G.E.M graduated from Heep Woh Primary School and True Light Girls' College in Yau Ma Tei, Hong Kong, scoring 21 points on the HKCEE. G.E.M continued her education at the Hong Kong Academy for Performing Arts in acoustics, as a part-time student. However, her busy schedule made her unable to attend classes frequently, and she decided to quit the course during the first half of 2009.
G.E.M. was highly successful in 2008, her debut year, winning ten major awards. G.E.M released her first EP featuring the award-winning song "Where Did You Go." G.E.M. won the gold new female singer award from CRHK Ultimate 903 (903專業推介 sponsored by Manhattan ID 信用咭), becoming the first minor to win the award. The media gave G.E.M nicknames such as "巨肺少女" and "巨肺小天后" meaning "Girl with Giant Lungs" and "the Young Diva with Giant Lungs" respectively because of her vocal range and she had performed songs by Whitney Houston and Beyonce.
In late 2011, G.E.M. started to plan for her Freelance Tour, whereby she would be on paid work experience to work at different industries to gain more non-music-related work history because she became a full-time singer at 16, and had never worked prior to that.
Movie
TV Show
Title
Rating
The Next Top Bang

Chinese TV Show,

2018

, 12 eps

Mentor (Boys' Team)

(Main Host)

7.6

The Rap of China: Season 2

Chinese TV Show,

2018

, 13 eps

8.1

Heroes of Remix

Chinese TV Show,

2016

, 11 eps

8.3

The Amazing Race: Season 2

Chinese TV Show,

2015

, 10 eps

7.8

I Am a Singer: Season 2

Chinese TV Show,

2014

, 14 eps

8.8
Articles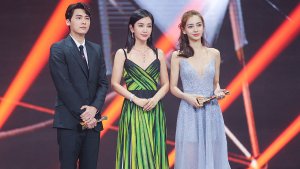 Editorials

- Feb 10, 2018
Let's check out the winners of 2017 Weibo Awards and who were the best dressed celebrities from the red carpet!