Name: Park Jung Min
Native name: 박정민
Also Known as: Park Jungmin;Park Jeong Min
Nationality: South Korean
Gender: Male
Born: April 3, 1987
Age: 32
Park Jung Min was a member of the South Korean group SS501 who released his first solo album in 2011.
Park Jung Min debuted with SS501 in 2005, and was the second to audition in the group. He has guested in variety shows in 2006, hosted radio program Youngstreet with Kim Kyu Jong and Heo Young Saeng. He is the low vocal of the group. He was the main character in a program TV called Human Theater 2010 as himself, Park Jung Min. He also had a TV show entitled What a Women Wants. He went to high school with fellow member Kim Hyung Jun at Dankook University.
Park Jung Min worked in the musical Grease as the lead role of 'Danny Park' for which he won the "Golden Ticket Award" for Best Musical New Talent.
Park Jung Min is an owner of online shopping mall Royal Avenue. Starting out as an online shopping mall, Royal Avenue opened a showroom and a cafe in Korea in April 2010 and in July opened its first branch in China.
On 10th August 2010, Jung Min revealed that he has signed with CNR MEDIA.
CNR Media was originally supposed to release Park Jung Min's first solo album, Not Alone, on 25th November 2010. Due to North Korea's attack on South Korea, the album was postponed until 20th January 2011.
In July 2011, he was cast as a lead in the Japanese mobile drama LISMO 'Love Song in August', who aired on 5th August 2011.
In addition, he had also landed a lead role in a Taiwanese drama and participated in the OST as well.
(Source: Wikipedia, Allkpop)
Drama
Title
Rating
Fondant Garden

Taiwanese Drama,

2012

, 16 eps

Pu Xi Huan / "Park Seo Hwan"

(Main Role)

7.4

Love Song in August

Japanese Drama,

2011

, 4 eps

6.3

Pianissimo

Korean Drama,

2011

, 8 eps

Detective Cha Min Seo {Meet}

(Main Role)

7.4

Human Theatre 2010

Korean Drama,

2010

, 6 eps

8.3

Kokkiri

Korean Drama,

2008

, 124 eps

9.0

Hotelier

Japanese Drama,

2007

, 9 eps

[SS501 Member] (Ep. 7)

(Guest Role)

6.5

Can We Refill the Love?

Korean Drama,

2005

, 140 eps

8.1
Movie
Special
TV Show
Title
Rating
Intimate Note 3

Korean TV Show,

2010

, 18 eps

6.0

Let's Go! Dream Team Season 2

Korean TV Show,

2009

, 336 eps

8.7

Strong Heart

Korean TV Show,

2009

, 166 eps

8.5

Champagne

Korean TV Show,

2008

, 81 eps

0.0

Idol World

Korean TV Show,

2007

, 25 eps

0.0

Infinite Challenge

Korean TV Show,

2005

, 616 eps

8.7

SS501 Thank You for Waking Me Up

Korean TV Show,

2005

, 7 eps

8.6

Hey! Hey! Hey! Music Champ

Japanese TV Show,

1994

, 745 eps

8.8

MUSIC STATION

Japanese TV Show,

1986

, 1328 eps

9.0
Articles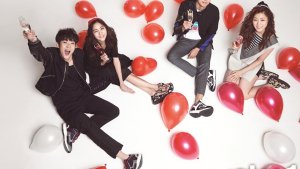 Drama Recaps

- Mar 21, 2015
Find out what you should watch Ho Goo's Love