The website is currently undergoing maintenance. Sorry for the inconvenience.
Name: Kim Ah Joong
Native name: 김아중
Also Known as: Gim Ah Jung
Nationality: South Korean
Gender: Female
Born: October 16, 1982
Age: 35
Kim Ah Jung is a well-known Korean actress/model who rose to stardom from her roles in numerous films and commercials.
Her most known role is in the highly successful 2006 South Korean comedy movie "200 Pounds Beauty".
In the movie "200 Pounds of Beauty", she was the singer of the songs "Maria", "Beautiful Girls" and "Byul". For her leading role in "200 Pounds Beauty", she was awarded Best Actress in the 2007 Grand Bell Awards. Prior to that, she previously appeared in few other TV series including the popular "The Bizarre Bunch" in 2005 by KBS. As well as major commercials and continues to model. Kim also is one of the most featured models in South Korean advertisements. In addition, she acted in a movie made by the cooperation of U.S.A. and China.
Drama
Title
Rating
Live Up to Your Name

Korean Drama,

2017

, 16 eps

Choi Yeon Kyung

(Main Role)

8.5

Wanted

Korean Drama,

2016

, 16 eps

Actress Jung Hye In

(Main Role)

7.8

Punch

Korean Drama,

2014

, 19 eps

Shin Ha Gyeong

(Main Role)

8.4

Sign

Korean Drama,

2011

, 20 eps

7.9

That Fool

Korean Drama,

2009

, 16 eps

7.6

On Air

Korean Drama,

2008

, 21 eps

[Award ceremony red carpet](Ep.1)

(Guest Role)

7.4

The Bizarre Bunch

Korean Drama,

2005

, 170 eps

7.2

Rules of Love

Korean Drama,

2005

, 16 eps

Seo Hee Won

(Support Role)

6.8

Emperor of the Sea

Korean Drama,

2004

, 51 eps

Baek Ha Jin

(Support Role)

7.9
Movie
Title
Rating
The King

Announcer Im Sang Hee

(Support Role)

8.1

Catch Me

Yoon Jin Sook

(Main Role)

7.7

Amazing

7.0

Ari Ari the Korean Cinema

8.3

My P.S. Partner

8.3

200 Pounds Beauty

7.6

When Romance Meets Destiny

Lee Kyung Jae

(Main Role)

6.7

Who's Got the Tape?

6.8
Articles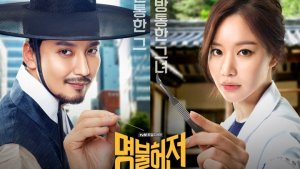 Drama Recaps

- Oct 04 2017
Wondering what to watch next that has time-travel, doctors battling to save lives and humor? Try something that ticks all these boxes then packs a punch with awesome side characters! Why I'm watching: Live Up to Your Name, Dr. Heo