Name: Lee Angelica
Native name: 李心潔
Given name: Lee Sin Je
Also Known as: Lee Sin Chet; Lee Sinjie; Li Xinjie; 李心洁
Nationality: Chinese
Gender: Female
Born: January 23, 1976
Age: 44
Angelica Lee is a Malaysian Chinese film actress and pop singer. She started her career in singing and later moved on to acting in Taiwan and Hong Kong. Lee starred in The Eye, the hit Asian horror film by the Pang Brothers, winning her the Golden Horse Award for Best Actress, Best Actress at the Hong Kong Film Festival and a Hong Kong Golden Bauhinia Award. She is among the very few Asian artists to be awarded as Berlin Film Festival Best Newcomer Awards in 2001 for her role in Betelnut Beauty. She is married to director Oxide Pang. Lee speaks five languages: Mandarin, Hokkien, Malay, Cantonese, and English.
Articles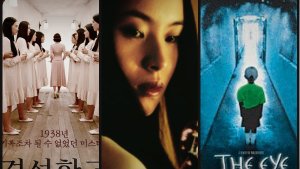 Editorials

- Oct 11, 2015
It's that wonderful time of year when it's necessary to be scared. Here are three films that will scare you into a good time!