Name: Araya A. Hargate
Native name: อารยา เอ ฮาร์เก็ต
Also Known as: Chompoo;ชมพู่;Chom;อารยา อัลเบอร์ต้า ฮาร์เก็ต
Nationality: Thai
Gender: Female
Born: June 28, 1981
Age: 38
Araya A. Hargate (Nickname: Chompoo) is a very famous Thai actress, model, host, TV personality and cover girl. Her real name is Araya Alberta Hargate. She is a British-Thai national that is, her father is British and her mother is Thai. Because she was born in Thailand and her mother is Thai, Buddhism became her religion.
In primary education, she studied at Kanmanee school, and graduated from Badindecha school in secondary education. She graduated at Rangsit University with a degree in Bachelor of Arts (B.A. English).
She rose to fame in 1998 after winning a beauty pageant, Miss Motor Show Contest, and soon became a household name with her hit lakorns. At the age of just 17, her first acting role was in a lakorn by the title Pleng Prai, produced by Channel 7 in 1998.
Today, she is known by her nickname Chompoo which means 'pink' in Thai which is also her favourite colour. She is an accomplished and versatile actress who was in numerous Thai lakorns, and the lakorn that made her famous was Morlum Summer. Her role models are Thai actors like Chatchai Plengpanich and Lalita Panyopas. Apart from acting, Chompoo is a model and singer who has been in many music videos. She is also a great host in Television programmes and event too, for instance, 3 Zaap, Jor Lok Maya, Sat Zone, Jamook Mod, and Kun Park. She received more than 50 awards, such as, FHM Sexiest Actress in Thailand Awards 2007 – 2010, W Style Awards, Siam Dara Stars Awards, and The Best Actress Awards.
She is known as a fashionista and High Fashion Queen. She was also an ambassador for L'Oeal Paris and a regular guest at International Fashion Weeks and at the Cannes Film Festival. Later she was a brand ambassador for fashion magazine L'Officiel Thailand at the Shanghai International Film Festival.
On May 6, 2015, Araya married Witsarut "Nott" Rungsisingpipat, her boyfriend of six years who is the heir to a business fortune. On September 5, 2017, she gave birth to twin boys.
(Source: Wikipedia and sirinyas-thailand.de)
Articles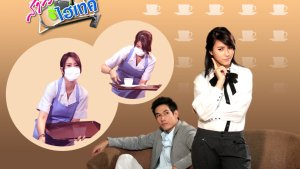 AdeNike rom-com recommendations to pull you into the world of Lakorns.