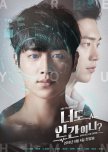 This is my first review... I have watched tons of kdramas, but until now I couldn't say what is my favourite one. AYHT is the best drama of my life. I didn't get bored even for a second... it was just perfect...
•the cast was amazing, expecially Seo Kang Joon ? ....
•the ost was magic?...
•the story was just "WOW"
I have only one complain... now i can't watch any other drama, because this was too good, so everything seem plain, boring, pointless... I suppose I need a break and I will use it to rewatch it again :) LOL
I WILL MISS THIS MASTERPIECE!
I am currently rewatching this with my husband( episode 13), but I'm planning to rewatch it with my mother too :))
Was this review helpful to you?