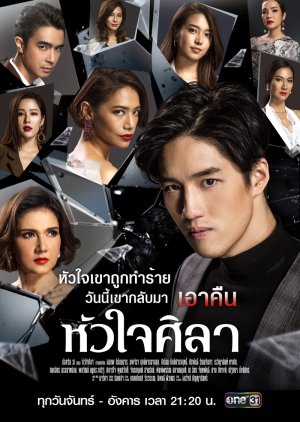 So I've seen tons of Asian shows from many years, but this is my first Thai Lakorn. If I'm not wrong, Thai Lakorn are basically Thai soap operas (please correct me if I'm wrong). I've not seen many soap operas, so maybe my opinions would be directed to the genre itself rather than this specific show. But I've tried to be as reasonable as possible in my review.

I never thought I'll watch a show which will be liked and disliked by me at the same time. But Hua Jai Sila proved me wrong....turns out I can have this conflicting feeling for a show. There are so many things to like about this and so many things to dislike....so without further adieu lets jump into it.

Likes !
1. It's a very fast paced story. In every episode there is so much happening, you can't skip episodes. The narration is pretty consistent (thanks to good screenplay). Even though the core elements of the story aren't new, its tight execution makes it interesting to watch. You won't know what to expect next, there is a surprise element.
2. Superb acting! Every single person in the cast did a great job. I cannot fault anyone. This is the first Thai show I watched which gave a memorable performance (according to me). Definitely impressed. Special shout out to Wattanajinda Sirapan, this woman is breathtaking. If she's onscreen, you can't dare to look anywhere else. I'm her new fan.
3. The main lead, Thanapob Leeluttanakajorn is mind blowing. His character not only demanded intense emotions and acting skills, but also charisma and an overall majestic aura. I have seen few clips from Project S (one of his earlier work), and man it took me some time to figure out that it's the same person! He has transformed himself in every possible way to get inside the skin of his character in HJS, and kudos to him for that. I've got my eyes on him, will definitely be keeping track of his future projects. Hands down the next big thing in the Thai entertainment industry.
4. The Romance. Where do I begin? If you want to watch a couple which gives you the vibe of Romeo-Juliet; the couple that's only made for each other and no one else; the couple that can die for each other and will die without each other…..then you have to watch this show. There is something extremely special about Thanapob Leeluttanakajorn and Fern Nopjira Lerkkajornamkul. Their chemistry is something which very few artists are able to create. The onscreen ease, sexual tension, passion, and melt worthy emotional moments between them is quite a spectacle to witness. I won't be surprised if I get to know that these actors dated or are dating in real life….they are that good.

Dislikes!
1. SERIOUS TRIGGER POINTS ! If you are someone who is sensitive to violence of any kind, especially against woman or feels personally about injustices/discrimination of all types….then please either avoid this show or watch cautiously. There were many moments that made me pause this show so that I can watch a cartoon to divert my mind from this insanity. It's not that I've not seen more mature content in the past, but there is something very icky about some aspects of the story. I won't say much otherwise it'll be considered a spoiler.
2. Please divorce logic when you start watching this show. There will be gazillion moments in the show that will make you go what the hell….I'm not kidding. If I start dissecting this show purely on logical terms then it won't get more than 4 from me. Some moments are bizarre, random and completely unnecessary…..and some downright stupid. So if you decide to watch this one then forget logic and try enjoying it for what it is.
3. The characters are either one dimensional or at the most two dimensional. If you expect to see complex characters that have layered reasoning behind their actions….or a story that relishes character development then this one isn't for you. The characters are either good or bad….they change from good to bad and vice versa overnight without much development so please don't feel frustrated if you see that.

P.S- The OST by Yes'Sir Days is a complete earworm….I've been listening it on Youtube constantly.

Was this review helpful to you?