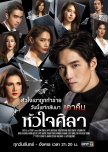 So I've seen tons of Asian shows from many years, but this is my first Thai Lakorn. If I'm not wrong, Thai Lakorn are basically Thai soap operas (please correct me if I'm wrong). I've not seen many soap operas, so maybe my opinions would be directed to the genre itself rather than this specific show. But I've tried to be as reasonable as possible in my review.
I never thought I'll watch a show which will be liked and disliked by me at the same time. But Hua Jai Sila proved me wrong....turns out I can have this conflicting feeling for a show. There are so many things to like about this and so many things to dislike....so without further adieu lets jump into it.
Likes !
1. It's a very fast paced story. In every episode there is so much happening, you can't skip episodes. The narration is pretty consistent (thanks to good screenplay). Even though the core elements of the story aren't new, its tight execution makes it interesting to watch. You won't know what to expect next, there is a surprise element.
2. Superb acting! Every single person in the cast did a great job. I cannot fault anyone. This is the first Thai show I watched which gave a memorable performance (according to me). Definitely impressed. Special shout out to Wattanajinda Sirapan, this woman is breathtaking. If she's onscreen, you can't dare to look anywhere else. I'm her new fan.
3. The main lead, Thanapob Leeluttanakajorn is mind blowing. His character not only demanded intense emotions and acting skills, but also charisma and an overall majestic aura. I have seen few clips from Project S (one of his earlier work), and man it took me some time to figure out that it's the same person! He has transformed himself in every possible way to get inside the skin of his character in HJS, and kudos to him for that. I've got my eyes on him, will definitely be keeping track of his future projects. Hands down the next big thing in the Thai entertainment industry.
4. The Romance. Where do I begin? If you want to watch a couple which gives you the vibe of Romeo-Juliet; the couple that's only made for each other and no one else; the couple that can die for each other and will die without each other…..then you have to watch this show. There is something extremely special about Thanapob Leeluttanakajorn and Fern Nopjira Lerkkajornamkul. Their chemistry is something which very few artists are able to create. The onscreen ease, sexual tension, passion, and melt worthy emotional moments between them is quite a spectacle to witness. I won't be surprised if I get to know that these actors dated or are dating in real life….they are that good.
Dislikes!
1. SERIOUS TRIGGER POINTS ! If you are someone who is sensitive to violence of any kind, especially against woman or feels personally about injustices/discrimination of all types….then please either avoid this show or watch cautiously. There were many moments that made me pause this show so that I can watch a cartoon to divert my mind from this insanity. It's not that I've not seen more mature content in the past, but there is something very icky about some aspects of the story. I won't say much otherwise it'll be considered a spoiler.
2. Please divorce logic when you start watching this show. There will be gazillion moments in the show that will make you go what the hell….I'm not kidding. If I start dissecting this show purely on logical terms then it won't get more than 4 from me. Some moments are bizarre, random and completely unnecessary…..and some downright stupid. So if you decide to watch this one then forget logic and try enjoying it for what it is.
3. The characters are either one dimensional or at the most two dimensional. If you expect to see complex characters that have layered reasoning behind their actions….or a story that relishes character development then this one isn't for you. The characters are either good or bad….they change from good to bad and vice versa overnight without much development so please don't feel frustrated if you see that.
P.S- The OST by Yes'Sir Days is a complete earworm….I've been listening it on Youtube constantly.
Was this review helpful to you?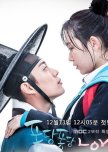 Please watch this show guys !!! I am so glad that I watched this one few days back. Who knew that a two episode series can be this convincing and this good ! The plot about a young girl going back in past is not new. Many shows have used this plot but many have failed to execute it well. This two episode show has set a fitting example of how to deal with such genre. The story was well thought off with a commited script and great direction. The actors acted well and the lead had good chemistry. I don't want to get too technical and find flaws in it. The feel good factor of this one is really so I do not wish to spoil that. This little gem is definitely not to be missed.
Was this review helpful to you?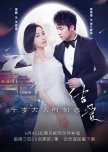 This show is the perfect example that underlines the IMPORTANCE OF A GOOD SCRIPT AND A CRYSTAL DIRECTION, which in this case severely lacks. There were umpteen number of flaws in "The Love Knot: His Excellency's First Love". The show started with a promising plot line but the latter episodes proved me otherwise. The positive aspects of the show included its exquisite production & aesthetic value, interesting story and an elaborate cast. The two protagonists, Victoria Song and Huang Jingyu fit their characters well. But the supporting actors were the real stars of the show especially Leo Li, Li Shen and Liu Yong Xi. I have to give a special mention to all the child actors in the show, they gave a tough competition to their adult co-actors. All of them have a bright career ahead (I'm hopeful about that).
Now the issues.....where do I begin. Firstly, the story had serious narration and script issues. Maybe the novel is better (I don't know, haven't read it), but the script let the plot down. I personally don't mind too much past sequences, but the script did not deal with the historical sections well. The fragmentary presentation of critical past events came up in episodes randomly and failed in driving an effortless present day narration. The bumpy past-present transitions became annoying after a point and led to dilution of my interest for the overall show. Secondly, some sub plots were absolutely unnecessary. The sub plot involving pi pi, tao jilin and tianxin was given almost the same importance as the main plot of the show, i.e. Pipi and Helan's pseudo tragic love story. By the time the makers of the show dwell in the relationship dynamics of the two protagonists, a lot of episodes had already passed (they seriously tested my patience). Thirdly, the show had soooooooo many lose ends and unwanted elements which the makers could have ignored or dealt better with. The Left High priest and Tushan angle of the story was given a poor treatment, even though they were very critical for furthering the plot. The writers (according to me) could not sincerely convey the complexity of these two characters. They both had a lot of raw emotions, motives, desperation & determination; but along the way their characters lost their intensity and started looking very one dimensional.
Fourthly, the makers for some reason gave very less screen time to Helan's character (for gods sake he's the titular character of the show!). Questions: Why was he portrayed so restrictively ? Why did he look so helpless half of the time (even though he had crazy powers) ? Why did he seem like a guest character in his own freaking story ? Why weren't there any scenes that could tell us more about his complicated inner psyche/world or his 900 year experience on Earth? We knew from the beginning of the story that he is an all powerful leader of the southern fox clan with the possibility of taking over the whole of the fox clan, but I don't recall a single scene where I was convinced that he was truly powerful. He seemed more like a modern day leader who was accepted by his people for his socio-political views (like any modern leaders in any country). The magical aspect of the show was not at all represented by this character. Also, why was this character shown so less ! I would have loved to see him more proactively interacting with the other characters and contributing in the progression of the story.
And finally, our main couple lacked chemistry and impact. For any good romantic drama, the leads need to have an alluring charm. They are the crown jewel of a queen's treasury. The treasury might have the best treasures from across the world, but there is always one jewel that catches the attention of the public. In a romantic drama, the lead pair is that jewel that attracts audiences and instills passion in the story. I don't think Victoria Song or Huang Jingyu were that much at fault, its the patchy writing that led them, down. There were some scenes where both of them shined, and portrayed good acting skills. But the secondary treatment of this romance robbed the wow factor of the show.
The direction of the drama was not at all innovative, even though the story seemed ambitious. I personally had very big hopes after seeing its trailer. All in all it can be watched once, but it doesn't have a big re-watch value. Also, I feel people like me who have seen more than 50-60 Asian dramas, this show will be at most mediocre (I lost interest midway).
P.S: The ambiguous ending was not annoying because of the two leads but the failure to address the future of my favorite trio from the show.
Was this review helpful to you?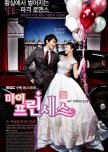 I genuinely liked My Princess. The synopsis of the this drama might give an impression of a cliche princess story with the same old kdrama recipe, but because it is executed well, it was a delight to watch. Ofcourse many aspects of this show could've been improved. The story could've been more precise and crisper....but I've seen shows with much more horrible script or concept so no complaints here. The lead pair has a magical chemistry. Both the actors not only look gorgeous but also act well. They are definitely the highlight of this show. I constantly looked forward to their candid scenes and they never disappointed me.
The music is average nothing spectacular. The two negative characters of the show were absolutely successful in making me hate them from my very core. The supporting cast is not memorable but they weren't bad either. Basically it's a show run by the two leads. All in all you can give this one a shot if you don't mind the usual bubblegum princess-y cliches with good execution and want to see some mesmerising romantic feels created by the leads.
Was this review helpful to you?