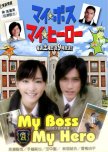 This is the funniest dorama ever. Nagase Tomoya is hilarious, and the plot is cute and funny, and his facial-expressions are out-of-this-world. I laughed so much while watching this, and I've watched it 3 times already. It's not serious, but quite light, and the beginning song (Sorafune by TOKIO) is lovely as well, and sticks in your head for days. I sincerely recommend this dorama to everybody!
Was this review helpful to you?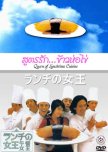 I like this drama. It's funny, has some drama in it, and an actual story with great actors. I liked the twists and turns and the plot-development. This also didn't become boring at any point, unlike so many doramas out there. Oh, and if you like reverse-harem-theme (One girl surrounded by many guys) you'll love this.
Was this review helpful to you?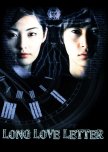 This review may contain spoilers
I didn't watch this drama for a long time, because the description put me off. It sounded boring and unoriginal. But when I finally started to watch this, I fell in love with it. It's unlike any other drama out there, surprising, and very good. The actors are great, and the plot is weird, at times funny, and really sad.
I don't know why the MAIN POINT of the dorama is not put into the description... well, perhaps because it would "spoil" the series... but honestly, if you're planning to watch this, here's something you would like to know, and I'll say it without giving away any spoilers; be prepared to a plot out-of-this-world, perhaps not quite scifi but close enough. But don't let that put you off; this is truly original and great to watch. My favorite dorama ever.
Was this review helpful to you?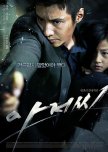 This movie was a total surprise for me. Why? Because I thought I would dislike it. But something drew me in, and I was right to follow my instinct; the acting is fantastic by both of the leads, and the story is interesting.
It's quite a dark movie with just a few happy moments, but somehow it left me with a warm feeling.
Also, some of the supporting characters left me with a deep impression as well, one of the bad guys and the shopkeeper, even though neither of them had a lot of screen-time.
I give this movie a full 10, I was entertained, moved, and didn't take my eyes off the screen until the end.
Was this review helpful to you?
Soul
1 people found this review helpful
I knew I would like this drama when I saw the poster and read the synopsis.
At just episode 1, I was sure I would love this drama.
And now, 20 minutes after I finished the last episode, I can say I was correct.
I love series and movies that are not black and white, but where you have to judge the concept of 'evil' yourself - what is too much, is revenge always bad, who is the real bad guy - things like these.
The actors... oh, the actors. Im Ju Eun was way better than I expected, but the guys... Lee Seo Jin and Park Gun Il were both just awesome here. Even if the series hadn't been good, I would've finished this just for those two.
I wouldn't say the genre of this is horror though - more psychological thriller, but mostly a study of humanity, in my personal opinion.
Was this review helpful to you?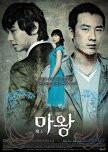 Lucifer
1 people found this review helpful
I absolutely loved this drama. I gave it a 10 which I usually never do.
I found myself... well, cheering the devil on, which sounds kind of weird. He had my sympathy, while the people getting killed off I mostly felt indifferent towards. This series really made me question my morals, since I was on the side of the one getting revenge.
The actors... awesome. Especially Joo Ji Hoon. Since his character mostly kept a straight face during this drama, he truly got the opportunity to act minimalistically; and he did that very well; while keeping a mostly straight face and the tone of his voice always even, he managed to convey emotions just with his eyes and micro-expressions.
I wasn't really bored at any point, the police investigations weren't so interesting for me, but all the parts with the 3 main actors I really looked forward to. And while I usually hate, hate, HATE flashbacks and childhood stories, I found myself looking towards them in this drama.
I would recommend this to anyone who wishes to question their morals from time to time, and wants to watch some great acting. (If you like this, also check out the Japanese remake, Maou. For me it's nowhere as near as great as this one but it's also very good and has good actors in it.)
Was this review helpful to you?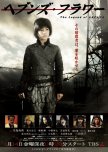 I'm a fan of post-apocalyptic series/movies, and this falls quite well under that category; a future without flowers, resources running out, a desolate landscape with desperate people.
I found one of my favourite Japanese songs through this, years ago. It fits very well with the mood of this series. (The one that plays at the end; Amazarashi - Anomie.)
This maybe doesn't have the most intricate, nor the most well-thought out plot, but it is quite entertaining and I liked the basic idea of it a lot. It's interesting enough that I wanted to know what'll happen next. I also found it very beautiful, and at times, very touching.
The girl acting as Ai exceeded my expectations; I wasn't expecting her to be so good in such a role. The male lead is very cute, but the side character Shion was my favourite. The villain... well, I certainly hated him so good job, actor.
Rewatch value? Well, I've seen this 3 times so I'll give that an 8. (Though it took me years to watch it again.)
I would recommend this to anyone who likes this kind of genre, and characters that grow emotionally - and can ignore plotholes. It doesn't get boring since there are only 11 episodes that each last about 20 minutes. Maybe just watch the first one and see if this is your cup of tea.
Was this review helpful to you?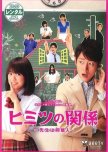 This was a cute, short and quite clean drama. (By clean I mean not much violence, no sex.)
I don't want to spoil anything but the plot premise is this: a student is working in a hostess bar - her teacher comes there - cimcumstances change so that the girl temporarily lives with her teacher and of course complications arise from that.
This is not a very deep drama, but it was a good time-filler. I watched it without subtitles on a site called VK but it was simple enough to understand even with my lousy Japanese.
I liked the cast, they had to work with the characters they were given, the male teacher was my favourite - might watch something else from him. The girl was cute and side characters, while not memorable, were okay.
I'm a fan of series about taboo topics (like this: a kind of a relationship between a younger person and an authority figure) so I'm not sure if this really was as good as I think or if I really just like the plot concept. But if you're bored, and don't mind watching without subs, then it's a nice time-filler.
Was this review helpful to you?